Lionel Messi Accused of Disrespecting Mexico, Canelo Álvarez Sends Warning
Following a locker room video that surfaced after Argentina's 2-0 World Cup victory over Mexico.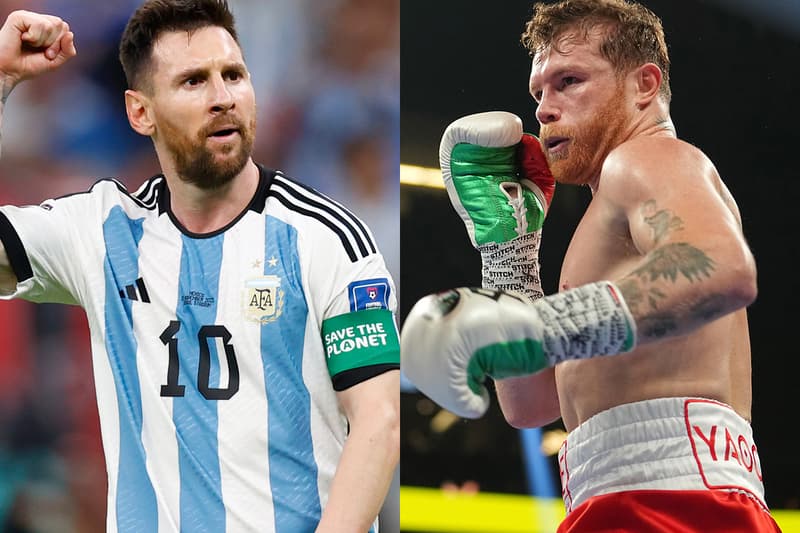 Shortly after Argentina's 2-0 victory over Mexico at the 2022 World Cup, Mexican professional boxer Canelo Álvarez issued a warning to Lionel Messi after the soccer star was accused of disrespecting Mexico. In a video that has been circulating on social media, Messi appears to kick a Mexico jersey on the floor as the rest of the Argentina team celebrates in their locker room.
Referencing the video, Álvarez took to Twitter to offer a series of pointed messages toward Messi. "Did you see Messi cleaning the floor with our shirt and flag????," tweeted Álvarez. "He better pray to God that I don't find him!! Just like I respect Argentina, he has to respect Mexico!" Adding, "I'm not talking about the country as a whole, just about the bullshit that Messi pulled."
Lionel Messi has not responded to Canelo Álvarez, but the Argentinian player's former teammates have spoken up to try to resole the issue with the boxing champion. Sergio Aguero tweeted, "Mr. Canelo, don't look for excuses or problems, surely you don't know about football and what happens in a changing room. The shirts are always on the floor after games have finished due to sweat and then if you look properly, he makes the movement to remove his boot and accidentally hits it."
Catch the locker room video of Lionel Messi below.
Canelo had some strong words for Messi after seeing his locker room celebration ?

(via @canelo, nicolasotamendi30/IG) pic.twitter.com/emRRHK1nGO

— ESPN Ringside (@ESPNRingside) November 28, 2022
Vieron a Messi limpiando el piso con nuestra playera y bandera ????

— Canelo Alvarez (@Canelo) November 28, 2022
Así como respeto Argentina tiene que respetar mexico!! no hablo del país(argentina) hablo de messi por su mamada que hizo. ???

— Canelo Alvarez (@Canelo) November 28, 2022
Señor canelo no busques excusas o problemas , seguramente no sabes de fútbol y que pasa en un vestuario . Las camisetas siempre después que se terminan los partidos están en el piso por el sudor y después si ves bien hace el movimiento para sacarse el botín y sin querer le da . https://t.co/zfftTXH3JB

— Sergio Kun Aguero (@aguerosergiokun) November 28, 2022
In case you missed it, South Korea's GS25 Convenience Store introduced Tottenham Hotspur F.C. Fried Soccer Boot Chicken.