Jeff STAPLE Reflects on 25 Years of Maintaining the Staple Brand With New Rizzoli Book
In an exclusive conversation for 'JEFF STAPLE: NOT JUST SNEAKERS.'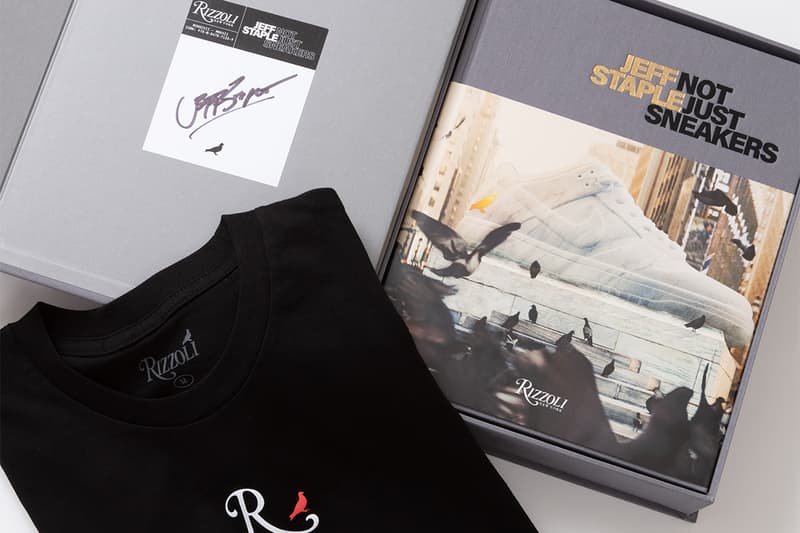 Since the inception of the STAPLE brand in 1997, the name has become one of the most respected in the world of streetwear. Besides being the founder of the label, Jeff Staple has been a globally recognized creative powerhouse who has left his touch on numerous fashion and footwear collaborations including with industry giants like adidas, ESPN, Nike, HBO, the NBA and NFL, just to name a few. This year, Staple celebrates his 25-year journey of building his brand and with the release of his Rizzoli book JEFF STAPLE: NOT JUST SNEAKERS, the designer takes fans through a visual archival playbook of how he turned his iconic pigeon motif into a global force.
JEFF STAPLE: NOT JUST SNEAKERS invites readers through an intricate maze of streetwear history through Staple's point of view. The book also gives an insightful timeline of Staple's streetwear career, including how he first started in the industry and focuses on some of his most extensive collaborations since founding STAPLE. Upon reflecting on his 25 years in the industry, Staple shared with Hypebeast that one of the biggest lessons he learned is that building the brand is not a one-person feat, "I've found that the difference between a brand that can sustain through years and decades and ones that don't is the team." He admits that it took him some time to understand how to build a great team and "let them do their jobs" and flourish without micromanagement.
Staple has had many well-known and hard-hitting projects and successful ventures, but there is one project that he believes most defined the STAPLE brand, "The one that probably comes to mind is the Nike Pigeon Dunk, which really put sneaker culture on the map." He talks about how special it was to have "a hand in creating the shoe that sort of kicked it off for a lot of people today" and just how grateful he is for making that mark.
Since the STAPLE brand gained prominence in the late-90s an early 2000s, there have been many streetwear brands that entered the fashion sphere and not many have been able to maintain relevance over decades. Staple discusses his own longevity within the industry, admitting that he feels proud to have created a brand that has sustained two and a half decades, "I feel really excited about the next chapter. So yeah, I do feel pretty good about this. This milestone feels great." Staple details that it has always been his goal to produce a brand that withstands the test of time and proves to be an influence in youth culture, street culture and fashion.
I'm very accountable for all the blessings that every day I get to wake up and then on top of that, do what I love to do."
While he agrees that "25 years is a freaking long time," STAPLE is far from being done. In concluding the conversation with Hypebeast, Staple dwells into his plans for the next quarter of a century, at first jokingly stating that he hopes to be alive, "I'm very accountable for all the blessings every day that I get to wake up and then on top of that, do what I love to do." He caps off his thoughts revealing that, "There was no roadmap, it was really just 'How do I do the things that I want to do?…My thing is just about [placing] one foot in front of the other and keeping that core audience inspired along the way. I'm more so creating for my need to express myself and there's a huge global audience that is following and supporting and being a part of that conversation. But at the end of the day, I would probably be just as happy if there was a small room full of people that were following along that journey."
JEFF STAPLE: NOT JUST SNEAKERS is now available online on Rizzoli for $55 USD.