Yuta Watanabe Currently Leads the NBA in Three-Point Percentage
The Nets' secret weapon outranks Steph Curry who sits at No. 19.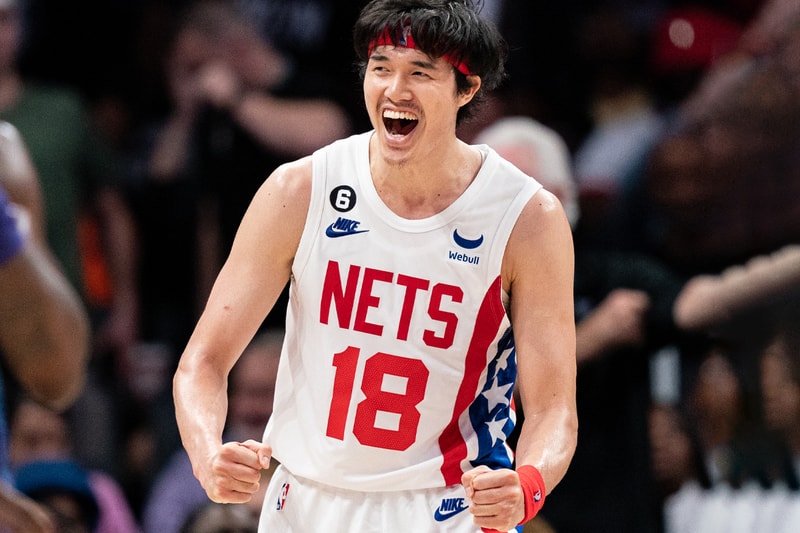 The Brooklyn Nets might have a secret weapon on their hands with shooting forward, Yuta Watanabe. The Japanese superstar is starting off the 2022-23 NBA strong, currently leading the league in three-point percentages.
Although the 28-year-old was picked up by the Nets this year for a non-guaranteed minimum agreement, Watanabe has proven himself to be one other most efficient two-way player for the Nets and in the league. As of writing, Watanabe has a 57.1% three-point percentage and an effective field goal percentage of 76.6% this season. He is first-overall in three-point percentage and second in effective field goal percentage after the Houston Rockets' Bruno Fernando.
With a 57.1% three-point shooting percentage, Watanabe is well above most players in the league, including the three-point king himself, Steph Curry who sits at No. 19 with 44.3%. Kentavious Caldwell-Pope is in second with 53.8%, followed by Kevin Huerter with 51%, Dean Wade at 50% and Brandon Ingram at 49%. Watanabe out-shoots the likes of Damion Lee, Kelly Olynyk and Mikal Bridges in threes, at the moment. To put into perspective Watanabe's growth, his first four NBA seasons averaged 35.2% in three-point percentage.
Watanabe is proving that he is a force to be reckoned with and should not be slept on. He is also currently one of Brooklyn's most dependable perimeter defenders, holding his own against some of the league's top scorers on switches, as well as his hustle to rebound and attack the floor on a fastbreak. As of his last game against the Memphis Grizzlies earlier tonight, Watanabe is shooting 66% three-pointers over the last three games and 57% three-pointers throughout the season.
1プレイずつやってたらまるで追いつかなかったので第4Qここまでの #渡邊雄太 の活躍をまとめてどうぞ!@wacchi1013 @BrooklynNets #NetsWorld #NBA #NBAjp pic.twitter.com/AQHnYelKew

— NBA Japan (@NBAJPN) November 21, 2022
"That was a team effort… We're getting better every day."@wacchi1013 spoke with @Meghan_Triplett following the win ⤵️ pic.twitter.com/U3VQrMraP9

— Brooklyn Nets (@BrooklynNets) November 21, 2022
Yuta Watanabe improved his 3-pt shooting from 55.6% to 57.1% tonight. Still leading 3-point shooter in the NBA. Not Joe, Not Seth, not Steph, not Klay, YUTA!!

— NetsDaily (@NetsDaily) November 21, 2022
In other sports news, Dwight Howard made an impressive debut as a Taoyuan Leopard in the Taiwan League.