The BAPE STA Rides High Off BAPE's Success at Pharrell's Joopiter Auction
A roundup of the 2022 collaborations and colorways.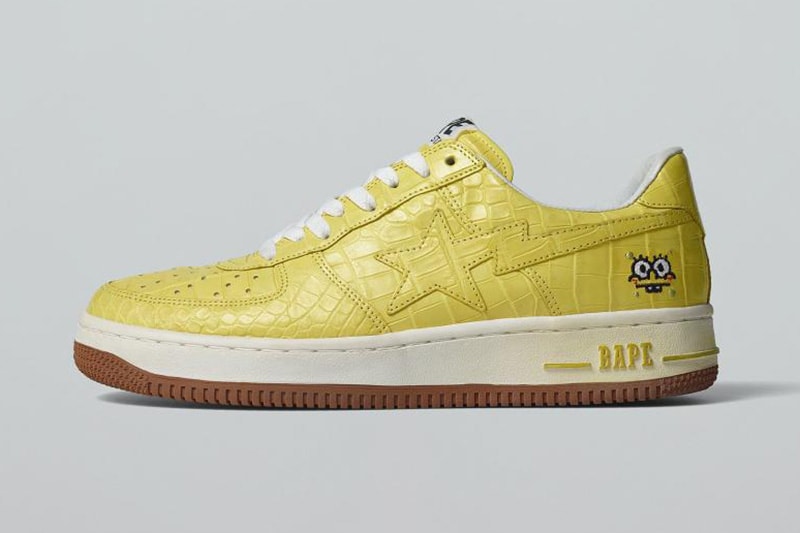 BAPE's indelible influence on street fashion and culture is immediately underscored by its standout showing at Joopiter's Son of a Pharaoh auction. The cult label claimed two of the top 10 lots at the inaugural event, with the BAPE STA "SpongeBob" sneaker (US$26,250) and BAPE x Casio G-SHOCK DW-6900 (US$73,750) — both custom-made for Pharrell Williams — smashing their pre-auction estimates. The showstopper Jacob & Co. N.E.R.D pendant chain (US$2,184,000) also features Baby Milo characters of Pharrell and his crew by Baby Milo designer Mankey, highlighting the brand's cachet with cultural heavyweights.
The compelling comeback of the iconic BAPE STA in 2021 further exemplifies BAPE's streetwear dominance today, with even more covetable collaborations and colorways in 2022.
The first notable partnership is with fellow streetwear icon CDG by COMME des GARÇONS. Standing out from the camo-heavy FW 2022 collaborative collection, the BAPE STA is blacked-out in luxe onyx suede logo and panelling, graphite leather upper and a tonal print of "COMME DES GARÇONS" on the lateral.
BAPE's team-up with Marvel inspired hyper-colorful palettes and glossy finishes reminiscent of classic comic pages from the 1990s. The Avengers assemble for this six-piece capsule, as Iron Man, Thor, Hulk, Captain America, Black Widow and Rocket Raccoon lend their heroic hues to the silhouette. A second drop featuring Spider-Man, Venom and Doctor Strange will also be available at Tokyo Comic-Con on November 25.
There are more fashion designer riffs. HUGO's partnership with Mr. Bathing Ape (BAPE's sartorial arm) paired textile uppers with leather paneling on a pair of Lows, while Heron Preston added a vibrant pop of color with his signature orange. Conversely, the anticipated JJJJound collab reduced the sneaker to its most fundamental form in minimalist white and grey.
Following a successful debut collection in 2020, BAPE once again joined forces with Razer for a second batch of exclusive apparel and peripherals. Highlighting the offerings is the M2 BAPE STA sneaker, which features a neon camo print that incorporates the gaming giant's iconic triple-headed snake logo on the upper.
The mainline drops weren't overlooked amidst the frenzy of collabs. First up is a pair of outdoor-themed BAPE STAs that energized their earthy colorways with a jolt of neon on the logo. Crafted in smooth suede, these designs are also the first to feature round shoelaces on the sneaker.
Next, a trio of BAPE STA MIs stands out in sharp color-blocking. Dressed in collegiate colorways, the high-tops are secured with a prominent Velco strap that lets you step easy during urbane pursuits like golf.
New Canvas iterations exhibit the dynamic energy of abstract art. The contrasting Beige/Red and Black/Orange silhouettes are decorated with colorful splatters using inkjet painting techniques, giving each design their singular look.
Step back to the future with a pair of BAPE STAs featuring the latest Text Code camo print on the logo. The futuristic feel is enhanced with a monochromatic Black/Dark Grey or Grey/Light Grey palette, a transparent sole emblazoned with "BAPESTA" underneath, and a high-tech Cordura canvas upper.
Rounding out the 2022 offerings are crisp white leather iterations, three with ABC camo green, pink or blue on the STA-bolt, and another four with patent leather panels in black, blue, green or orange.
BAPE's cultural currency will continue to soar as it celebrates its 30th anniversary in 2023. Look forward to a host of new exciting experiences such as BAPE Gallery, BAPETAVERSE (NFT), BAPE Café and more to mark the milestone. In the meantime, you can shop the Fall/Winter 2022 collection from BAPE STORE® and online.