LA Fashion Week SS23 Provided Visibility and Opportunity for Established (and Emerging) Designers
A recap of the best SS23 presentations from the West Coast.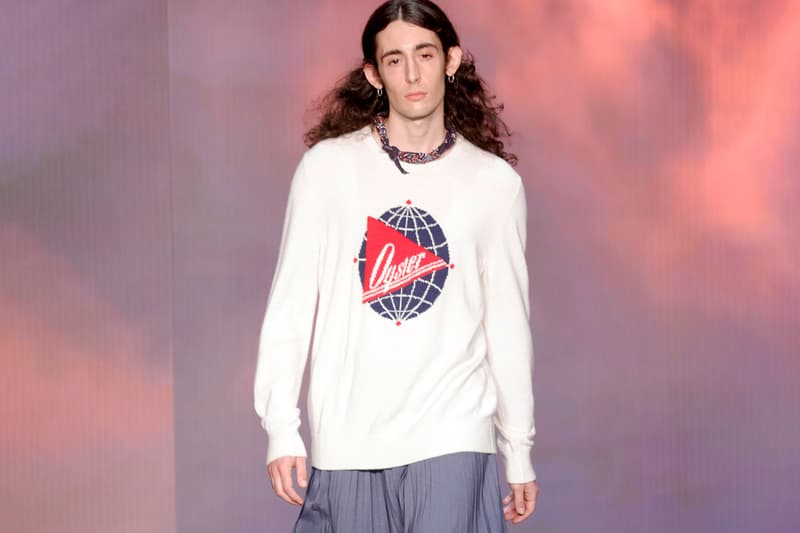 Fashion Month officially ends in October, with each of the major fashion capitals – New York, London, Milan and Paris – showcasing its native assortment of men's and women's designer collections for the upcoming Spring/Summer 2023 season. Yet, with Fashion Week's jam-packed schedule taking place twice a year (from February to March, and again from September to October), it's easy for less-established brands and younger designers to get lost in the mix.
Along with the bonus of headline-grabbing moments and backstage shenanigans, oftentimes the fashion pack (which includes editors, buyers, celebrity clientele and influencers), will opt for attendance at a well-known or prestigious fashion show, knowing that the expectation for stellar product delivery will usually be met. This cycle of "doing the rounds" leaves smaller brands vying for attention, and can even find more established brands yearning for something new and exciting to help keep their creativity alive – similar to Helmut Lang eschewing Paris Fashion Week to showcase in New York during the late '90s.
Enter Los Angeles Fashion Week, a revived addendum to this year's fashion calendar, which champions the spirit of independent designers, sustainable living and "seasonless" collections. Formerly a small-scale, once-thriving fashion show operation, LAFW had been defunct for several years (pre-pandemic), but is now under new management and is on the cusp of becoming a beacon of top-tier runway productions and brand activations that are comparable to New York and its global counterparts.
Under the tutelage of N4XT Experiences, the new LA Fashion Week program boasted designer collections shown by Public School's Maxwell Osborne, Gypsy Sport, Sami Miró x Levi's and more. Additionally, although not part of the official LA Fashion Week programming, Ralph Lauren, Golden Goose, Obey x Hublot and other brands also hosted events during and after the official LAFW lineup.
N4XT (pronounced next) is formed by four industry heavyweights composed of co-founders Ciarra Pardo (former Chief Creative Officer of FENTY), Imad Izemrane, Marcus Ticotin and Keith Abell. Pardo – the event's current president – shared her thoughts on why the West Coast deserves a share of the Fashion Month spotlight. "My partners and I acquired LAFW as a means of bringing our collective career experiences to the table to help uplift and support the next generation of industry creatives. We know that we could never compete with the legacy of other fashion capitals like Paris and Milan, but with the changes and the growth and renaissance of Los Angeles, there's an opportunity for us to build something special and solid. And it makes sense for us to add our mark to what happens globally in fashion, from the LA perspective."
"I've worked with industry heavyweights such as Rihanna and Jay Z, and throughout my travels and network, I've seen where the absence of creativity and production can be buffered. I feel that there's an opportunity to do that with LA Fashion Week. We're officially listed on the CFDA calendar, and I along with my partners have created a free space for brands and designers to get creative," Pardo added.
Take a look at some of the best highlights from this year's California runway showcases below.
Ralph Lauren
Although not part of the official LA Fashion Week lineup, Mr. Ralph Lauren (the namesake label's Chief Creative Officer), moved his show from New York to California for the first time. Discussing the decision to do so, he stated: "California has always been a land of dreams and contradictions – rugged coasts and red carpets. I have always been inspired by the natural beauty, heritage and glamour of the West Coast."
"For the first time ever, I bring my dream of living here, sharing my worlds in an experience that celebrates a way of life I have always believed in – a mix of grit and glamour, energy and inspiration," adds Lauren. And with a hefty showing of 100+ garments for men, women and kids, it appears that his dream is complete.
The brand selected San Marino in Pasadena for this year's fashion show location, and dubbed the experience the "World of Ralph Lauren." It took California by storm with a full range of SS23 offerings from each of the legendary designer's brands, including Polo, Double RL, Purple Label, and his namesake Collection for both men and women, in addition to kids.
Lauren opened his show with Double RL, highlighting a "rugged" mix of textured denim, aged leather, 10-gallon hats and cowboy boots as a fitting nod to California's Western style of dress. The second half of the show consisted of the brand's Purple Label and Collection ensembles featuring tonal colorways of gold, tan, white and neutrals. The show's finale centered on the Polo line of merchandise for the family, featuring colorful chinos, iconic Polo shirts, madras print shorts, technical jackets with the "Polo" insignia logo and branded footwear.
anOnlyChild
Public School co-founder Maxwell Osborne joined in on the bi-coastal Fashion Month action by showing half of his SS23 collection during NYFW then showing the second half in California.
"It feels right to show in LA during this time because we're always here and sourcing a lot of deadstock materials here," said Osborne. "We showed part of the collection first in New York, and now we're showing the rest of the collection here in LA. And because we're always here in LA, it just makes sense for the business."
Osborne's collection consisted of items crafted solely from deadstock materials – creatively following suit with sustainability already being a part of California's culture – including original designs of velvet half-zip pullovers, multi-pocket cargo pants, bell-sleeved crop tops for women, voluminous ruffled gowns, and perforated leather tops.
Golden Goose
Italian fashion brand Golden Goose has built a cult following with its deconstructed approach to sneakers. Albeit rough and deteriorated in presentation, each shoe is crafted from luxe materials, and its vibe of unassumed luxury has caught on with LA's streetwear scene – particularly young skateboarders.
To celebrate LA culture and honor its west coast fanbase, the brand launched a new "Ball Star" sneaker during LA Fashion Week and held a skate-meets-fashion takeover event at LA's famous Pink Motel.
The sneaker (dubbed The LA Spirit), is comprised of white napa leather, contrasting grey suede inserts and aged cream-colored laces. Additionally, inside the brand's Melrose store location, customers were able to customize the shoe as part of Golden Goose's tribute to LA's street style culture.
Gypsy Sport
Rio Uribe's celebrated Gypsy Sport label rose to fame alongside the likes of Telfar, Hood By Air and Luar.
Making a vibrant return to the runway, Uribe celebrated Chicano culture for Gypsy Sport's latest presentation, ​​featuring male and female models of all shapes and sizes, and highlighting garments that were a hybrid of LA street style mixed with Latinx inclusion.
True blue and dark blue denim, luxe flannel-style plaids in red, cream and white, along with red sleek satins and crepe whites embossed with the "GS" planetary logo were present on the runway. Additionally, several pairs of Gypsy Sport logo-embossed Nike Air Max sneakers in cranberry red and white were also showcased in the collection.
Oyster
Started in 2012 as an idea to highlight comfort, style, fit and a focus on travel wear, Woodie White and his LA-based Oyster label began to pump out cool clothing and footwear in 2014, for travel-oriented lifestyle enthusiasts. Since its early days, the brand has caught the attention of renowned skaters, bikers and stylish celebs, and has partnered with Nike and adidas on a few key collaborations.
For SS23, the brand responded to an invitation from award-winning actress Issa Rae to be a part of her Emerging Designers runway showcase (partnered with Delta Air Lines' newly launched Delta Runway Runway Collection), and presented a casual luxe collection that featured men's suit separates, T-shirts, bomber and flight jackets, knits and footwear.
Spinning back around to the sportswear forefront after a marketplace absence during the pandemic – and a brand renaming from Oyster Holdings – White continues to maintain the vision for his brand, stating: "I don't like to look at any of this as a race to the finish. My focus has always been on the brand's DNA. We're LA-based but the clothing concept is worldwide. We make sportswear for travel because traveling is a sport."
Ember Niche
Also shown as part of Issa Rae's emerging designer runway showcase, the Ember Niche eyewear label brought a unique cool factor from New York to LA Fashion Week.
Although Timothy Campbell and Jarrett Raghnal founded Ember Niche eyewear in New York City, they were often inspired by the Hollywood lifestyle along with their world travels for business. Melding their Jamaican and African-American backgrounds into their designs, the brand has named each pair of its SS23 frames after a trip that they've taken, such as the "Flamingo" shades (named after a Miami Art Basel trip), "Seafoam" shades (named after numerous island trips), and "Cityscape Sunset" (named after a trip from NYC to China).
Describing their approach to making glasses, the duo says, "We do optical, and we do sunglasses as a functional product. Our goal is to create main character eyewear."
Obey x Hublot
Hublot and OBEY's Shepard Fairey dropped the third iteration of their limited-edition watch project — the "Classic Fusion Aerofusion Chronograph All Black Shepard Fairey" — during LA Fashion Week.
"This new black-on-black, matte black version with gloss is a natural progression from the previous version," Fairey told Hypebeast. "[On past collaborations] there was more contrast and the look was a lot louder."
The new "All Black" Hublot x Shepard Fairey watch retails for $25,200 USD, and contains a Mandala centerpiece (as seen in the previous 2020 drop), with a 4Hz "HUB1155" chronograph movement, interlocking artwork, a monotone black ceramic finish and a sapphire open case back – highlighted by the limited-edition series number found on each of the 52 available timepieces.
---
In other Fashion Month news, here's a look back at all the biggest moments from the runways of New York, London, Milan and Paris.