Best New Tracks: Stormzy, Diddy, Lil Baby and More
10 music projects to dive into this weekend.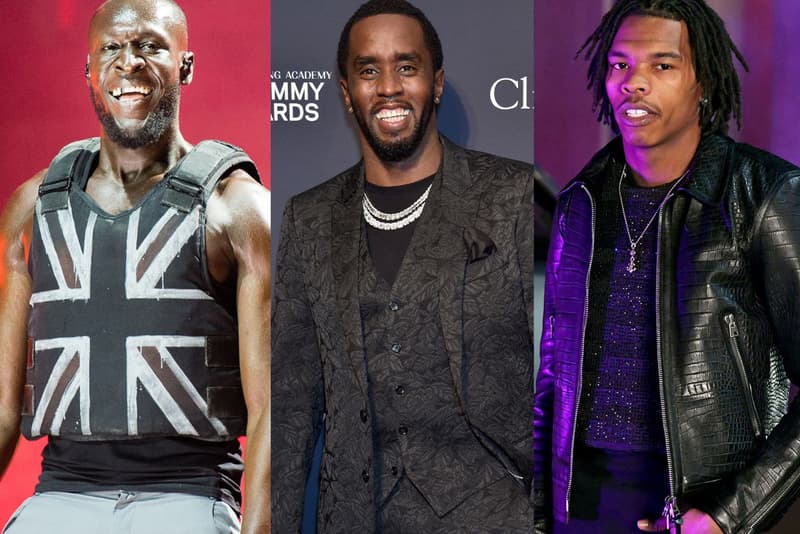 As the week in music comes to a close, HYPEBEAST has rounded up the best projects for the latest installment of Best New Tracks.
This week's lineup is led by a long-lost track from Queen featuring vocals from late frontman Freddie Mercury. American pianist and producer Robert Glasper tapped Mac Miller for a posthumous collaboration, appearing on the forthcoming deluxe edition of his new LP Black Radio III. Elsewhere in music, Lil Baby dropped his highly-anticipated third studio album It's Only Me with features from Young Thug, Future and more, while Stormzy shared the first single from his first project in three years. Additional new offerings come from $NOT, Diddy, Tee Grizzley, Russ, Kembe X and Marshmello with Juice WRLD.
Stormzy – "Hide & Seek"
Stormzy slows it down for "Hide & Seek," a pre-release from his third album This Is What I Mean. Produced by PRGRSHN, P2J and Owen Cutts, R&B instrumentals provide the basis for Stormzy's evenly-paced rapping, while Nigerian singer Oxlade provides guest vocals.
Listen: Spotify | Apple Music
$NOT – "Simple"
Following his role in the 40-city "Grey Day" tour, where he performed alongside $uicideboy$, Ski Mask The Slump God and JPEGMAFIA, $NOT reminds fans that he keeps it "Simple." The rapper smoothly drops bars about having few worries other than "getting paid," inviting listeners to take a glimpse into his laidback mindset.
Listen: Spotify | Apple Music
Marshmello x Juice WRLD – "Bye Bye"
"Bye Bye" marks Marshmello's third collaboration with Juice WRLD, following "Come & Go" and "Hate The Other Side," which included on the late rapper's first posthumous album, Legends Never Die. "I made this song the first night that I met Juice," Marshmello shared. "I was already such a big fan of his and being able to work with him and make music with him was an absolute honor. With this song, I intended to keep it exactly the way we made it that night. I hope everybody enjoys."
Listen: Spotify | Apple Music
Queen – "Face It Alone"
The first Queen release to feature Freddie Mercury's vocals in over eight years, "Face It Alone" is an especially emotional ballad, where the late singer's soaring voice truly shines. Remaining band members Brian May and Roger Taylor discovered the long-lost recording while working on assembling a reissued version of Queens 13th studio album, 1989's The Miracle.
Listen: Spotify | Apple Music
Diddy – "Gotta Move On Queens Remix"
Diddy has assembled a standout trio of guest artists for the "Gotta Move On" remix. The latest evolution of the song is produced by Ron Browz and features appearances from Ashanti, Yung Miami and Bryson Tiller. Diddy opens the remix singing a Phil Collins sample of "In the Air Tonight" before Yung Miami jumps in with a hard-hitting verse, followed by powerful vocals from Ashanti.
Listen: Spotify | Apple Music
Robert Glasper x Mac Miller – "Therapy Pt. 2"
Glasper incorporates his cool jazz and hip-hop sound with poetic bars from the late Miller. The track not only builds upon Glasper's Black Radio III for its forthcoming deluxe edition, but doubles as a sequel to Miller's emotionally raw 2014 single, "Therapy."
Listen: Spotify | Apple Music
Lil Baby – It's Only Me
Two years after My Turn, the highly-anticipated third studio LP from Lil Baby has finally arrived. It's Only Me is an extensive endeavor, spanning 23 tracks and clocking in at just over an hour. It also packs in a star-studded lineup of hip-hop mainstays, including Young Thug, Nardo Wick, Future, Jeremih, Pooh Shiesty and more.
Listen: Spotify | Apple Music
Russ – "BET"
As he prepares to embark on the next leg of his worldwide tour — hitting stops in Egypt, India, Malaysia, New Zealand and South America — Russ debuted the motivating single "BET." The punchy anthem hears the rapper reflect on putting himself first and learning to balance his mental health and his career.
Listen: Spotify | Apple Music
Tee Grizzley – Chapters of the Trenches
Detroit rapper Tee Grizzley took a unique route for his newest musical venture. Out now, Chapters of the Trenches is billed as a "visual album," consisting of 13 tracks alongside a full narrative short film told throughout a series of dynamic music videos. Grizzly held sold-out screenings of Chapters of the Trenches in New York, Philadelphia, Atlanta, Houston and Detroit over the past month leading up to the project's release.
Listen: Spotify | Apple Music
Kembe X – "Always Loud"
Produced by Wolf, "Always Loud" is an empowering meditation on standing up for one's self in the face of obstacles. The song arrived in conjunction with the news of Kembe X's EP, FLATFOOTED, which he will be self-releasing in December ahead of his full-length solo LP.
Listen: Spotify | Apple Music