"It's Got to be Innovative": Tom Brady on the Launch of his BRADY Apparel Brand
The sports legend speaks to HYPEBEAST about moving into the world of fashion — and, potentially, NFTs.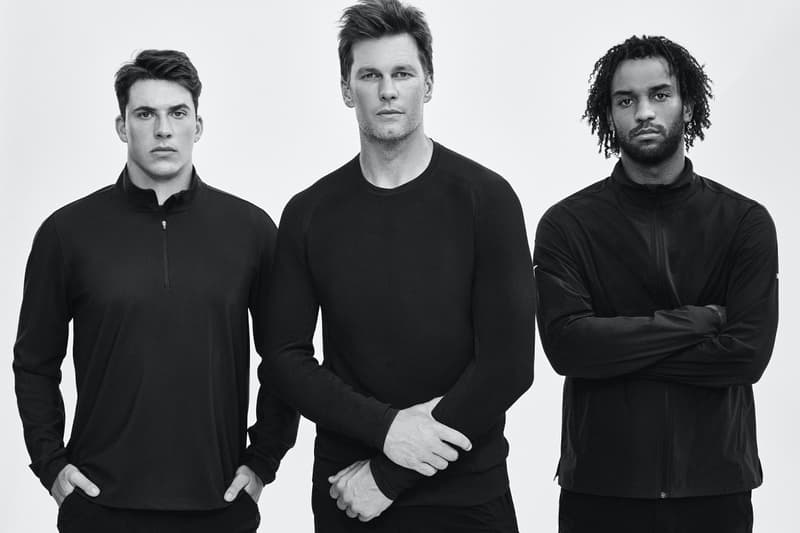 In the minimal time off Tom Brady has from his regular NFL season playing for the Tampa Bay Buccaneers, the star quarterback has been keeping himself busy.
Last September, the footballer announced the launch of his eponymous fashion label BRADY, marking his first major venture into apparel. And shortly before the holidays, to ready the 2022 brand debut, the athlete signed 10 NCAA and newly drafted athletes to star in the label's inaugural campaign.
As he sets the groundwork for a life post-football, Brady shows that he is more than just a quarterback. Recently, the athlete stepped into the world of NFTs with the launch of his own platform Autograph, where he also debuted his own collection. Known to always stay ahead of the game, Brady is hoping to build a fashion empire of his own with his multi-functional clothing brand. Brady sits down with HYPEBEAST to give an exclusive interview about the inspirations behind breaking into the fashion industry with his namesake brand and how he hopes to bridge this endeavor with the ever-growing digital NFT world.
HYPEBEAST: You have accomplished so much in the sports world, why start your own fashion brand now?
Tom Brady: The idea was conceived of doing something about almost four years ago. I spoke with my friend Andrew Rosen, who's been in the fashion business for a long time in the U.S. and I said, 'Hey, this is an idea, something that really interests me.' I was 40 years old at the time, and I didn't know how much longer my football career would go and, and he and I connected. He said, 'I want you to talk to Jens Grede to see if you guys hit it off.' And I hit it off from the day we met, and then contact for four years. Working through different iterations on what we wanted to do and the types of clothes we wanted to build and what we want to call it. It's been a kind of labor of love for four years.
I'm just really excited that we're just now at the launch. It's really come to life — there's a real business and there are incredible products, great fabrics and just incredible garments that fit well. We really wanted to think about functional performance for people. And how our work transitions to our personal life and our personal life transitions on the weekend is you know — just waking up and you want something comfortable for the whole day.
But at the same time, something that is designed and built really well. It's just the highest quality. I think we really accomplished it and I know that we're going to continue to do great things over a long period of time. So much of it was building out a great team and nothing happens overnight. The fact that it's here now and we've had a really great response with our signups and our IG — just the interest has been really fun for me to see. So I hope people love it as much as I do.
Which parts of your life did you draw inspiration from for the fashion direction of the brand?
I have been in the public life for a long time, almost 30 years and in football, we've always had a very specific uniform. It was always tailored the right way and it always had the right colors and the right combinations. In an early part of my professional career, I knew that there was a lot of attention paid to us as we went to the games and to different events. I was more of a public figure and I started thinking about different things that I was wearing. It just brought a lot of awareness and certainly with the digital age and age of technology, we're seeing everything in real-time with Instagram accounts and social media and what people are wearing to different events.
I've always felt like if I wear something, I want it to be something that's gonna look good 25/30 years from now when I look back on old pictures. So creating something that was really timeless and creating things for all these different aspects of life that match these multifunctional lives that we have nowadays. Whether it be training, walking our dogs, it's about thinking how it can be comfortable, how can it perform well and still be really cool.
Could you expand more on what it means for BRADY to be the "next generation of apparel?"
I think we have gone so much more into casual wear over the years. It's how men dress. Now, it's very different than even 20 years — I think our work lives, personal lives, weekend lives, friend lives, social lives are all intertwined. Guys aren't wearing suits to the bars anymore, not that I was in my early 20s…but where you got your stuff was at the local mall. Now everything's available online and everyone could see exactly what they want.
So I think you've got to be more innovative. You have to think about what people are really looking for. There's an aspect of performance in everyday wear that we really want to do. The knowledge I have gained over the years and what functional apparel is like for the last 20 years of my sport has really allowed us to develop something where we can really leave a mark.
You have recently launched your NFT collection, will there be any for your apparel brand?
Absolutely. We're in the digital age and I see how my kids interact digitally with their friends, all the different games, playing with their VR set. I saw Jordans are doing a really cool collab with an NFT platform and Nike too.
But, yeah. Yes. There's definitely going to be an intersection of tangible assets with clothes in virtual, as well. For example, things that people will be able to buy that they can use in their games — they can create unique characters, unique looks, unique styles. I have a very creative, imaginative, 12-year-old boy who loves these types of things. So he keeps me abreast of what's going on in the digital world. But absolutely that's the direction the world is heading.
Would you take cryptocurrency?
Absolutely. I think everyone's going to take cryptocurrency at some point and then it's just a matter of time. How these governments can figure out how to regulate it…the exchange of currency is kind of where we're at in the world. But yeah, there's no doubt — I think digital currencies, digital assets and people and their handheld devices, that's the way to go.
The collection will be available for purchase starting January 12 online at Brady Brand.