DRIVERS: Emelia Hartford and Her 2000 Subaru Impreza
The content creator, driver and actress is building the next best thing to the fabled STI 22B.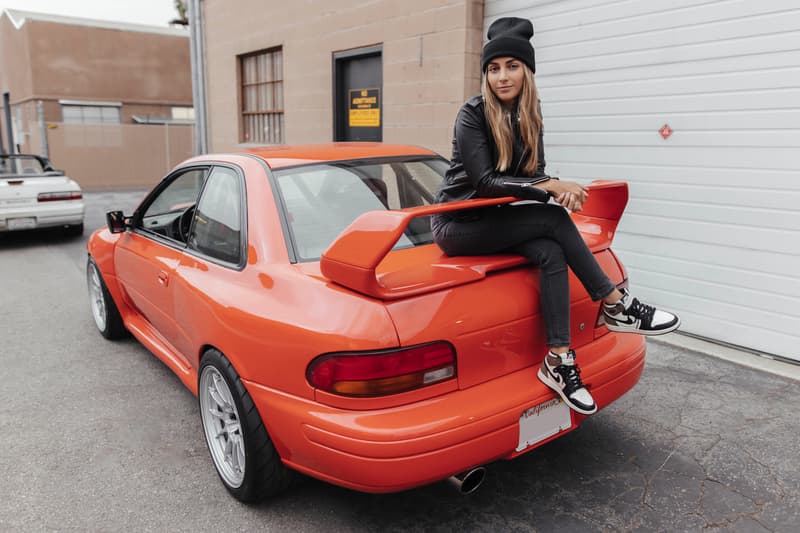 DRIVERS is a series highlighting influential individuals in the HYPEBEAST sphere and their passion towards all things automotive. The approach is simple: what is car culture to you, and why do you have a passion for it? Each contributor is given a chance to shine light on their personal vehicle or vehicles, and asked to remark on how they are driving culture forward, both metaphorically and literally.
---
The car culture community is fairly diverse, largely open-minded, and most of all: inclusive. The commonality that bonds the community together – irregardless of sex, age, religion, sexual orientation or whatever — is the love of all things cars, and our latest DRIVERS subject's hunger for speed and power is 100% apparent.
Emelia Hartford is a California native car fanatic, having a veritable fleet of cars to which she calls her own. Ask any racer, any real racer: if you want to square up with the fastest in California, chances are you've heard of or crossed paths with Emelia. Her builds tend to be more of the "what if" varieties than "let's keep things OEM+." To wit: in the early months of 2021, her Chevrolet Corvette C8 was built up to achieve well over 1000+ hp, and the power put down onto the pavement made it run the quarter mile in 9.4 seconds at 144mph, nabbing her the world record. On the flip side, her collection also includes more humble concoctions, namely a Toyota Prius that's K-swapped to run gas with a manual transmission. Why? More like why not.
For Emelia to make a name for herself in a male-dominated culture like motorsport speaks volumes for her dedication and passion, all while filtering out the noise from her haters, focusing on her content creation, and even finding time to act in movies; Emelia Hartford is a SAG-AFTRA actress who has played parts in the Netflix film A California Christmas: City Lights as well as the documentary series Fastest Car where she raced a gutted, V8-swapped Nissan 240SX.
Alongside her documented Corvette C8 and 240, Emelia is the proud owner of an incredibly clean Subaru Impreza, model year 2000 from the GC8 era of body style. For those unaware, the GC "Mean Eye" – a nickname for its slightly-angled rectangular headlights – only ever arrived to the States in the form of a naturally-aspirated 2.5RS, while overseas in the UK and Japan they received the full gamut of turbo-charged, rally-bred WRX and STI configurations. In our modern day era of bloated, over-styled sedans, the GC8 coupes are highly sought after.
The most coveted of Subarus came in the GC8 generation, globally renowned as the nearly-mythical STI 22B – a highly limited special edition that paid tribute to Subaru's dominance in rally racing. While aficionados place the 22B on a pedestal, tuners and builders clamor their attempts to recreate the Subaru to end all Subarus, and Emelia is guilty as charged with her own GC.
Check out our latest edition of DRIVERS and in case you missed it, our last entry was another petrolhead in show business: actor Erik Valdez of Superman & Lois and his 2000 Porsche 911 GT3 Clubsport.
Make, model, year of your car?
2000 Subaru Impreza.
When did you acquire it?
Dec 2019.
What made you choose this car specifically?
I always loved Subarus and to me the ultimate build was the original GC/GM chassis that first put Subaru on the map in rally racing. I can't get enough of 90s JDM cars so a GM build has always been at the top of my list for a Subaru ever since I saw the famous 22B. After going through three engines on my 2004 Subaru wagon – which if you know anything about building performance focused Subarus, that isn't uncommon – I decided to build the engine, and everything else, properly and put it into what I would consider my greatest and final Subaru build, at least for now. So, I picked up a 2000 Subaru Impreza Coupe to build a 22B-inspired car.
What is the main purpose of this car for you?
Street car with some light track use and maybe a little rally cross… for now. I never really end up leaving my cars "as is" so we'll see where it goes from there.
"I remain hopeful of the future, because as always, we will adapt, thrive, and keep this passion [for cars] we all share alive."
What has been done with this car? Where has it gone?
We just finished the build so the car hasn't seen too much of the world just yet. But I like to think the car has had a difficult life and I rescued it, (laughs). When we picked this car up it was a salvaged, high-mileage beater. Poor car was at the end of her life. In fact, it got rod knock on the test drive and we had to push it off the street and put it on to a tow truck. The owner seemed to need the money and I wanted the car, so I bought it anyways. Definitely a memorable car buying experience.
Any details? Modifications? Changes?
JDM of California-supplied V7 EJ207 with AVCS
Supertech forged pistons
BC Racing I Beam rods
Supertech valvetrain
Ver8 STI manifold
VF30 turbo
Deatschwerks 900CC injectors w flex fuel
Haltech ECU
IWire harness conversion with DCCD controller
Tuned by Delicious Tuning
Borla catback
6OC front and rear ABS 2.5" over fenders molded
2007 STI-swapped subframe, arms, knuckles, steering rack
2007 STI six-speed transmission, axles and diff
ACT 6-Puck sprung clutch
STI Brembo brakes
Feal coilovers
Enkei NT03+M 18×10 front and rear
Nexen SUR4 275/40R18
Bride seats
AutoPower half cage
OMP six-point harness
6OC rear seat delete
Hermes Performance molded body and Porsche Lava Orange paint
What is a car to you: aspirational achievement, functional tool, stress-reliever, etc?
Oh man, a car is so much to me. It's an escape, it's an experience. I first fell in love with cars, because of the sense of freedom I received driving. It wasn't long after that I started modifying the cars for more horsepower and it's been a dark hole since (laughs).
What was your dream car growing up?
My dream car has and will always be a Ferrari F40! And I'm sorry to say, I won't be able to leave it stock…
What have you owned before? What would you like to have?
I have quite a few cars both currently and in the past. I would say check my socials to see everything. But high level I have everything from one of the world's fastest twin-turbo C8 [Chevrolet] Corvettes, to a 408 stroker '79 Buick Regal with twin turbos out the hood, to a turbo K-swapped six-speed manual [Toyota] Prius, to a Liberty Walk widebody Ferrari 458.
I like cars of all kinds and really love anything original or pushing the limits of what's possible. My list for what I would love to have is probably as long as it gets. I would say high level I want a car collection that sees road use. I doubt I'll ever have garage queens.
What is the future of the automotive industry? Car culture?
Over the past 15 years it's definitely been interesting to see the shift in where the future of the automotive industry is going. We are at a time now where EVs are expected to soon be mandated, without much aftermarket support. I remain hopeful of the future, because as always, we will adapt, thrive, and keep this passion we all share alive. But instead of hearing RPMs of a combustion engine, we may be hearing the whine of a transmission. I still prefer gasoline powered cars, but I love new opportunities, new platforms, and anything on four wheels that goes fast.