Balenciaga's Newest "Object" Is a Mechanical Tiger Sculpture
Retailing for $33,000 USD.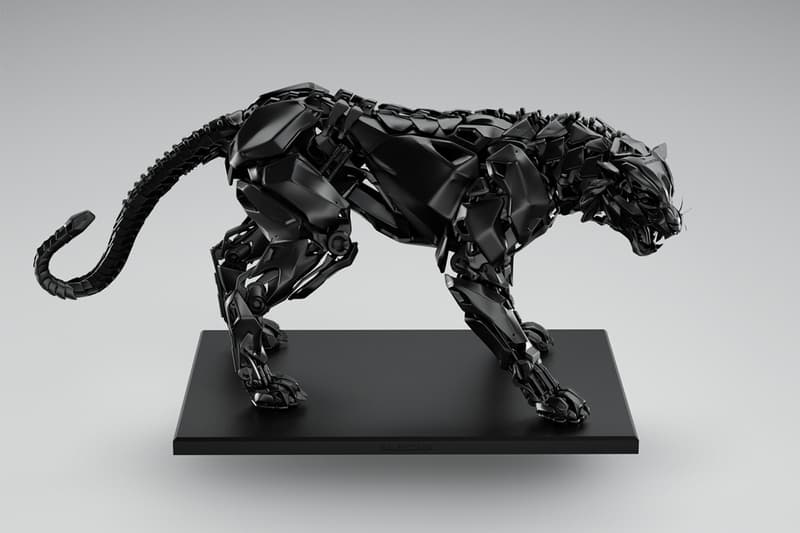 Following the release of champagne flutes and bistro table sets, Balenciaga has now revealed the newest addition to its "Objects" line, a dark metallic Tiger Sculpture appearing just in time for Year of the Tiger Lunar New Year celebrations.
The sculpture was designed by Shanghai-based artist Nik Kosmas, who's known for provocative multimedia works inspired by sci-fi, fitness, and psychology.
"The Tiger Sculpture's body appears futuristically mechanical, evoking the efficiency and elegance of industrial engineering as well as the natural grace and precision of living cats," reads the description from Balenciaga.
The brass objects were welded together entirely by hand, made from individual components that were individually powder-coated, glossed, and shaped using a lost-wax metal casting technique. Displaying meticulous details, the sculptures incorporate a vertebrae-like tail section, gear fittings on the joints, individual whiskers, and a Balenciaga logo engraved on the head.
The Balenciaga Tiger Sculpture in Black is displayed on a 38 x 27 cm platform, and 15 numbered editions will be released worldwide for $33,000 USD. Head over to the Balenciaga website for more information.
View this post on Instagram
Elsewhere, Medicom Toy and Hajime Sorayama unveil a die-cast Iron Man figure.