Sole Mates: Ankur Amin and the adidas UltraBOOST
Extra Butter's founder speaks about his affinity for film and sneakers, his unique 'Happy Gilmore' collaboration and more.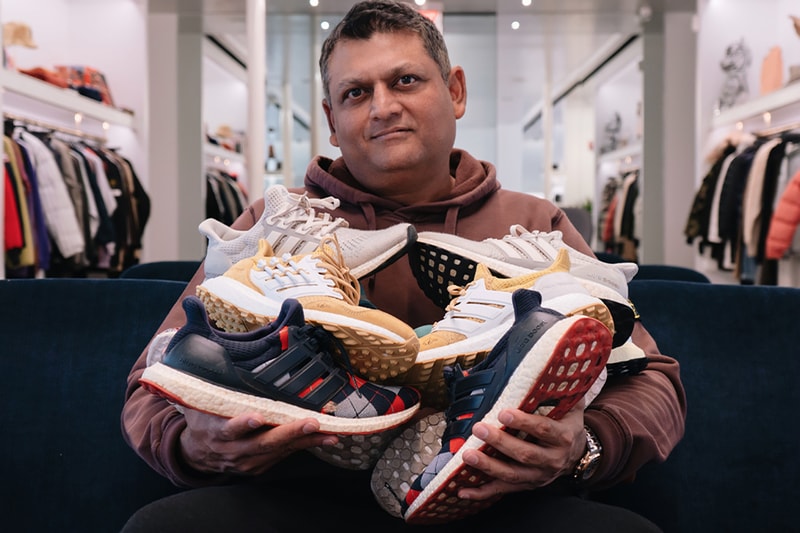 Extra Butter — a streetwear and footwear boutique based out of New York City — goes beyond the normal retail experience of simply existing to stock your favorite streetwear labels and sportswear kicks. It's a unique and methodically thought out concept that converges elements of fashion, film and pop culture — an idea that was helmed by the retailer's founder Ankur Amin. Amin's passion for entrepreneurship was passed down to him by his father and his uncle — both of whom ran sneaker stores of their own when they immigrated from India in the early 1980s. By learning the business side of running a footwear shop through them, he was able to build out his stores with his own unique twists. Inside an Extra Butter location, you also can't help but notice all of the cinematic details such as the marquee-inspired storefront signs, concession stand check out areas, theater style chairs and even a speakeasy (Long Island location only), all of which draw back to his affinity for movies and streetwear culture.
HYPEBEAST's Sole Mates series kicks off 2022 with Amin as he spoke with us about his fondness for the adidas UltraBOOST. Like many other fans of this classic Three Stripes model, he certainly find pleasures from its sleek construction, visual appeal and comfortability, but it will forever hold a special place in his heart as he was heavily involved in bringing a Happy Gilmore collaboration to life. We took the opportunity to catch up with the Extra Butter founder to chat about his favorite adidas UltraBOOST colorways, his passion for storytelling, the bustling sneaker culture in India and more.
HYPEBEAST: Who or what got you into sneakers?
AA: It was completely by chance. We immigrated from India in 1981, and my parents and my uncle were products of chain immigration through my aunt who's a doctor. She came here in the early 70s and she brought the entire family one at a time from India to the states. Our backgrounds are in retail back home, and my dad has known retail his whole life. They got their first job at Sneaker Circle on Queens Boulevard in Rego Park. My uncle ended up buying the shop from the owner and my father continued to work there. Couple of years later, my dad bought Renarts in 1983 in East Northport. After I finished college, I worked at the MPAA for a little while doing copy in PR. I didn't love it and my father needed help so I moved into my family business along with my brother Nick.
I understand that you were tapped into sneakers because you were running the business side of it, but when did you realize that the culture around sneakers was something you enjoyed?
I fell into it a lot later and closer to the time of Extra Butter which is around 2007 and 2008. Until then it was business for me and was more transactional. Did I love sneakers? Yes. But the store's customers had more access to them. My brother and I weren't allowed to cop the best stuff because customers always came first.
What brands did you carry back then?
Our number one brand in 1983 was adidas mainly on the popularity of the Superstars. Puma was also big back then and Reebok came on in '85 with the aerobics movement. Nike was an afterthought until about 1986 and 1987 with the emergence of Air Jordan and later Air Max. We were one of the early shops to even have Nike. Our Nike account back then was three digits. Today it's in the seven digits.
Can you recall some of your favorite early cops when you were getting into the game?
The first great shoes that I got to own were the Air Jordan 4 "Military" in 1989 and the Air Jordan 5 "Grape" few years later. But more so than anything I was really into adidas Superstars, Sambas and Gazelles, Puma Suedes and early adidas Patrick Ewing's signature shoes.
I know that sneakers weren't necessarily a major part of your life growing up in India but have you noticed a shift in the culture today?
Sneaker culture is definitely growing in India now, but it's fashion-driven. India is inspired by Bollywood and a lot of the fashion movements really start from the movies. So there's some synergy in what we're doing here at Extra Butter and the culture back in India.
Talk to me about Extra Butter. Give me a timeline on when this was first an idea, when it started to pick up.
I'd say 2005 is when I started kind of getting into the culture thanks to a couple of associates at Renarts; Bernie Gross, Creative Director now at EB and Jason Faustino who now works at Saucony. They were both sneakerheads and we'd always find ourselves conversing about sneaker culture and going sneaker shopping downtown at stores like ALIFE, DQM, and Classic Kicks. That's when it started changing from a transactional business to more of a lifestyle for me, and I got to witness how much passion there was behind the product and how stores can make them come alive. 2006 is when we started conceptualizing a boutique as I knew there was a need for it on Long Island, and this was around the same time that Bodega just opened. They were super inspirational to me with the way they had a cryptic website and all of their cool behind the scenes stuff. We wanted to approach culture and storytelling in a similar way. We wanted to do something thematic as all of us were deeply into film and sneakers and wanted to come up with something that merged the two, and Extra Butter was born.
"We just wanted to have a name that wasn't very literal. We wanted to have some intrigue behind what we are. We wanted people to like us for how they see us, something that was outward but also made people curious about what we do."
How did you guys land on the name Extra Butter? I think it's one of the most unique retailer names out there.
The name was super important to us. It probably took us two months to land on it. We just wanted to have a name that wasn't very literal. We wanted to create intrigue behind what we were. We needed people to be curious and interested from what they see initially and still have layers they can discover from their second and third visits. Both Jason and I were A Tribe Called Quest fans then, so there's the reference to their song "Smooth like Butter." We were playing around how to integrate the movies in the name. Finally, It clicked one day, I think I might've said "extra butter on my popcorn" not even all that convincingly and the rest of us were like, "That's it."
What are the biggest learning lessons that you've had while owning a store in this space?
You never stop learning. Change comes fast in our space and there's a new lesson to be learned every day. You're dealing with people so there's a level of relationship building and collaboration that's needed to keep adapting and staying relevant whether it's customers, employees or vendors. That was a trait that our father always instilled in us, to surround yourself with people that you share common goals with and build with them. And I think we've followed that ever since in every venture that we've tackled whether business-related or not.
Did you have any major takeaways from surviving the retail industry during COVID?
I would say COVID identified the strong, boosted them up and weeded out the weak. For retailers, if you had a strong digital presense, you got a chance to scale and push those boundaries. Fortunately for us, that's where we put our eggs. We realized that with the pandemic, we weren't able to expand our brand and tell stories at the brick and mortar level, but we had a chance to offer a memorable experience digitally. So we invested towards it, brought in some great people and did really well over the last 18 months in terms of taking our brand to a new level.
"These shoes feel fairly timeless. I think I will see this in 10 years. I love the profile, it's super comfortable and I love the way it looks toe down sideways and at every angle".
Let's transition to your Sole Mates shoe selection: the adidas UltraBOOST. What is it about this shoe that resonates with you?
For me, picking a favorite shoe isn't an easy thing. I don't have any favorites. I feel like everything that I do evolves. For example, the watch that I'm interested in today probably isn't the one that I'll be interested in next year. Same goes for wine, my tastes keep changing. But this is the last shoe I've had that I'm still in love with. These shoes feel fairly timeless. I think I will see this in 10 years. I love the profile, it's super comfortable and I love the way it looks toe down sideways and at every angle.
Do you have an all-time favorite UltraBOOST colorway?
The "Chalk" 1.0s for sure. The knit pattern on those is amazing.
Let's talk about the Happy Gilmore collaboration. How did that get brought to life?
I will take credit for that one. A lot of other projects we've done, I've had very little to do with. However, I'm a golfer and I'm passionate about the game. Yeah, I've seen this merging of golf and street culture and we had a conversation with adidas about that during Paris Fashion Week in 2018.
They weren't really expecting us to pitch a golf story or explain why golf was relevant in street culture but we went to them and talked about what we were seeing and they liked it. We still had to force the issue. We took a trip up to Herzogenaurach, Germany and got connected with the director of marketing for adidas golf, brought him into the ideation process. They invited us the next day and we queued up Happy Gilmore, watched it for an hour and a half together. We wanted three different lines, three different entry points and perspectives to the game based on the leading characters in the film. All of which spoke to street culture and vivid stories, and they supported it.
How long did it take from that conversation happening to the product actually launching?
It would normally take a year, maybe a little bit longer sometimes depending on when you approach them. They have a full calendar and their calendar gets booked out for 18 months sometimes, but if it doesn't compete against any other stories then you have some leeway. A golf-focused collab was such a unique proposition that it almost didn't affect adidas' calendar.
"Stories are important to me and the product is secondary. Stories are important to me because I think stories inspire and they add flavor to the mundane."
Talk to me a little about your friends and family pair, those are crazy.
That's my personal golf one, adidas was kind enough to make that one for me. There are 12 pairs of those that we gave out to friends and family.
Are there any other adidas UltraBOOSTS that you're on the hunt for?
Probably just the black and royal pair, that's the only one that I could use in my rotation, along with more pairs of the "Chalk" colorway.
Describe one of your most memorable moments in your Extra Butter journey.
I'd say the shoot for the Happy Gilmore collaboration. Back in May we were in San Diego with PK Subban and Christopher McDonald, the actor who played Shooter, on a golf course. And we were talking about sneakers that our team had designed and brands that we had worked with. It kind of set me back a little bit and I said to myself, "Wow where are we right now? How did we get here?" It was a special moment because it combined all my interests in life like shoes, business, film and sports. I'll reflect on that even more as time goes on.
Why are sneakers and the stories they hold important to you?
Stories are important to me and the product is secondary. Stories are important to me because I think stories inspire and they add flavor to a mundane purchase. Experiences and memories are what makes us as people. Everyone's experiences are unique and the more stories you share, the more you can relate to others. I think if we took the time to listen to other people's stories, there'd be less hate in the world.