Essentials: Emily Oberg
The Sporty & Rich founder shares her daily necessities and brand vision.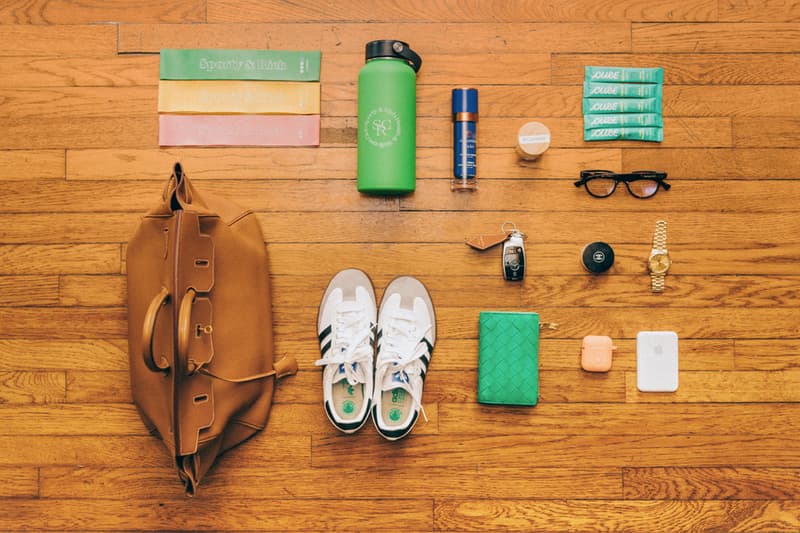 For our latest Essentials installment, we catch up with Sporty & Rich founder Emily Oberg for an updated look at her everyday staples. Oberg started her career as an editorial producer for Complex before moving on to become a creative lead at KITH Women and later starting her own lifestyle label Sporty & Rich which she now focuses on full-time.
Oberg's product spread above reflects her minimalist aesthetic and includes several products from her own brand including resistance bands, a water bottle, glasses, an Apple AirPods Case, and a leather keychain. Luxury accessories include the Hermès Birkin 35, Bottega Veneta Bi-Fold Wallet, and Gold Rolex Day-Date. Other items feature an adidas Samba Vegan, Apple Magsafe Battery Pack, and a range of daily supplements. As it's been six years since we first interviewed Emily, we've taken the opportunity to ask a few questions about her vision for Sporty & Rich, advice for young entrepreneurs seeking to start their own label, daily supplement choices and more.
What have you been up to lately? Any projects you're excited about that you can share with us?
For the past year and a half, I've been focusing full-time on sporty and rich. I'm very grateful that the brand has grown at the rate that it has, and there is a lot to do and plan for. At the moment our main focus is developing new product categories, collaborations, marketing initiatives and finding new ways to grow with no financial backing and a small team. It's both mentally and creatively challenging, but it's part of why I love what I do.
What's your vision for Sporty & Rich going forward?
The goal has always been to open luxury wellness clubs around the world. Like a country club but for cool, young people who are passionate about their health and overall well-being. As we grow, we are adding more and more elements to the brand that focuses on wellness and health.
We see a wide assortment of Sporty & Rich items. How do you decide which products to create for your brand?
My job feels so easy because it's really just an extension of who I am and what I do, what I see, and what I like. We never get stuck on what to do and how to do it, because it all comes so naturally to me, we don't ever have to try too hard at doing anything. We develop items that I want to use based on my lifestyle, and the brand is centered around my lifestyle. I think brands struggle with authenticity because they are trying to build a lifestyle around a brand and build an identity around a product when we've done it the other way around. The brand was built around me and who I am, and that's not really something you can replicate since it's so personal.
What does wellness mean to you?
Wellness means being committed to taking care of yourself mentally, physically and emotionally. It means doing the work that it takes to evolve and become better each and every day. It's sacrificing temporary pleasures for long-term growth and a general feeling of deeper satisfaction toward life.
What advice would you give young entrepreneurs looking to start their own brand?

Don't take money from anyone, no matter how tempting it may be. Do it on your own with as little as you can for as long as you can. This is the key to true success and profits.
You've been on team adidas lately, specifically the classics such as the samba and campus. What's your current approach to footwear?

I've always loved adidas, specifically the originals styles. To me, it's less hype than some of the other brands out there and I don't really collect sneakers as I used to. I live in LA now, so I usually wear slides or some sort of slip-on mule. For sneakers, I've been loving the samba, campus, gazelle, or Stan smith. They're all classics that go easily with everything.
What daily supplements do you take?
I used to go crazy with the supplements but I don't think anyone really needs that many things if you're eating correctly. Now, I take a B complex, zinc, probiotics, magnesium, selenium and a peptide for gut health. Supplements are so specific to your own health condition, so I suggest people do blood work and consult with a doctor or naturopath in order to see what will work best for them.
Take a look at Emily Oberg's product spread above, and stay tuned for new Essentials pieces every Tuesday.
In last week's Essentials series, we caught up with footwear designer Thibo.