Best New Tracks: NBA YoungBoy, Westside Gunn, Givēon and More
Enjoy your weekend with these 10 music projects.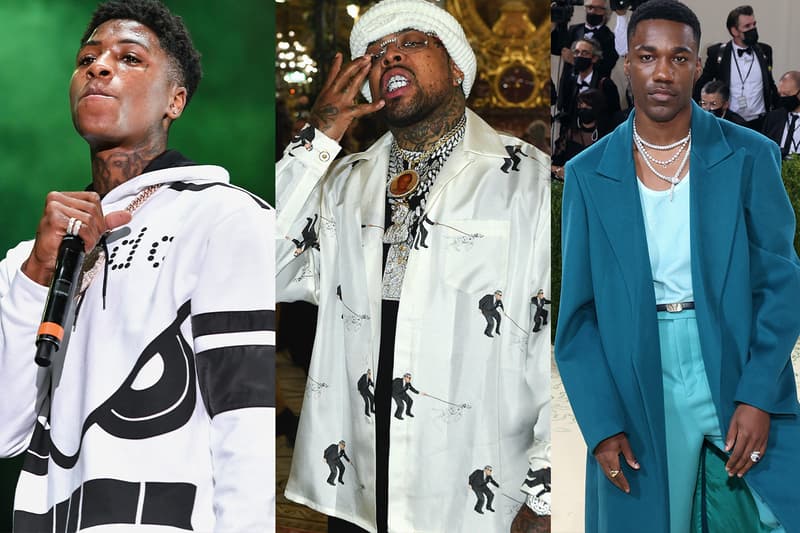 As the week in music comes to a close, HYPEBEAST has rounded up the 10 best projects for the latest installment of Best New Tracks.
This week's list is led by YoungBoy Never Broke Again, Westside Gunn and Givēon, who released Sincerely, Kentrell, Hitler Wears Hermes 8: Side B and "For Tonight" respectively. Also joining this selection are collabs from reggie and Smino, Kojey Radical and Lex Amor and Wiki and Navy Blue, plus fresh offerings from Lucky Daye, Lakeyah, Jordan Hollywood and Lance Skiiiwalker.
YoungBoy Never Broke Again - Sincerely, Kentrell
NBA YoungBoy has finally returned with Sincerely, Kentrell. The 21-track project arrives with no features and is his first studio effort since 2020's Top, which debuted at No. 1 on the Billboard 200 and was his second chart-topper of the year. He also celebrates the album release with an accompanying music video for "Break Or Make Me," which is directed by LouieKnows.
Listen: Spotify | Apple Music
Westside Gunn - Hitler Wears Hermes 8: Side B
After a short delay, Westside Gunn has released the Side B of his Hitler Wears Hermes 8: Sincerely Adolf project. The Griselda titan enlisted the help of heavy hitters like Benny The Butcher, Conway The Machine, Jay Electronica, 2 Chainz, Tyler, the Creator and super producers such as Madlib, The Alchemist, Daringer, Jay Versace and more. "Imagine adding twenty classic songs to an already classic album" Westside Gunn said of the 20-track record. "This is ART on another level; and definitely will be one of the greatest projects ever. Only legends can make a double-album sound this good."
Listen: Spotify | Apple Music
Givēon – "For Tonight"
GRAMMY nominated artist Givēon has delivered his newest cut "For Tonight," which serves as the lead single from his debut album that's scheduled to release this 2021. The R&B star is also set to hit the road for a sold-out tour in support of the album, which kicks off on November 28 in Detroit, Michigan. "This is the story of a taboo vice that I just can't seem to stop indulging in," he shared in a statement.
Listen: Spotify | Apple Music
Lakeyah - My Time
Rising Quality Control artist Lakeyah continues to make her mark with My Time, her latest project that's part of DJ Drama's iconic Gangsta Grillz series. The 11-track record features appearances from Tee Grizzley, Moneybagg Yo, Tyga and Bankroll Freddie, while its cover art pays homage to her Milwaukee roots as she holds up the Larry O'Brien trophy that signifies her takeover and the Bucks' first NBA Finals win in 50 years. Lakeyah also delivered a visual for "Reason" that gives viewers a closer look at her impeccable work ethic.
Listen: Spotify | Apple Music
Wiki x Navy Blue – "Can't Do This Alone"
Wiki is prepping for the drop of his upcoming Half God, produced entirely by Navy Blue, by releasing the brand new single "Can't Do This Alone." It arrives with an accompanying visual directed by Ryosuke Tanzawa, which sees the pair trading bars over a looped soul sample as the walk the busy streets of New York City. Half God drops October 1 via Wikset Enterprise.
Listen: Spotify | Apple Music
Jordan Hollywood – "PLEASURES"
Jordan Hollywood has dropped off his emotionally honest track "PLEASURES" ahead of his upcoming album, Only The Paranoid Survive. The upcoming record follows 2018's FINALLY! and is billed as "a document of Hollywood's growth as he perfects the art of balancing family, loyalty, and financial gains." "I think being paranoid is healthy," the Quality Control Music artist shared. "Overthinking certain situations can reduce the losses you take in life."
Listen: Spotify | Apple Music
Lucky Daye – "Over"
Lucky Daye is following up Table For Two with his newest single, "Over." The three-and-a-half-minute cut features a sample from Musiq Soulchild's "Halfcrazy," and arrives with an accompanying visual directed by Machine Operated and starring Jordyn Woods.
Listen: Spotify | Apple Music
Lance Skiiiwalker – "Sometimes"
TDE's Lance Skiiiwalker has delivered a music video for "Sometimes," which appears on his latest EP Tales From The Telescope Chapter 1: Rebirth. Directed by Pop, the visual is a first-person account of a day spent with a couple and their puppy. "I've always made music to inspire people to live life with curiosity, joy, and imagination. During the pandemic everyone has been forced to be alone more often, so it's the perfect time to learn self growth and love. Stay introverted!" he said in a statement.
Listen: Spotify | Apple Music
reggie x Smino – "Avalanche"
New Gen: Spring 2021 star reggie has teamed up with Smino for "Avalanche." His second offering of the year, the track features production Groove, Teej and Asa DVS and arrives with a stunning visual helmed by ILLIMITEWORLD that makes viewers nostalgic for summer. "Smino's my country cousin, that's really my brother at this point. We met and instantly clicked and made this song in like 2 hours back in 2019. He's probably the only person that can make me rap, no bs it's always fun working with bro. I really feel like we be in the same book. So in the verses we on a different page but it's the same story and then we find each other on the hook," reggie shared.
Listen: Spotify | Apple Music
Kojey Radical x Lex Amor – "War Outside"
Kojey Radical and Lex Amor have teamed up for "War Outside," the lead single off Radical's upcoming debut album. Produced by long-time collaborators KZ and Swindle, the cut is described by the artist as "space and bass" and tells fan to look out for the concept on the album. "This is the first time I've done it to the scale and ambition of what I speak. Previously it's been 'I'm warming, I'm warming, I'm warming up.' But I'm warm now – put me in the game," he confidently assured.
Listen: Spotify | Apple Music