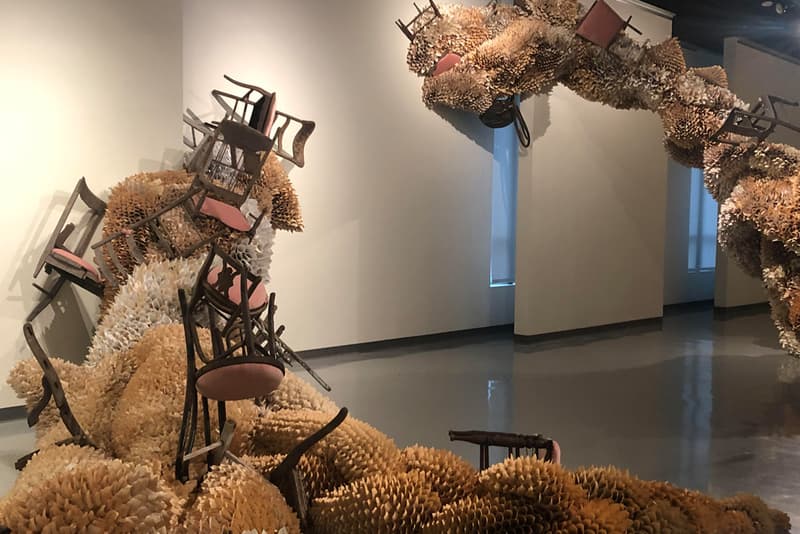 1 of 4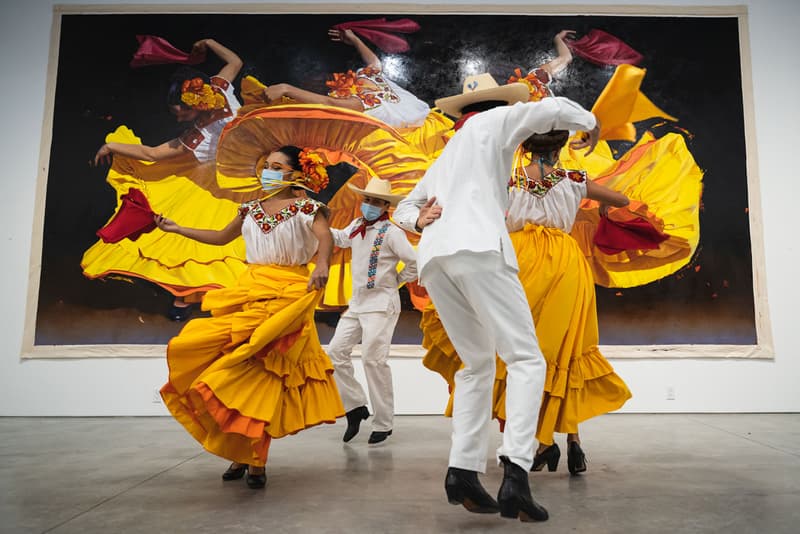 2 of 4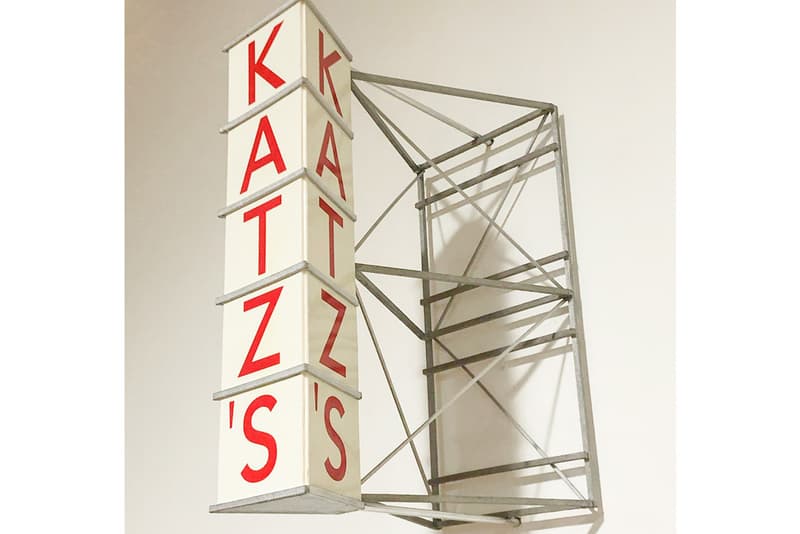 3 of 4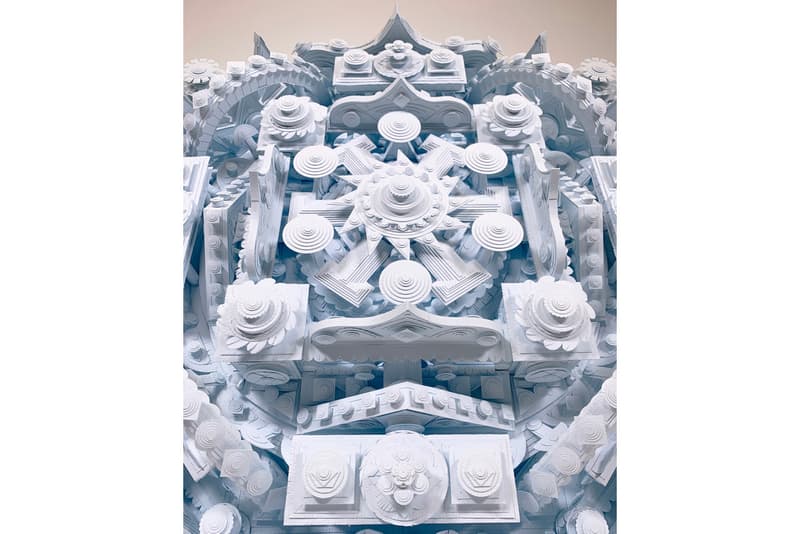 4 of 4
The Seventh Art on Paper Fair Returns for New York Arts Week
Doors open at Manhattan's Pier 36 from September 9 to 12.
---
Art on Paper will join the various New York art fairs opening this week to mark its seventh edition at Manhattan's Pier 36. Due to covid, the event will feature 75 galleries, instead of the usual 100, showcasing the leading contemporary work being made across paper-based art.
In the past, Art on Paper has transcended the typical confines of drawings, prints, and photographs, by presenting work, such as the 3D installation, A Sacred Place, made by Maser in 2020, along with Samuelle Green's 2019 sculpture, Manifestation 4, which was created entirely of unwanted books that were to be trashed.
Amongst the variety of impressive works at the 2021 fair, Green returns with a new sculpture entitled, Permutation 3, an immersive display that appears as though it jumped out the pages of Alice in Wonderland. In a past interview, Art on Paper director, Kelly Freeman, described the fair as a "work of paper" that is "not defined by paper."
The event is backed by a number of organizations enriching the artistic community — from the Public Art Fund and the International Center of Photography, to the Brooklyn Museum and Artsy.
The change in date from March to September stays in line with the upcoming Armory Show, which will also run from September 9 to 12. Tickets range from $25 to $50 USD.
Also opening soon in New York, Jefferey Deitch will showcase a group exhibition highlighting the use of clay in contemporary sculpture.
2021 Galleries:

532 Gallery Thomas Jaeckel New York, NY
AC Latin Art Buenos Aires | Miami, Fl
Adamar Fine Arts Miami, FL
Alessandro Berni Gallery Perugia, Italy
Alida Anderson Art Projects Washington, DC
Alpha 137 Gallery New York, NY
ARCADIA CONTEMPORARY New York, NY
Art Bond NY New York, NY
ART MORA Ridgefield Park, NJ
Art Plus Gallery San Francisco, CA | Seoul, Korea
aux gallery Brooklyn, NY
AWARE WORKS LLC Brooklyn, NY
Azart Gallery New York City
Beatriz Esguerra Art Bogota, Colombia
Benrimon Editions New York, NY
BERTRAND PRODUCTIONS Philadelphia, PA
C24 Gallery New York, NY
Cascade: A Jen Stark Experience Brooklyn, NY
Center Street Studio Milton Village, MA
CENTRAL BOOKING Brooklyn, NY
Chase Contemporary New York, NY
CHIEFS & SPIRITS The Hague, The Netherlands
Claire Carino Contemporary Boston, MA
Clark Gallery Boston, MA
Daniel Cooney Fine Art New York, NY
Dolan/Maxwell Philadelphia, PA
Duane Reed Gallery St. Louis, MO
Eckert Fine Art North Adams, MA
ELLEN MILLER GALLERY Boston, MA
Emmanuelle G. Contemporary Greenwich, CT | NYC
F.L. Braswell Fine Art Chicago, IL
Forum Gallery New York, NY
Galerie l'Atelier New York, NY | Paris, France
Galerie PICI New York, NY | Seoul, Korea
Gallery 1202 Gilroy, CA
Garvey | Simon New York, NY
George Billis Gallery Westport, CT
Ilaria Quadrani Fine Arts New York, NY
InSight Artspace NY
James Yarosh Associates Fine Art Holmdel, NJ
Jean Albano Gallery Chicago, IL
Katharina Rich Perlow Fine Arts New York, NY
Kathryn Markel Fine Arts NYC | Bridgehampton, NY
LaiSun Keane Boston, MA
MANIFEST DESTINY ART GALLERY Barcelona, Spain
Marloe Gallery Brooklyn, NY
MM Fine Art Southhampton, NY
MOLLY+FRIENDS New York, NY
Muriel Guepin Gallery New York, NY
Nancy Hoffman Gallery New York, NY
Paradigm Gallery + Studio Philadelphia, PA
Richard Levy Gallery Albuquerque, NM
SEIZAN Gallery New York, NY | Tokyo, Japan
Spanierman Modern LLC New York | Miami
Stoney Road Press Dublin, Ireland
Sugarlift presents Nicolas V. Sanchez New York, NY
Suqun Studio Charlotte, NC
Tamarind Institute Albuquerque, NM
The Heliotrope Foundation Brooklyn, NY
The Tolman Collection of New York New York | Tokyo, Japan
THOMAS NICKLES PROJECT New York, NY
Tuleste Factory New York, NY
Vellum Projects Brooklyn, NY
Vietnamese Contemporary Fine Art New York, NY
Voltz Clarke Gallery New York, NY | Palm Beach, FL
Walter Wickiser Gallery New York, NY
West Chelsea Contemporary Austin, TX
Art on Paper
Pier 36
299 South St,
New York, NY 10002