You Can Now Order a Compact Camper Attachment for the Tesla Cybertruck
Stream It CEO Lance King told HYPEBEAST that the structure offers 'zero additional aerodynamic drag.'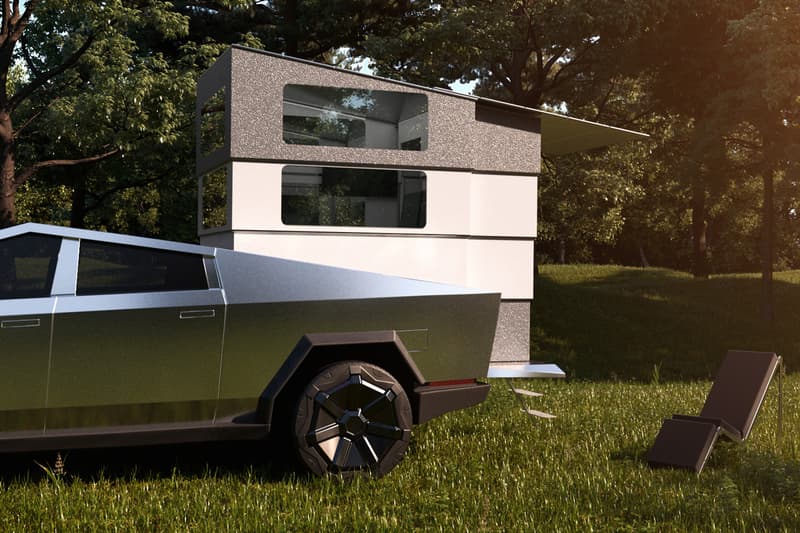 The Tesla Cybertruck may not be out until 2022, but prospective buyers are already investing in accessories for the electric pickup truck, including a $50,000 USD attachable compact camper developed by software and artificial intelligence company Stream It.
The 1,200 lb (544 kg) CyberLandr transforms the Cybertruck into what's essentially a sleek, high-tech RV and according to Business Insider, it's already hit $80 million USD in pre-orders since its debut in April.
Speaking to HYPEBEAST, Stream It CEO Lance King said he was inspired by the Cybertruck itself, which he called the "most capable vehicle ever created."
"It was simultaneously more economical than a compact car, more powerful than a muscle car, quicker than a sports car, more responsive than a supercar, more capable off-road than another full-size pickup," King said. But the truck's only weakness, according to King, was that its range was greatly reduced when carrying a camper, a common issue across electric vehicles.
"Then it occurred to me that if we could fit an RV into the Cybertruck's bed (or "vault") it would have zero additional aerodynamic drag and very little reduction in range," King said. The ultra-compact CyberLandr packs in a living room, bedroom and bathroom and still fits in the bed of the truck. In contrast to bulkier traditional campers, King said that he realized its design "would also make it easier to charge the Cybertruck, improve visibility, allow you to go places other RVs can't go (both off-road and through a drive-thru or into a parking garage)." Since it's so light and basically becomes a part of the truck itself, the camper could technically be left on year-round.
Of course, the CyberLandr wouldn't be worthy of being a Tesla add-on if it didn't include the most advanced developments in camper technology, so Stream It made sure to cover all of the bases with running water, temperature control, voice control for its lights and the incorporation of AI with the ability for software updates.
Those who have placed orders for CyberLandrs will have to wait until Tesla puts the Cybertruck on the market to try out their new travel homes, since any potential changes in the vehicle's design will likely warrant tweaks to the camper.
Elsewhere in the automotive world, Hamann fitted the BMW X6 M with a daring wide body kit.