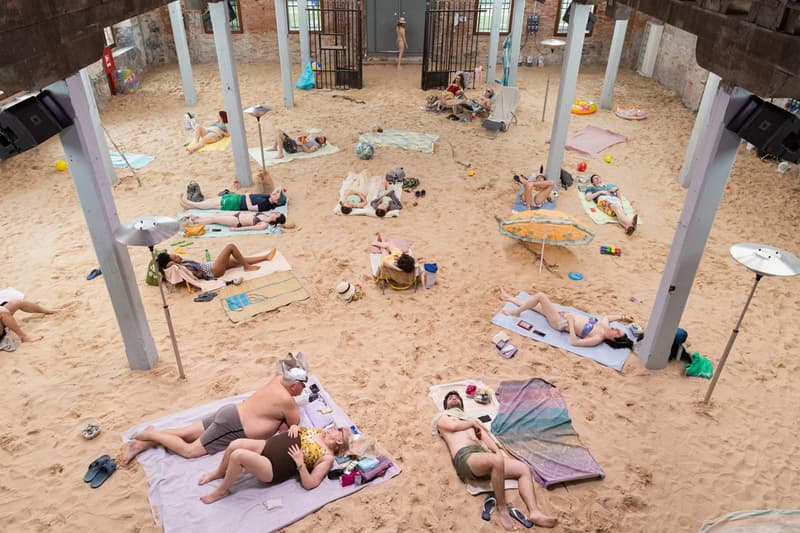 The Pleasantly Apocalyptic "Sun & Sea" Opera Is Coming to MOCA's Geffen Contemporary
From October 14 to 16.
---
The "Sun & Sea" opera that won the Golden Lion Award at the 2019 Venice Biennale is going to hit Los Angeles this fall. The performance was the brainchild of an all-woman Lithuanian team consisting of artist Lina Lapelytė, poet and playwright, Vaiva Grainytė, and director Rugilė Barzdžiukaitė.
The LA edition will be held at MOCA's Geffen Contemporary and is in conjunction with the HAMMER Museum and the Center for the Art of Performance at UCLA (CAP UCLA). The expansive warehouse of the Geffen will be filled with 20 tons of sand, along with rocks, shells, and driftwood that will bring the beach miles closer to DTLA.
The award-winning opera shows a simplistic but chilling portrait of the "apocalyptic climate crisis" that can be witnessed "as easily as a trip to the beach," wrote Joshua Barone of The New York Times. Plastic galore is abound each of the variety of characters, who represent different sectors of society — from the wealthy mommy, bragging about her kids swimming around different oceans around the world, to the workaholic dad and the traveling couple. The opera is neither in your face in political messaging, nor does it offer any solutions to the myriad of variables that have caused this climate emergency. Rather, "Sun & Sea" shows a pleasantly disturbing glimpse into contemporary leisure, where the artists behind the work implement the "old-fashioned parenting trick of forcing a child caught smoking to finish the entire pack as punishment," said Barone.
"Sun & Sea" will run from October 14 to 16 at MOCA's Geffen Contemporary in DTLA. MOCA members can beat the lines by purchasing tickets several days earlier than the September 17 release date.
Elswhere, Mexico continues to request back an ancient Aztec headdress from Austria.
The Geffen Contemporary at MOCA
152 N Central Ave,
Los Angeles, CA 90012