DRIVERS: Nick Cheung and His 2012 Aston Martin V8 Vantage S
The SNEAKERBOX digital lead daily drives the V8 through the streets of Vancouver.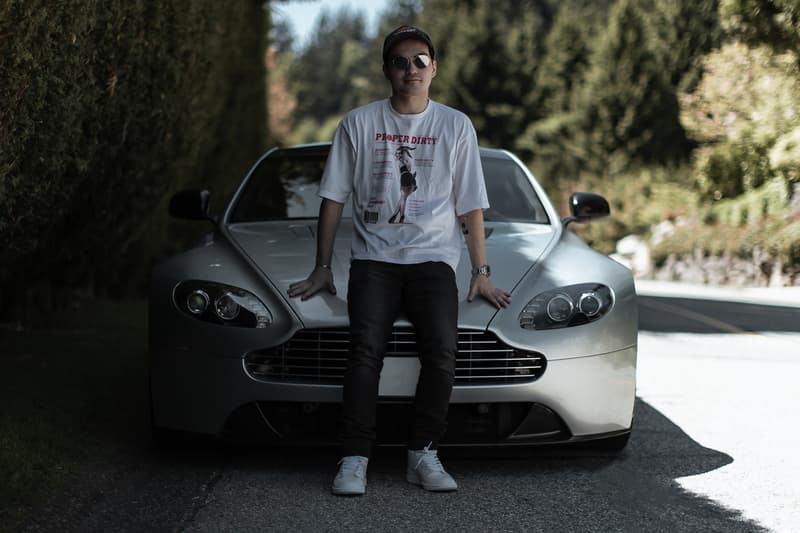 DRIVERS is a series highlighting influential individuals in the HYPEBEAST sphere and their passion towards all things automotive. The approach is simple: what is car culture to you, and why do you have a passion for it? Each contributor is given a chance to shine light on their personal vehicle or vehicles, and asked to remark on how they are driving culture forward, both metaphorically and literally.
---
For our latest iteration of DRIVERS, we head to Vancouver, British Columbia, to highlight someone a bit more behind the scenes of our everyday-hyped world. Canadian Nick Cheung is the director of operations/digital lead for SNEAKERBOX, a local footwear/fashion retailer in Canada that has made its space into a stronghold staple for sneakerheads – think Darkside Initiative in San Francisco, Patta in Amsterdam, or Footpatrol in London. The store has actually expanded its locations to West Vancouver's Park Royal shopping center, a store in Burnaby as well as in Richmond, but of course also services its customers online through its e-comm presence.
Nick's grind at the store started from the bottom, or more specifically from the stock room. His positions evolved into sales of its products, management with the stores operations, buying of its inventory, to the eventual supervision of its digital presence. Nick prides himself on understanding not only the culture and the people involved to make it great, but the strategy behind the business and the marketing required to expose SNEAKERBOX to collectors and newcomers alike. The result is one of the best curated, visually-driven sneaker retailer websites in all of Canada.
With his progression through SNEAKERBOX, Nick has rewarded himself with one of the most everyday-drivable GT cars of the 21st century: a crispy clean Aston Martin V8 Vantage S. The S adopts a highly-capable 4.7L V8 that's stepped up from the standard Vantage, good for 430 hp and 361 lb/ft of torque and 0-60 in just over four seconds. Before Aston introduced the V12 edition, the V8 Vantage S was revered by reviewers and touted as one of the most well-rounded GT cars of the time. And that's all before the looks are taken into consideration – there's not much else that looks and sounds as good as this.
Read our latest edition of DRIVERS and in case you missed it, we last featured model/drifter Sara Choi and her 1993 Mazda RX-7 FD.
Make, model, year of your car?
2012 Aston Martin Vantage S Coupé, in Titanium Silver with an Obsidian Black Nappa leather interior.
When did you acquire it? 
Took it home in fall of 2018.
What made you choose this car specifically? 
Actually, I wasn't even shopping at the time. I had only been in my previous car for about a year and a half at that point and wasn't really looking to switch quite yet, but when I saw this deal in, what I believe is, the perfect spec Aston… I couldn't pass it up. And I'm sure my dealer knew that when he brought it to me. Nice one, Wilson at McLaren Vancouver. No regrets!
The design of the Vantage is far from super-modern, but it's aged gracefully and does feel truly timeless. The lines on the car are sexy and stunning, and there aren't a ton on the roads; definitely less than most comparables from other manufactures.
The quality and attention to detail also hooked me to the vehicle, most notable on the interior's leather and Alcantara, as well as the finish of the paint.
What is the main purpose for this car for you?
Daily Driver! This beauty goes almost everywhere with me. My work takes me all around town, so she's well driven! I've stuffed 30 to 40 shoe boxes in this little coupe on multiple occasions.
On a less physical note, the car and every car before it has served as a motivational tool. With reflection, the car attests to a certain level of personal success, and while there remains cars out there that I dream to own, I like to think of it as great motivator to push towards the next.
What has been done with this car? Where has it gone? 
I've done two road trips in the car! Once down to Seattle, and a 1000km roundtrip to B.C. Interior's beautiful Lake Okanagan! Took a lot of bugs off the bumper after that one…
People are pretty divided on the topic, and there are definitely some exceptions, but I believe cars are meant to be driven… the series is called DRIVERS after-all. I've nearly tripled the odometer on the Vantage in just a few years and hoping to put on many more before it switches hands.
Any details? Modifications? Changes? 
All Aston Martins – Cygnet excluded, for those of you who know what that is – are gorgeous, and this car's original design and construction are no exception. I really loved the contrast of the stock carbon fiber on the front splitter, side strakes, and rear diffuser against the incredibly metallic Titanium Silver – so much so that I wanted to add a few more black bits and decided to vinyl wrap the roof panel, mirrors, and part of the boot!
I tend to prefer my cars stock, so rather than install a crazy exhaust, I added a remote Valve Control module to let the car's original exhaust breathe a bit more growl-y at low revs when I want it.
The car felt practically brand new when I purchased it with only 13,000km on it, but I still saw more potential in the shine of the paint and ended up doing a complete 30+ hour interior/exterior detail on my own over the span of five or six nights after work.
What is a car to you: aspirational achievement, functional tool, stress-reliever, etc?
All of the above. The car is my daily driver, and most definitely has served that function. I've always enjoyed driving, it's never really been a chore for me, and if anything, driving and washing my cars has always been great stress relief.
Growing up, Aston Martins were poster cars for me, synonymous with James Bond and the brand's refined British elegance, so having one to call my own has served as one of my biggest achievements. It still feels surreal every time I look at the car. Oh, and the crystal key – fittingly named the 'Emotion Control Unit' – not many things can compare to the smiles you get pushing that into the ignition.
"With reflection, the car attests to a certain level of personal success, and while there remains cars out there that I dream to own, I like to think of it as great motivator to push towards the next."
What was your dream car growing up? 
No way, too tough to pick one. Let's go with: Aston DBS and One 77, the Ferrari Enzo, Porsche 911 GT1, and BMW E30 M3! Here's to one day ticking off that list.
What have you owned before? What would you like to have? 
I grew up around my dad's obsession with '80s/'90s European cars, the era he first fell in love with. I recall being as young as nine or 10 years old riding with him to different car shows showcasing German and Italian vehicles. By the time I was able to drive, I had adopted much of dad's taste for E.D.M. (European Domestic Market).
My first car was a $2,500 CND E30 BMW 325iX (4WD), finished in a beautiful grey with some houndstooth cloth seats. The 3-series fit perfectly into the family garage of boxy rally cars alongside an Alfa Romeo Milano Verdé, Audi GT Coupé, and Mercedes-Benz 190E Cosworth 2.3-16V. With a few years of manual driving under my belt, I got to take the driver's seat in the Porsche 964 911 Cabriolet, and shortly after the 993 Carrera 4S. The latter was finished in Polar Silver, with a dark Navy Blue interior, and from the moment I moved that car from first to second gear, I knew I needed to own a Porsche – and fast.
Previous to the Aston, I went on to own an Audi TT, Audi S5, and then a 981 Porsche Boxster. I also shared an Audi R8 V8 Coupe with my father for a few years. I do really miss that car, such a great value and also a really well-aged design.
What would you like to have?
There's a lot I'd like to drive in the future, shorter term – I've had my eye on the Audi RS7, Porsche 911s, and the Audi R8 Spyder. You can probably guess by now which automakers I have an affinity for.
I'd like to also bring in an electric/hybrid car as a daily driver at some point, but it'll need to be something I can really enjoy spending my time in. Took a look the new McLaren Artura press car recently. It looks great, interested to see how those drive once they roll out!
What is the future of the automotive industry? Car culture?
Probably not to anyone's surprise, I think electric and hybrid vehicles will be a majority in terms of new production cars within the next five to 10 years, only making these older larger displacement naturally-aspirated examples more desirable and collectible. My hope is that the enthusiast in many of us will continue to maintain the culture as we get into our favorite cars of the future and the eras previous.