A Nest With Almost 1,500 Asian Giant 'Murder Hornets' Has Been Destroyed in Washington
Staff vacuumed 113 hornets, before excavating the nest.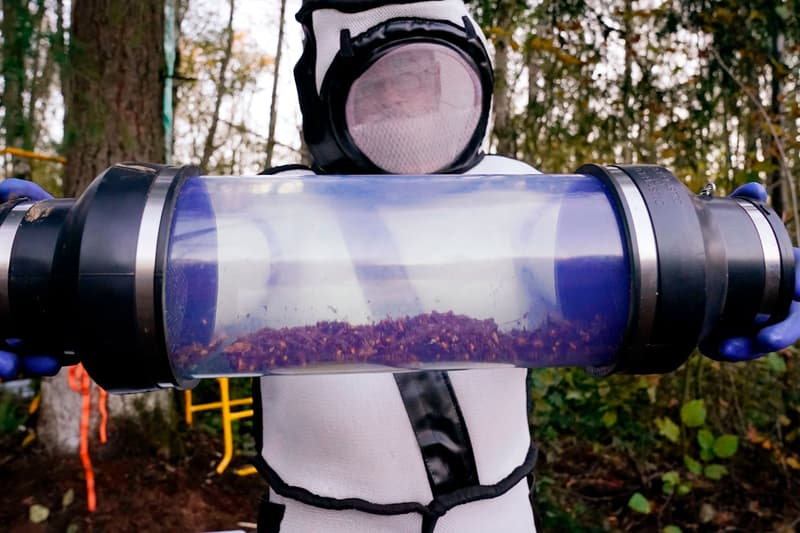 The first Asian giant hornet nest of 2021 has been destroyed in Washington, according to officials in the state on Thursday.
The nest was discovered in the base of a dead alder tree in Whatcom County, east of Blaine, roughly two miles away from the nest the Washington Department of Agriculture (WSDA) eradicated in October 2020 and one-quarter mile from where a sighting of a live "murder hornet" was reported earlier this month.
Our team eradicated the first #AsianGiantHornet nest of the year yesterday. Read about it in our press release or tune into our press conference at 11 a.m. live streaming on YouTube. https://t.co/hY2MZJVqVd #SoundOn pic.twitter.com/U2CMgN5y2C

— Washington State Department of Agriculture (@WSDAgov) August 26, 2021
WSDA staff first vacuumed 113 worker hornets from the nest, before removing bark from the base of the decaying tree to uncover the nest's entrance. Officials learned that the hornets had burrowed into the tree to build the nest, which was composed of nine layers of comb.
The affected section of the tree was transported to Washing State University Extension in Birmingham for a larger examination. WSDA's on-site staff captured an additional 67 hornets in the surrounding area with nets and confirmed that the nest contained almost 1,500 hornets.
"While we are glad to have found and eradicated this nest so early in the season, this detection proves how important public reporting continues to be," said Sven Spichiger, WSDA managing entomologist, in a statement. "We expect there are more nests out there and, like this one, we hope to find them before they can produce new queens. Your report may be the one that leads us to a nest."
WSDA will continue to set traps for Asian giant hornets through November.
Elsewhere, Airbnb will temporarily house 20,000 Afghan refugees.