Facebook's New VR Headset Projects a User's Eyes in 3D
Meant to make the experience more sociable.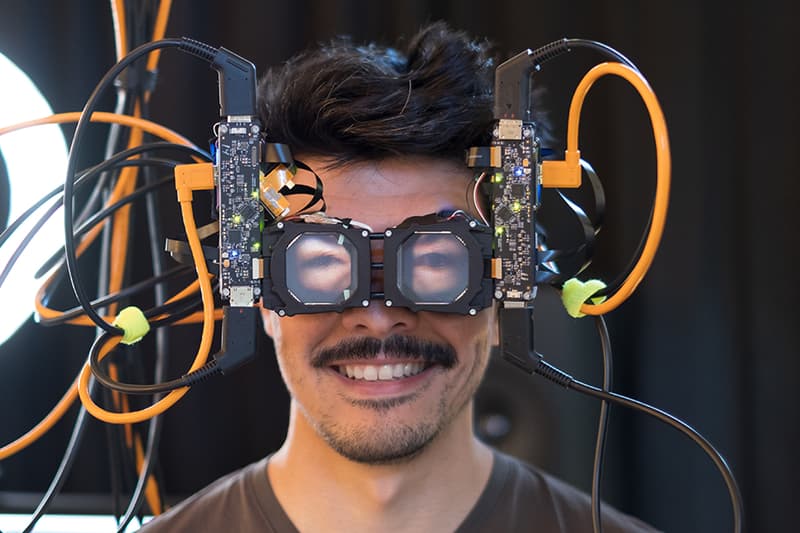 Facebook wants to make using virtual reality (VR) less socially isolating by projecting a user's eyes onto the front of a VR headset.
Pioneered by the Facebook Reality Labs, "reverse passthrough VR" is the subject of a new paper that introduces how a 3D view of a headset wearer's eyes can be presented to outside viewers in a perspective-accurate manner. Going off of the lab's prototype, the result is a grainy virtual rendering of eyeballs on the two front screens of the headset.
An abstract for the paper posits that this approach "enables more seamless interactions between people with and without headsets in social or professional contexts." Research scientist Nathan Matsuda was provoked to experiment with VR headsets when, after a day of wearing one around the office, his colleagues said that it was strange that he wasn't able to make eye contact during conversation.
Alongside a team of scientists, Matsuda developed a VR headset that contains eye-tracking cameras on the inside to capture and depict its wearer's gaze, with the first demonstration of reverse passthrough, a larger, clunkier version of today's model, debuting in 2019.
"My first reaction was that it was kind of a goofy idea, a novelty at best," said FRL Chief Scientist Michael Abrash. "But I don't tell researchers what to do, because you don't get innovation without freedom to try new things, and that's a good thing, because now it's clearly a unique idea with genuine promise."
The headset prototype has evolved significantly over the past two years, but a blog post outlining the tech says that the research is "clearly still experimental," citing limitations such as that the viewing angle can't be too severe and that objects won't be shown in sharp focus unless they are extremely close.
FRL promised that it will return later this year with a holistic update on its data systems research and progression towards creating high-quality VR headsets that are "compact, light, and all-day wearable."
In other tech news, Miami has launched a digital token called MiamiCoin.