There's a Tech Takeover at Goodwood Festival of Speed
What does the future look like? Flying cars, living rooms on wheels, and jet packs.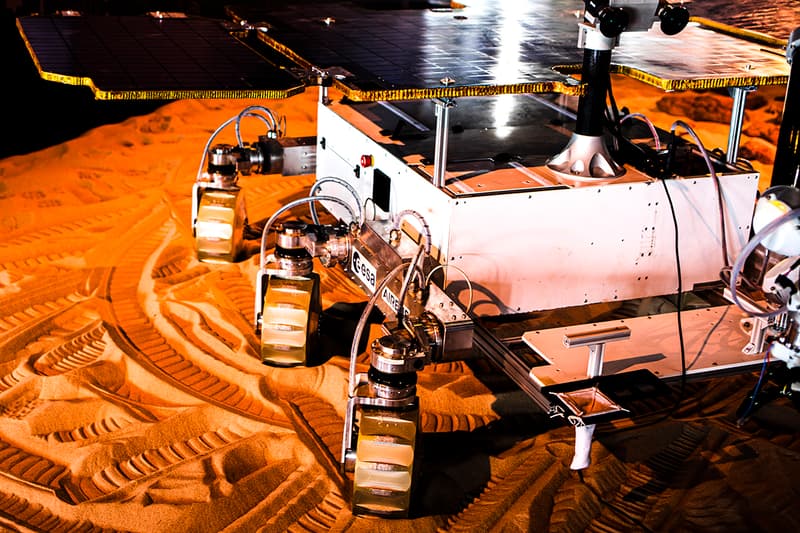 Goodwood Festival of Speed is back, and littered between the likes of Jaguar, BMW M, and Lotus, was plenty of future-shaping tech. 
To go to a car show for the technology might sound a bit left-field, but this is 2021, and many companies aren't just creating products for today. That's where Future Lab comes in. Curated by Lucy Johnson, this year's Future Lab was all about forward-thinking visions of the world that we're going to have to live in, and as a result, much of the tech on display was designed to help us help the world, and vice versa. 
With a mantra that robots and tech should be our friend, technological advancements solved almost everything imaginable — from 24-hour robotic farming and 3D-printed gummy vitamins personalized to your needs to the Arrow SAM Car (which can be driven using just the motion of your head), Future Lab presents the solutions we need to continue living the life we do. 
HYPEBEAST wanted to spotlight some of the best — and most relevant — tech on show. From performance cars to drivable living-work spaces, robots to jet packs, here's the best tech on show at Goodwood Festival of Speed 2021. 
Honorable Mentions
Electric Avenue at FOS
Five years ago, electric cars were laughed at for their measly range and extortionate prices, but as technology improves and the choice of cars expands they're now inescapable. Every type of car was on display, from the much-anticipated KIA EV6 GT and the microscopic Citroën Ami to hypercars such as the Rimac Nevera, Pininfarina Battista, and the 2000 HP Lotus Evija. The range goes to show how far we've come since Tesla and Fisker were the only feasible choices on offer (with  $100,000 USD price tags), and proves that electric cars can keep up with traditional combustion engines. Will they replace petrol and diesel by 2030? If Electric Avenue is anything to go by, we don't see any reason why your next car shouldn't be an EV.
Boston Dynamics Spot
Boston Dynamics' Spot is a bit like if WALL-E and a man's best friend came together. Naturally, the dog-like machine put on a show, jumping and getting on its hind legs, squatting down and running around just like the family pet might, only it all seemed rather unearthly with its automated data-capturing eye staring into your soul. The idea behind Spot is that it will change how companies navigate things humans can't do so easily — for example, exploring and collecting data on unreachable or tough terrain in fields such as construction, mining and elsewhere. But we doubt Spot is going to replace your Yorkshire Terrier anytime soon.
Best Tech on Show
PAL-V Liberty
Netherlands-based PAL-V is changing the way we contribute to congestion with the Liberty — dubbed the "first true flying car." When it's on the road, this two-seater looks curiously amphibious, rather than something that's designed to go in the air. But when you're ready to take flight, just head to an airfield and fly away. You have 300 miles of range or around three hours of flight time, which means you can go from London to Paris or Amsterdam, touch down, and fill up the car with regular petrol to continue your on-road journey. Not quite The Jetsons, but close enough.
Gravity Industries
Like flying cars, we've seen jet packs before, but Gravity Industries is a trailblazer in this field that's actually becoming a reality. Designed to be used in mountain research situations that humans or helicopters would struggle to get to, the jet packs are powered by 1000 HP multi-gas turbines and lift you into the skies at speeds up to 80 MPH. 
For this year's Future Lab, Gravity Industries presented a world first: the eSuit. Made from carbon fiber, 3D-printed polypropylene and aluminum, the electric jet suit is strong yet light and doesn't emit harmful chemicals, meaning the label is even closer to bringing jet suits into real-life situations. 
Airbus Sample Fetch Rover for NASA and the European Space Agency
This Mars rover is built for "fetch and return" purposes, and aims to land on the red planet in 2028. Traveling 200 miles a day, the rover will collect surface samples and collate them in 36 different rubes that will be transferred to the Mars Ascent Vehicle before it heads back to Earth. 
Why? Well, NASA and the European Space Agency want to understand if there ever was — or will be — life on Mars, and in turn, this will help us better understand life on Earth. This rather simple robotic arm device is much more than that, as algorithms will decide what is worth picking up and what's not to learn about Martian activity. 
Airo for IM Motors by Heatherwick Studios
This star Future Lab (and Festival of Speed) attraction is a concept vehicle that aims to change not just travel, but life. Pictures don't do the scale of this machine justice, but to put it into perspective, it's essentially a room on wheels. Capable of seating four around a dining table, converting into a bedroom, or acting as a home cinema, the idea is to capitalize on space and to make us think of our cars as a home in areas where space is limited. 
It's been designed for the Chinese EV company IM Motors, and it even features a front end that's fitted with a HEPA filter to clean the air as it drives along. Oh, and the glass even turns fully opaque for privacy when this is being used as a bedroom. 
Einride Autonomous Truck Control
Notice anything unusual about this truck? That's right, there's no cabin. In fact, you can't even get into it. The idea is that one trained driver can operate up to 10 trucks remotely over 5G from anywhere in the world, using a simulator-like screen set up that coordinates with the truck's autonomous driving to sustainably and eco-consciously deliver cargo around the world. 
What's more, it doesn't eliminate the need for humans (which is a big fear in the ever-growing world of robots taking over), but it does mean that truckers will have a much less demanding job. Win-win.
Emotiv Brainware
If you want to feel like a superhero and control things with your brain — such as a Scalextric track — then Emotiv Brainware is for you. While it's hard to capture, it's even harder to imagine, but let us explain. World-leaders in electroencephalography products, Emotiv's wireless neuro headsets wrap around your forehead a bit like a call center headset and convert concentrated brain waves into commands for robotics. With this in mind, almost anything can be controlled by just thinking about it — and it will do it.