Conor McGregor Details His Successful Three-Hour Surgery and What Really Caused the Break
He will make a full recovery.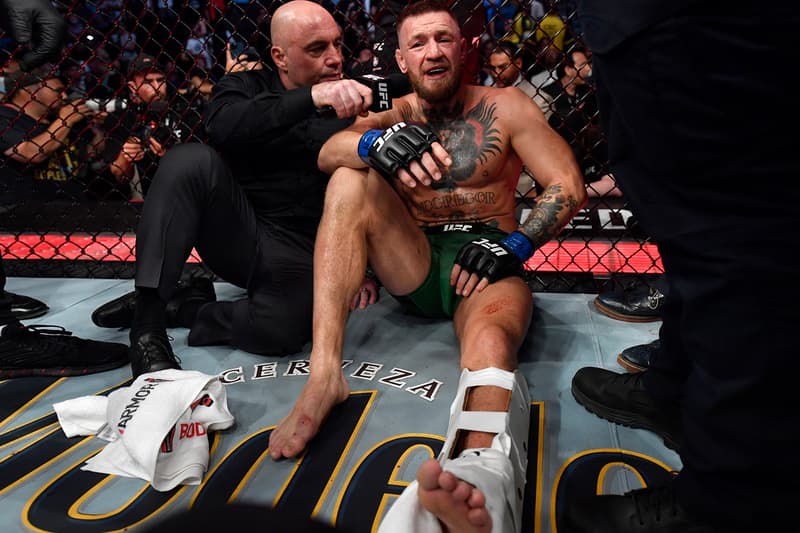 Not even a day after the shocking events of UFC 264, Conor McGregor has released an official statement regarding his broken leg.
The Notorious was back in his old ways leading up to the UFC fight against Dustin Poirier where the trash-talking touched on areas in Poirier's personal life, but it was the threats on Poirier's life that kept The Diamond laser-focused during the match. While Poirier is certain that it was a checked kick that cracked the bone first, McGregor is standing firm that it was not caused by a check with even coach Kavanagh confirming that it was most likely from Poirier's elbow when he blocked a hard front kick.
Fans fearing that this could be a career-ending break can rest easy as McGregor's surgeons at the Cedars-Sinai hospital have revealed that the Irishman will be making a full recovery after a successful three-hour-long surgery. It was also revealed that his tibia required an intramedullary rod while his fibula was repaired with a metal plate. Conor is expected to remain in the hospital for a few more days where he will require crutches for six weeks.
Onwards and upwards we go ☘️ pic.twitter.com/qKgochlT3t

— Conor McGregor (@TheNotoriousMMA) July 12, 2021
Thank you for the message Ronda!
I appreciate it greatly ❤️ https://t.co/850LvnJFPn

— Conor McGregor (@TheNotoriousMMA) July 12, 2021
Just out of the surgery room guys! Surgery went excellent! Feeling tremendous! 6 weeks on crutch and we build back! Let's go! God bless ?

— Conor McGregor (@TheNotoriousMMA) July 12, 2021
— Audie A. Attar (@AudieAttar) July 12, 2021
For everyone saying McGregor suffered the injury because of Poirier checked his leg kicks spreads absolute bullshit. This is where it all happend; a front kick that barely connected, and got blocked with an elbow that broke the leg in that specific place. Very horrific… pic.twitter.com/S8LnfOpsyE

— Benjamin Dijkstra (@benjidijkstra) July 12, 2021
It was Dustin's elbow that caused Conor's injury, Coach Kavanaugh confirms ?

Yeah it is a legit win for @DustinPoirier ?? pic.twitter.com/k4H4NMdJi8

— ???? ? (@stargazer109) July 12, 2021
In other sports news, Nigeria becomes the first African basketball team to beat the U.S. men's national team.