Migos Unveil 'Culture III' Tracklist Featuring Drake, Justin Bieber, Juice WRLD, Future and More
Serving up 19 eagerly awaited tracks.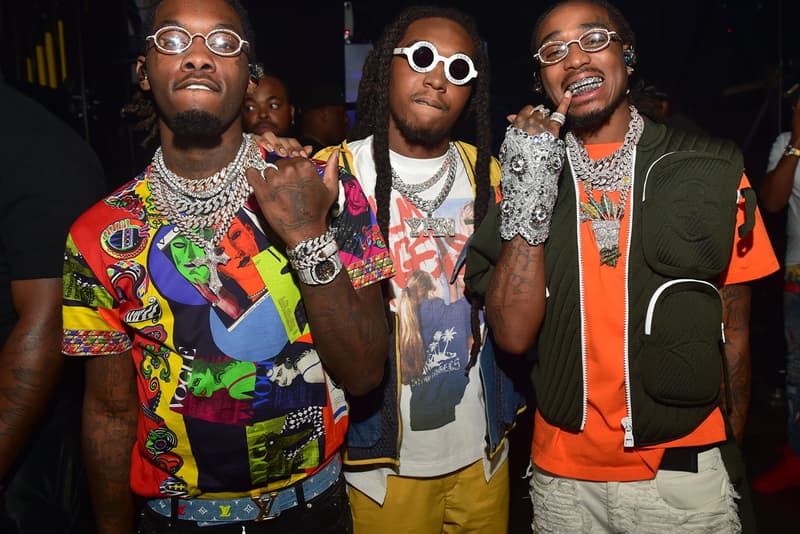 Migos have unveiled the hotly anticipated tracklist for their upcoming Culture III album, set to arrive on Friday, June 11.
Quavo shared the official lineup to Twitter on Tuesday, under a caption reading, "Let's Get It Gang!!! Friday!" The 19-track record features collaborations with Drake, Justin Bieber, Future, Cardi B, Pop Smoke, Juice WRLD, Polo G and NBA YoungBoy.
Let's Get It Gang!!! Friday! ?#Culture3 pic.twitter.com/PPWIMVb3v1

— QuavoYRN (@QuavoStuntin) June 8, 2021
The album has been in the works for quite some time — the project was first announced in 2018 and slated to drop the following year, then delayed to 2020 and pushed back further due to the pandemic. Speaking on the Kevin Durant-co-hosted podcasted The ETCs in December 2020, Quavo disclosed that the album was complete and that the trio was waiting to properly release the record in the new year. "Right now, we just waiting on Culture III. We done with the album. We just waiting on 2021, man, so everything can crank up. We don't wanna drop it right now," he said.
"This is three years of creativity and sitting back, because we felt like the fans deserved that," Offset told Billboard in a recent interview. "We didn't want to make nobody upset, but our main thing was creating the best project we ever created."
"We not just doing one verse and one verse, we're switching it up," he continued. "We doing things other people can't do because we the only group. We got creative with our flows so we could stamp another. We feel like we gonna lead the pack with this album."
Take a look at the full tracklist, below.
1. "Avalanche"
2. "Having Our Way" feat. Drake
3. "Straightenin"
4. "Type Shit" feat. Cardi B
5. "Malibu" feat. Polo G
6. "Birthday"
7. "Modern Day"
8. "Vaccine"
9. "Picasso" feat. Future
10. "Roadrunner"
11. "What You See" feat. Justin Bieber
12. "Jane/Birkin"
13. "Antisocial" feat. Juice WRLD
14. "Why Not"
15. "Mahomes"
16. "Handle My Business"
17. "Time for Me"
18. "Light It Up" feat. Pop Smoke
19. "I Need It" feat. NBA Youngboy
In case you missed it, Drake is opening a new concert venue in Toronto in partnership with Live Nation Canada.