Best New Tracks: MF DOOM x Czarface, J. Cole, Isaiah Rashad x Duke Deuce and More
10 music projects to dive into this week.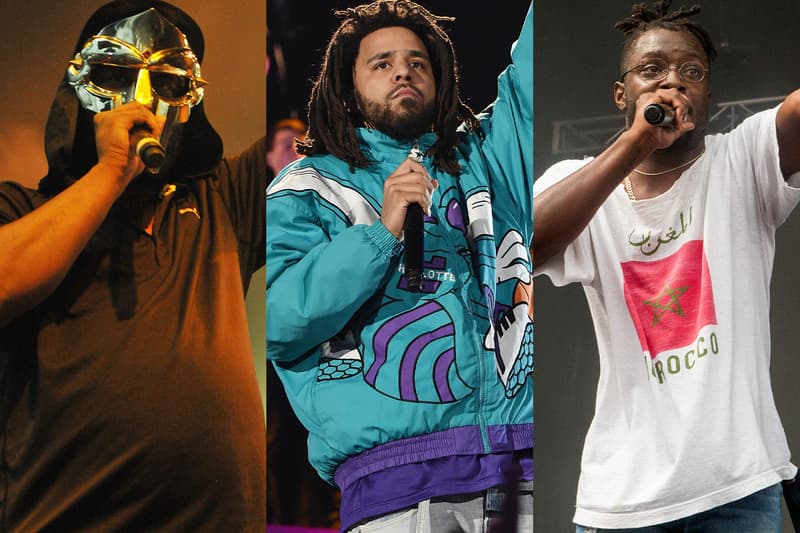 As the week in music comes to a close, HYPEBEAST has rounded up the 10 best projects for the latest installment of Best New Tracks.
This week's list is led by Czarface and the late MF DOOM's newest collab album Super What?, the return of Isaiah Rashad with a single featuring Duke Deuce and J. Cole's first single from The Off-Season. Also joining this week are fresh releases from Kenny Mason, Saweetie, Sainté and ROSTAM, along with collaborations from Trippie Redd and Playboi Carti, Little Simz and Cleo Sol plus Moses Sumney and Hypnotic Brass Ensemble.
Czarface x MF DOOM - Super What?
Czarface — 7L, Esoteric and Inspectah Deck — shared their brand new collaboration with the late MF DOOM entitled Super What? The record marks the first release since the December 2020 announcement of the villain's death and, according to Esoteric, was recorded and scheduled to release in April 2020. "I speak for everyone involved when I say we were incredibly fortunate to have collaborated with DOOM…he was a one-of-a-kind, never-to-be-duplicated emcee, producer, and visionary. We wish peace and healing to his family, friends and everyone touched by the gifts he shared with the planet. MF DOOM FOREVER," he wrote on Instagram.
Listen: Spotify | Apple Music
J. Cole – "i n t e r l u d e"
After officially announcing the release date of his highly-anticipated project The Off-Season, J. Cole gave fans a little taste at what to expect with "i n t e r l u d e." Staying true to its title, the one-and-a-half-minute cut hears him deliver a few bars about success as well as pay his respects to Pimp C and Nipsey Hussle. "This sh*t can go up, it can go down, I don't give a f*ck / N*gga, I done seen the highest heights / I done seen it twice / And I've seen them lowest of the lows / And still I rose," he raps in the end.
Listen: Spotify | Apple Music
Isaiah Rashad x Duke Deuce – "Lay Wit Ya"
After a week of teasing by Top Dawg Entertainment, Isaiah Rashad is finally making his triumphant return with the Duke Deuce-enlisted track "Lay Wit Ya." The song serves as the lead single of his forthcoming album The House Is Burning, which drops this June 2021 and is his first full-length since his revered 2016 effort The Sun's Tirade.
Listen: Spotify | Apple Music
Little Simz x Cleo Sol – "Woman"
Little Simz is prepping to release her upcoming album Sometimes I Might Be Introvert with her new single "Woman" featuring Cleo Sol. The pair use the track as a soulful love letter to all the women around the world. "I love it when I see women doing their thing and looking flawless; I'm here for that!" Simz said in a statement. "It's empowering, it's inspiring; I wanted to say thank you and I wanted to celebrate them."
Listen: Spotify | Apple Music
Trippie Redd x Playboi Carti – "Miss The Rage"
Trippie Redd and Playboi Carti linked up to deliver the collab "Miss The Rage." The single's accompanying animated visual sees the Canton, Ohio rapper dressed as a knight and fighting a pair of strange teeth creatures, hinting that the collab could appear on his upcoming album TRIP AT KNIGHT.
Listen: Spotify | Apple Music
Kenny Mason – "strays 02"
Kenny Mason has released the second installment in his live performance visual series, this time featuring back-to-back verses from Angelic Hoodrat: Supercut and Angelic Hoodrat. The impressive 12-minute visual was shot in a single take and is unedited and uncut, and highlights the Atlanta star's hardest-hitting bars and rapid fired verses.
Listen: YouTube
Saweetie – "Fast (Motion)"
Ahead of the release of her highly-anticipated debut record Pretty Bitch Music, arriving June 25, Saweetie shared the brand new cut "Fast (Motion)." Inspired by Miami's dance culture, the single is a reminder of the rapper's own prowess while encouraging listeners to find their own. The music video also sees Saweetie going head-to-head with WNBA MVP A'ja Wilson while spotlighting Black-owned brands she loves such as Brandon Blackwood, Matte Swimwear, Mielle Natural Hair Care, Frank's Bod, and High Hem.
Listen: Spotify | Apple Music
Rostam – "From The Back Of A Cab"
Rostam is getting to release his forthcoming album Changephobia by dropping a new single, "From The Back Of A Cab." The track's accompanying music video is co-directed by Jason Lester and Batmanglij himself, and, following the theme of the track, is primarily set in the backseat of a taxi. A star-studded list of guests join him in the visual including HAIM, Charli XCX, Wallows, Kaia Gerber, Remi Wolf, Nick Robinson, Bryce Willard Smithe, Samantha Urbani, Demi Adejuyigbe, Seth Bogart, Huck Kwong, Ariel Rechtshaid, Matt DiMona, Ghazal Hashemi, Carter Howe, Julian McClanahan, Chris Paloma and more.
Listen: Spotify | Apple Music
Hypnotic Brass Ensemble x Moses Sumney – "Soon It Will Be Fire"
Moses Sumney and Hypnotic Brass Ensemble have teamed up for a rendition of "Soon It Will Be Fire," the first single off Jagjaguwar's celebratory EP This is A Mindfulness Drill. Marking the label's 25th anniversary, Jagjaguwar said, " "Released by Jagjaguwar in 2000, Richard Youngs' suite 'Sapphie' is a piece of music we have returned to time and again as a tool for centering ourselves, for settling the mind. The opening gambit 'Soon It Will Be Fire' seems to breathe with you, leaving its intentions vague, the phrases long and open, let to become incantations. In their shared reimagining of the song, Hypnotic Brass Ensemble and Moses Sumney double down on these feelings, as Sumney's cosmic rasp pulls and pulls on the word 'fire' until its meanings burn away."
Listen: Spotify | Apple Music
Sainté – "Old Times"
One of HYPEBEAST's New Gen: Spring 2021 entries, Sainté delivered his Local MVP followup "Old Times." Taking to Instagram to announce the new single, he wrote, "2021 – A season of growth and elevation! The sound, visuals, the FEELS! Don't sleep on the YSM movement… It's more than just music. I promise[.]"
Listen: Spotify | Apple Music