Best New Tracks: Lil Nas X, Lil Baby x Kirk Franklin, Smino and More
Head into the weekend with these 10 music projects.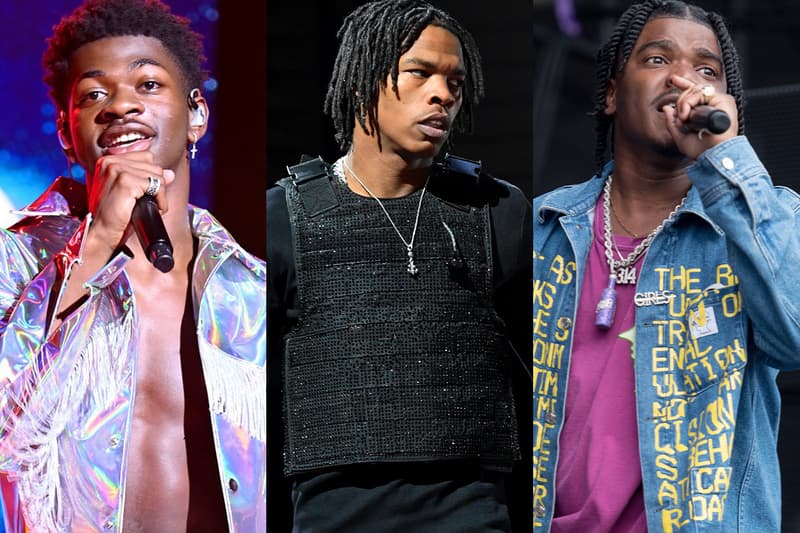 As the week in music comes to a close, HYPEBEAST has rounded up the 10 best projects for the latest installment of Best New Tracks.
This week's list is led by Lil Nas X with his "MONTERO" followup "SUN GOES DOWN," Lil Baby and Kirk Franklin with the Space Jam: A New Legacy cut "We Win" and Smino's collaborative track "Rice & Gravy." Also joining this week's releases are offerings from Oneohtrix Point Never and Rosalia, Mach-Hommy, Japanese Breakfast, Cautious Clay, sir Was, Patrick Paige II, Charlotte Day Wilson and Audrey Nuna.
Lil Nas X – "SUN GOES DOWN"
After all the commotion "MONTERO" caused, Lil Nas X is taking a step back with his personal and heartfelt followup, "SUN GOES DOWN." The new single hears the artist touch on his insecurities and the importance of self-forgiveness, sharing on Twitter that the track is one that he holds close to his heart. "in the "SUN GOES DOWN" video i go back in time to visit a younger version self who's struggling inside, hating himself, & doesn't want to live anymore. i try my best to uplift him," he wrote of the self-directed visual. "can't wait to share this song and video with you guys on friday. this one is really special to me."
Listen: Spotify | Apple Music
Lil Baby x Kirk Franklin – "We Win"
Ahead of the July 2021 premiere of Space Jam: A New Legacy, Lil Baby and Kirk Franklin debuted the soundtrack's first offering, "We Win." The Just Blaze-produced cut shares a positive and uplifting message, complete with a strong choir to really emphasize the song's essence. The highly-anticipated sequel's full soundtrack is set to drop on July 9, while the film itself will premiere in theaters and on HBO Max on July 16.
Listen: Spotify | Apple Music
Smino – "Rice & Gravy"
Following their 2020 effort "Backstage Pass," Zero Fatigue collaborators Smino and Monte Booker reunited for the new cut, "Rice & Gravy." The track marks Smino's fourth release of the year following "MLK Dr," "Plead The .45th" and the new version of "So.Incredible.pkg" with Denzel Curry, Kenny Beats and Robert Glasper. "dawg I went thru so much bullsht tryna release music over da past couple years I'm jus happy af to begin my new journey tonite…" he wrote on Twitter prior to the release. "I feel like a brand new artist rn.."
Listen: Spotify | Apple Music
Japanese Breakfast – "Savage Good Boy"
Michelle Zauner is prepping the release of her upcoming Japanese Breakfast record Jubilee, which drops on June 4, with the new single "Savage Good Boy." The Crying in H Mart author dropped the self-directed music video that stars Michael Imperioli of The Sopranos, revealing in a statement that she got the title from a headline about billionaires buying bunkers. "I was interested in examining that specific type of villainy, and I found myself adopting the perspective of a rich man coaxing a young woman to come live with him underground, attempting to rationalize his almost impossible share of greed and miserliness," she said. "I knew I wanted the music video to be a pretty literal interpretation of that idea. I wanted to juxtapose images of this post-apocalyptic, industrial bunker with the lightness and extravagance of rococo fashion and set design. Aiming for that balance, my cinematographer, Adam Kolodny, and I were really inspired by Chan Wook Park's The Handmaiden, Stanley Kubrick's Barry Lyndon and Sally Potter's Orlando."
Listen: Spotify | Apple Music
Cautious Clay – "Wildfire"
Ahead of his forthcoming record Deadpan Love (dropping June 25), Cautious Clay delivered an accompanying music video for his latest single, "Wildfire." Directed by Colin Read, the artist said, "As an artist I often feel pulled in many directions and obligated to fulfill expectations of the many facets of myself and my music," says Cautious. "It can feel like a struggle to be fully seen, and there's an anxiety around reinventing oneself to stay true to oneself. This video attempts to capture that collection of feelings—on display to the world, trying to put on the right face."
Listen: Spotify | Apple Music
Mach-Hommy - Pray For Haiti
Mach-Hommy teamed up with Griselda titan Westside Gunn to release his newest album, Pray For Haiti. The 16-track record was executive produced by Gunn and 20 percent of its proceeds will go to the Pray For Haiti Trust Fund, which helps to improve schools in Port-au-Prince, Haiti. "I had a lot of fun making Pray For Haiti. We travelled some, and made some great memories along the way. But there's another reason beyond the music why this album is special" Mach-Hommy commented in a statement."For too many years, I've had countless heartfelt conversations with esteemed members of the Haitian Diaspora, and the best way to get charitable donations directly to the people. Far too many of us can recall the Millions of telethon dollars "pledged" and, according to all major media accounts, not actually "donated" to those in need…Pray For Haiti is not catering to anyone's preconceived notions of what something artistic should look like. I am exercising my own indelible right to whatever the f*ck it is that I want to do. I want to help Haiti build a strong future with this contribution. I believe that we can make something happen, even if it's brick by brick, and school by school."
Listen: Spotify | Apple Music
Oneohtrix Point Never x Rosalía – "Nothing's Special"
Oneohtrix Point Never enlisted Rosalía to rework his original 2020 work, "Nothing's Special." Sharing the exciting collab on Instagram, the Spanish singer-songwriter expressed her gratitude for her collaborator: "Today I celebrate your music by singing one of your songs cause I always admired you, the energy in your songs, and la bravura and your point of view in music."
Listen: Spotify | Apple Music
AUDREY NUNA - a liquid breakfast
22-year-old AUDREY NUNA delivered her latest full-length project, a liquid breakfast. The 10-track record features collaborations with Jack Harlow and Saba, and "is a project about being a loner and the liberation that it came with." She added, "It's my journal from the last year and a half. There's a lot of different sounds and sides of myself I've captured and collected over the months I was driving around the suburbs of Jersey. A lot of this project was written in a car or against the smell of birthday cake candles and food cooking in the room over."
Listen: Spotify | Apple Music
sir Was – "Spend A Lifetime"
Following the release of his and Fall Nioke's four-track EP Marasi, sir Was is moving back towards his solo material with the release of "Spend A Lifetime." The three-and-a-half-minute cut features the Swedish multi-instrumentalist and producer's distinctive falsetto vocal, arpeggiated pianos and trademark production blend of hip-hop, soul, electronica and pop, offering a fans a listen at what to expect in the future.
Listen: Spotify | Apple Music
Patrick Paige II - If I Fail Are We Still Cool?
The Internet's Patrick Paige II has finally dropped off his long-awaited new record, If I Fail Are We Still Cool? Clocking in at approximately 45 minutes, the 17-track record features appearances from the likes of Paco TP, Westside Mcfly, Ohana Bam, Saba and fellow The Internet bandmates Syd and Steve Lacy. "It represents everything in abundance that I'm willing to work hard for, and willing to elevate in every aspect," Paige II said in a statement, also adding that he was obsessed with aviation since childhood — an explanation of the in-flight interludes on the record. "I wanted to be in the airforce until I got older and more conscious — no, I don't wanna drop bombs on people for no f*cking reason. But flying was an obsession that started young."
Listen: Spotify | Apple Music
Charlotte Day Wilson – "If I Could"
Rising Toronto soul/R&B star and producer Charlotte Day Wilson officially announced her debut album Alpha with the release of the new single, "If I Could." She revealed in a statement, "If I Could was written by my good friend and incredible songwriter Merna Bishouty, and produced by myself and Jack Rochon. I felt a deep and immediate connection to Merna's perspective on the desire to protect and save someone from their demons, and I was honored to collaborate with her on the song. Co-director Kevan Funk and I are also super grateful for my dear friend Mustafa and the bull riders from Texas who helped us to tell our story."
Listen: Spotify | Apple Music