Where to Eat and Drink When London's Indoor Dining Returns
Breakfast, lunch, dinner and drinks at the best independent spots in town.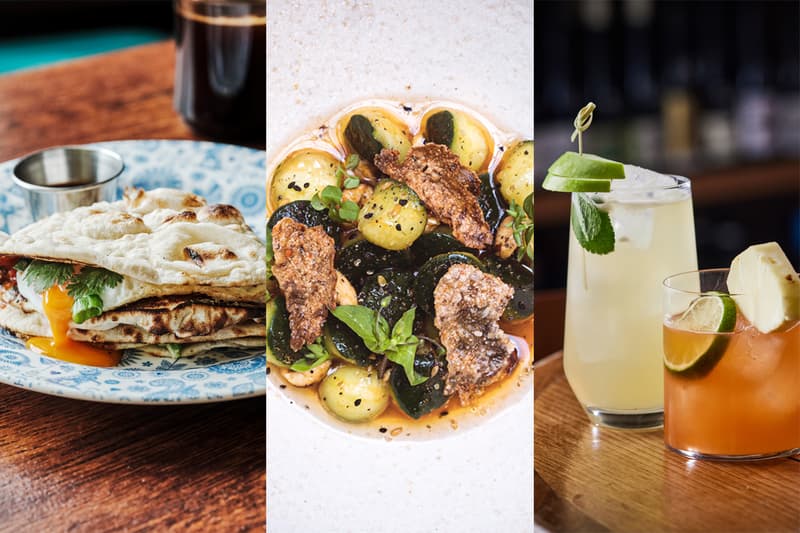 For Londoners, May 17 is a cause for rejoicing as pubs, restaurants, and bars resume normal service indoors. While the days of being packed to the rafters may be well behind us (although one saving grace is being able to order a pint in a London pub and it not taking 15 minutes to arrive), many of the capital's leading independent restaurants and bars are looking forward to a packed month — or three — of bookings. 
To help you get ahead of the rest, HYPEBEAST has compiled a list of the best restaurants and bars to visit in London. Making things even easier is by breaking it down into the best three spots to grab breakfast, lunch, dinner, and drinks, meaning you can eat and drink to your heart's content at the very finest, IYKYK spots around. 
Breakfast
If we're going down the whole "if you know, you know" route, then Dishoom is probably a good place to start. We're sure many of you are accustomed to the restaurant's walk-in only policy and its perfected selection of "Ruby Murrays", but how many of you know about its breakfast servings? Opt for the Bombay breakfast if you're particularly hungry and want something in the vein of a traditional full English, or venture out by trying the keema per eedu — a Parsi staple combining chicken keema, chicken liver, eggs, and sali.
(Various Locations)
As the name suggests, this place does eggs… good. It's known for its all day brunch, plating up a coop of offerings ranging from shakshuka to egg and cheese challah buns, paired alongside options for fans of everything other than eggs. For instance, the salt beef Reuben pitta or the orange and juniper-braised octopus make for daring takes on things you may have never had for brunch before. 
Unit G9 Kingly Court, Kingly St, Carnaby, London W1B 5PW
Remember all that fuss a few years ago about flat whites and how the Australians did it best? Well, Brunswick East is here to prove that. It brings Australian cafe culture to Hackney and Dalston, and does breakfast in a fuss-free manner. Expect avocado on toast done right, experimental egg dishes (which change with the months) and healthier options such as Kentish asparagus with wild garlic. Oh, and a very good flat white too. 
(Various Locations)
Lunch
Following a mantra of "what grows together, goes together," Native at Browns is all about the finest produce served up in an array of small plates, meaning you get to try plenty of little bits at your own leisure. It has a sustainable approach to culinary experimentation, using what comes its way from the land, sea, forest or farms to craft a selection of delicacies for you to try. Now, the Native mission has been planted into Browns' new Mayfair store, giving you a space indoors or an outside oasis in the heart of the city. 
39 Brook Street, London W1K 4JE
Rochelle Canteen has a loyal group of followers that frequent its tucked-away hiding spot in Shoreditch, East London since it first opened in 2004. Somewhat of an institution (despite it forever being under the radar), Rochelle Canteen prides itself on quality produce and even higher quality cooking. Expect contemporary European takes on classic dishes such as confit garlic and goat's curd on toast, middle white belly with sprouting broccoli and mustard, and to finish, the blood orange sorbet. 
16 Playground Gardens, London, E2 7FA
Just a stone's throw away from Rochelle Canteen is Brawn, situated on the popular Sunday flower market street, Columbia Road. Brawn is perfect for all kinds of situations: if you want to go all-out, its turbot or lamb neck-based mains are a sure-fire way to be satisfied, while a smattering of starters can be shared as small plates for a decidedly decadent lunch. 
49 Columbia Road, London, E2 7RG
Dinner
Top Cuvée — which was the local wine hotspot Shop Cuvée during the midst of the pandemic — is Top Cuvée once again. The neighborhood restaurant still serves a class array of wines, but is back doing what it does best: simple food, done right. While the menu is yet to be announced, expect a Sunday lunch like no other alongside plenty of eggs, fish, and quality local meats. 
177B Blackstock Rd, London N5 2LL
Put the takeout menu down, Kiln has Thai dishes like nothing you've ever experienced before. However, let's wind back a bit before we get to the food. You need to be prepared for a tight squeeze (although COVID rules may have changed this), and you should aim for the bar seats to get as close to the chefs as possible — that way, you can see how your food is being made right before your eyes. When you do eat, must-haves include the aged cull yaw and cumin skewers, the smoked mackerel jungle curry, the Tamworth belly and brown crab meat clay pot-baked glass noodles, and without a doubt, the Burmese wild ginger and beef neck curry. 
58 Brewer St, London W1F 9TL
Trullo
Nowhere does accessible opulence like Trullo. It's a British take on Italian cooking, serving up a forever-rotating menu of some of London's best Italian-influenced dishes, with staples such as the ricotta and sage butter ravioli or the famed pici cacio e pepe reappearing frequently. If you're lucky, Trullo will have scallops, beef shin ragu, or sea bass carpaccio on the menu upon your arrival, and a stellar cellar of wines will comfortably accompany all and any dish you choose. 
300-302, St Paul's Rd, London N1 2LH
Drinks
Peckham Cellars says: "Let's face it, nothing beats a good glass of wine." And it's right — name something better than a great wine on a breezy summer's night, we'll wait. Thankfully, this spot has some of the best on the south side of the river, opting for over 100 different kinds that are chosen on flavor alone. Peckham Cellars also only serves small-scale makers, meaning you'll be able to try something you've probably never had before. 
125 Queen's Rd, London SE15 2ND
While wine is (always) an option at Pamela, its variety of cocktails is what is sure to bring you here. "Pammy Classics" are anything but classic, but are by no means are you stepping into a danger zone of "oh, I don't like that." For example, Des Barres is made from jalapeño-infused Eristoff, kiwi juice and a coconut ice cube, which combined is a solid choice for those who like spiced margaritas or picantes. Then there's fresh takes on classics, so if G&T is your thing, Pamela has that covered too.  
428 Kingsland Rd, London E8 4AA
Part of Noble Fine Liquor, Bright and Peg, comes P.Franco — a local bottle shop that's much more than just a fancy wine list. Essentially, P.Franco operates like a really good dinner party, as you have to walk-in and hope you find a seat on its communal table before being served food by renowned chefs and pouring yourself glasses after glasses (and more glasses again) of wine before leaving. 
107 Lower Clapton Road, E5 0NP
DISCLAIMER: We discourage irresponsible and/or underage drinking. Drink responsibly and legally.