Zack Snyder's 'Army of the Dead' Brings Out a Dave Bautista You've Never Seen Before
The director and actor both share with HYPEBEAST the journey of creating a heartful zombie heist movie.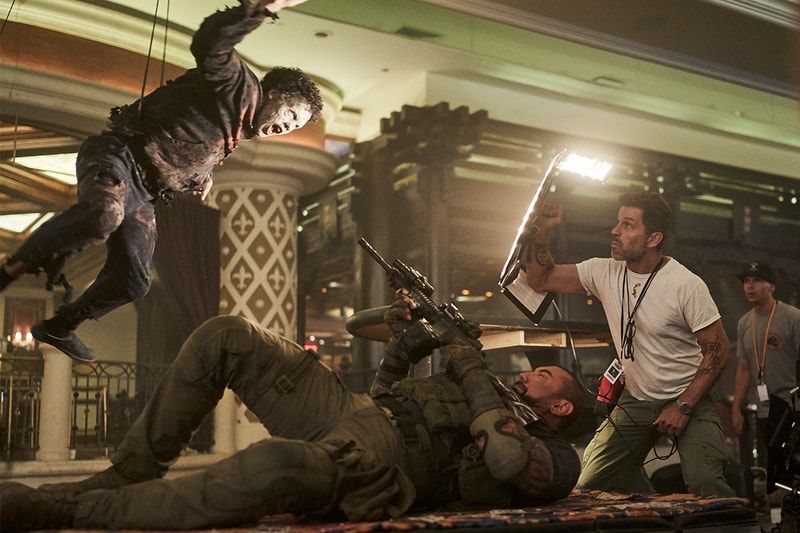 Just when you thought you've seen everything the zombie movie genre could offer, Zack Snyder has returned to the scene with his own fantastic take on the iconic monsters. Now 17 years on from his famed Dawn of the Dead, the director has decided to revisit his beloved zombies, this time combining them with a good old Hollywood heist film featuring none other than one of the most lovable and talented giants in the industry: Dave Bautista.
Joining us at HYPEBEAST, Snyder and Bautista run us through what makes Army of the Dead such a unique and interesting take on a genre largely attributed to legendary filmmaker George A. Romero, how zombies have always served as a vessel for social and political commentary, and the experience of playing a gun-slinging, zombie-bashing, daughter-loving mercenary.
HYPEBEAST: Zombie movies have been around for a while now, but a zombie heist movie is really quite novel. How did you come up with such a fun idea?
Zack Snyder: It was all about circumstances. I knew I wanted to have the zombies emerge from Area 51. I knew Las Vegas was close, and it felt like the first city they would get to. There's a lot of population there, a lot of potential victims if you will. Then I had this idea that everyone would run and of course they'd leave the money. I love mission films and this idea of going on a mission, like The Dirty Dozen, so the idea that they'd wall up the city and we'd have to find this band of professional zombie hunters to go in and get the money – it just felt like a movie I'd want to watch, so why not make it
After your success with Dawn of the Dead back in 2004, how does it feel to return to the zombie genre? How much has changed to your approach after 17 years?
ZS: When I did Dawn, other than making the zombies run, I was really just trying to honor the genre and honor George [A. Romero]'s movies as best I could. With this movie, the gloves are kind of off in some ways. I wanted to explore it more, and figure out the "why" of it more. I wanted to make the zombies sympathetic if possible. That was a lot of what I went after with [Army of the Dead].
There's certainly a political overtone to the film, with a few references to things that have happened over recent years and are still very much happening now. Was it always your plan to include this commentary from when you first began writing Army of the Dead or was this something that came to you at a later stage?
ZS: I always said even Romero's movies – especially Romero's movies, actually – were all about social commentary, using the zombies to hold up a mirror to ourselves. That's what it's about, so I always wanted to make sure that we were self-aware of the world outside and that the control of the zombies were all metaphorical and could be superimposed over other issues. You could replace the zombies with "blank" or with this group or that group.
With two of your recent releases (Justice League: The Snyder Cut and Army of the Dead) you've worked closely with streaming platforms. Do you think this format will be the future of cinema?
ZS: Listen, the truth is I was excited to make this movie for Netflix. They're incredible partners, and they've been nothing but amazing with me as a studio, just giving me a lot of freedom, being great partners as far as the work and giving me enough latitude to do something cool. They came to me a couple of weeks ago and said, "We're releasing this movie in theaters as well" and I said "OK, wow, I didn't expect that!" So it's interesting to see how this evolves, how Netflix is the most powerful streamer in the world – they push a button and 200 million people get the movie. That's legit power, and it's just cool that those guys are also saying "You know what? Let's also release the movie in theaters." They see that those things can be sympathetic with each other. They can be symbiotic, and I think that's a beautiful evolution.
(Now to Dave) You've said previously that when Zack Snyder first approached you with the role of Scott Ward, you immediately turned it down, but ultimately you came round to it and even chose it over working with your good friend James Gunn on the new Suicide Squad. What changed your mind and what drew you to this project so strongly?
Dave Bautista: Well when it was first brought to my attention it wasn't from Zack. I was trying to do another project with Zack which we were both on board with. We wanted to make this project happen, and I wanted to work with Zack for years before I even met him. But this conversation came up and they said [Army of the Dead] is Zack's next project, and there was no role offered to me. I thought "this sounds fun," but I wasn't really interested in it because I didn't want to do action films. I wanted to do stuff that was more dramatic and I wanted to prove myself as a dramatic actor. 
So they came back to me later on and said "Zack is interested in you for a part" and I said "Well, great, I'd consider that because it's Zack. I want to work with Zack, I'm dying to work with him." At the time it wasn't a lead role, it was a supporting role, which I would've considered because I wanted to work with him, but later they said "Zack really wants you to play the lead" and I said "Let me read the script." And when I read the script it just wasn't what I thought it was going to be. It was much more layered, and I thought there was so much potential, so many opportunities to make the character Scott Ward a really great and different type of action hero. So I had the conversation with Zack and talked to him about the character, how I saw the film, and if he'd be willing to let me have some freedom and flexibility, and he said "Absolutely man, you can do this. I want you to be this guy, I feel like you're the only guy who can play [Scott Ward] right now." After that conversation, I said "I'm all in," and Zack was true to his word. He just let me have so much freedom to contribute and give this character heart and depth and make this really a redemption story. That was it – it went from hearing about the project to having that conversation with Zack and my mind was completely changed.
And why I took this over Suicide Squad? I had to weigh out what was best for my career going forward, and I'm not getting any younger. It was just such a great role and a huge opportunity to work with Zack, to work with Netflix, and to work in a film that I thought would be a huge success, as opposed to working in a film for a very close friend. The biggest factor for me in Suicide Squad was James Gunn. Other than that there wasn't a huge attraction for me: I wanted to do it because my friend was good enough to write me a part in this film. But other than that I just had to do what was right for my career. I had that conversation with James and he just 100 percent supported me, which made me feel like he's a real friend. Only a real friend would say "Don't do my project. Go do that, because it's better for your career." That's real friendship, that's real support.
A key part of Scott's character development throughout the film is his relationship with his daughter which gets pretty emotional, and it seems like quite an unconventional pairing with a zombie heist movie. How did it feel shooting a film where you're slinging your rifle around and headshotting a group of zombies just moments before having a heart-to-heart conversation with your daughter?
DB: It's rough man. That was the challenge for me and that was the challenge I wanted, but that was also the heart that I wanted to bring to Scott and that relationship and that redemption story. It's not challenging as a performer to go into each individual scene with those emotions if I am able to prepare myself. What is a challenge is when I have to go through a varying degree of emotions in a very short time. You have to go from rage to anger to happiness and all those emotions very quickly. Those are challenging, because I draw from real experiences in my acting, so I have to really work myself up and mentally prepare. I have to be 100 percent focused on these scenes that require me to go through a range of emotions in a very short time.
Army of the Dead will arrive on Netflix May 21.