MSCHF and Nike Settle Air Max 97 "Satan Shoes" Lawsuit
The agreement includes an option for owners of the "Satan Shoes" and "Jesus Shoes" to receive full refunds.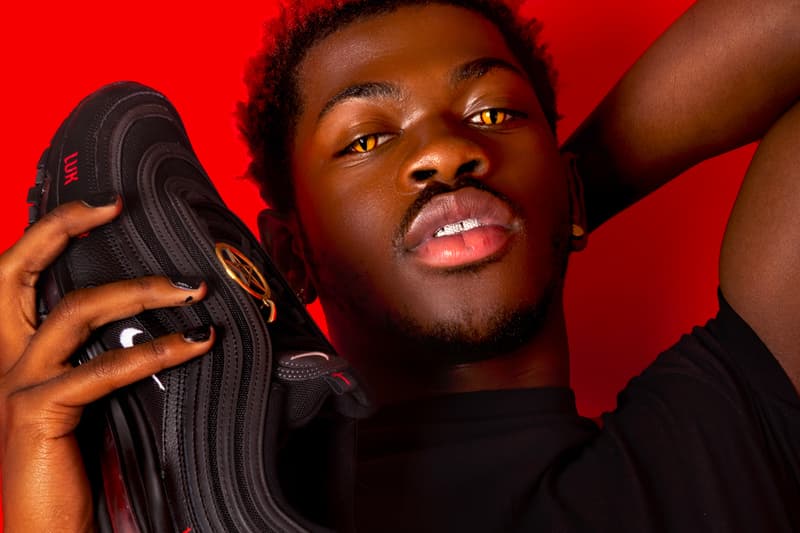 MSCHF and Nike have settled their lawsuit involving the Air Max 97 "Satan Shoes" collab with Lil Nas X.
While the specifics of the settlement were not disclosed, it reportedly included an option for customers who purchased the "Satan Shoes" and "Jesus Shoes" to return the pair with a full refund. The legal team of MSCHF was "pleased" with the outcome of the suit, stating that the message of the collab was "powerfully" conveyed by Lil Nas X's latest single, "MONTERO (Call Me By Your Name)," and "dramatically amplified" by the brief legal battle with the footwear giant. "With these Satan Shoes — which sold out in less than a minute — MSCHF intended to comment on the absurdity of the collaboration culture practiced by some brands, and about the perniciousness of intolerance," the Brooklyn brand's lawyers told The Verge, adding, "Having already achieved its artistic purpose, MSCHF recognized that settlement was the best way to allow it to put this lawsuit behind it so that it could dedicate its time to new artistic and expressive projects."
Nike confirmed the settlement with a statement of their own. "MSCHF altered these shoes without Nike's authorization," the brand said. "As part of the settlement, Nike has asked MSCHF, and MSCHF has agreed, to initiate a voluntary recall to buy back any Satan Shoes and Jesus Shoes for their original retail prices, in order to remove them from circulation. If any purchasers were confused, or if they otherwise want to return their shoes, they may do so for a full refund. Purchasers who choose not to return their shoes and later encounter a product issue, defect, or health concern should contact MSCHF, not Nike."
MSCHF will be able to keep the last 666th pair of the collab, but this means that Lil Nas X will not be able to give it away to his fans as he initially intended to. "I can say that MSCHF intends to keep the last of the 666 shoes; regrettably, it will not be able to have Lil Nas X give that shoe away, as he was planning to do," MSCHF's team confirmed.
In related news, control Lil Nas X to victory with his new game, Twerk Hero.