Jean-Michel Basquiat's 'In This Case' Painting to Fetch Over $50 Million USD
The last of Basquiat's holy trinity of iconic "skull" paintings.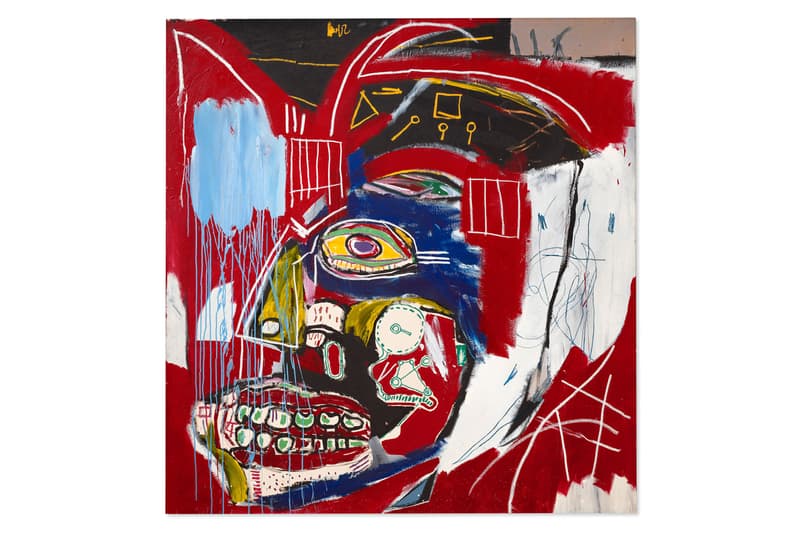 Christie's is busy preparing for its upcoming 21st Century Evening Sale at its New York City outpost this May 11. Leading the auction is an iconic 1983 work made by Jean-Michel Basquiat called In This Case. The piece appeared in the monumental Basquiat retrospective at Paris' Fondation Louis Vuitton back in August 2018.
The piece is part of Basquiat's recognizable trio of "skull" paintings made in the aforementioned year — with the work being the last one up for auction. The painting currently has a pre-sale estimate of over $50 million USD. In This Case was displayed alongside his two most significant masterworks, Untitled (1981) in The Broad Museum and Untitled (1982) which sold in 2017 for more than $110 million USD — marking the highest price ever attained by an American artist at auction.
'"In This Case' will be immediately recognizable to anyone familiar with Basquiat's trilogy of large-scale skull paintings from 1981-83. As his final expression in the series it is the most raw and visceral and emotionally-charged of the three paintings, with Basquiat holding nothing back. He trains the skull's single yellow eye directly out at the viewer, making it impossible to look away," said Ana Maria Celis, Christie's senior specialist and head of the 21st Century Art Sale.
In This Case  will be on view at Christie's Hong Kong on April 28 before returning to New York for an exhibition at the Rockefeller Center ahead of Christie's Spring 2020/21 auction series. Head to Christie's website to learn more.
In related stories, a Basquiat NFT was pulled from a sale after the late artist's estate confirmed that the highest bidder will not own copyright.