A Beginner's Guide to Buying and Burning Incense
Everything you need to know about the world's oldest home fragance.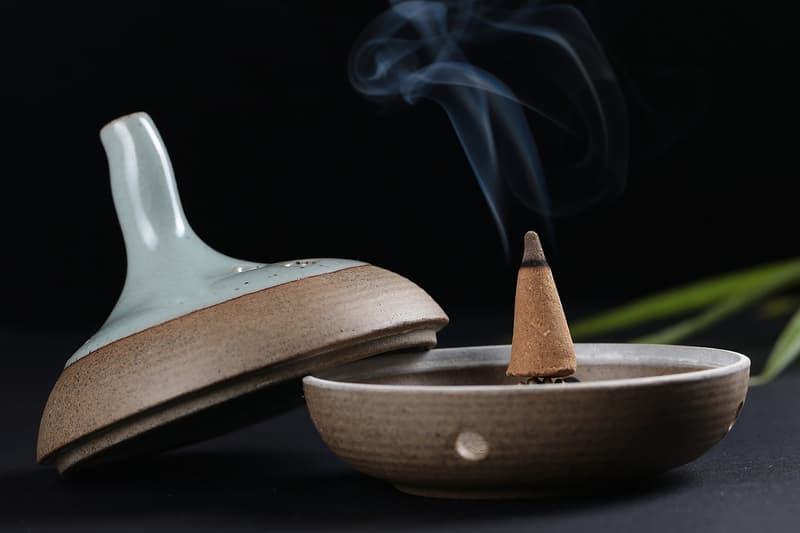 With lockdown measures of some form in place for over a year now, the focus on interiors has been well-documented, whether that's a new wave of furniture designers taking center stage or an avalanche of home improvements. This focus is also replicated in our scents, as people decide to level up on fragrances for both working from home during the day and spending more time there in the evenings.
In the early days of the COVID-19 pandemic, WWD reported that candles, diffusers and room sprays were selling out across the US, while late last year, The Guardian added that scented candles, potpourri and essential oils for diffusers had seen a 29% rise in sales during October. "I think lockdown has shifted people's ideas in terms of what they regard as their luxuries," explains Junior Adesanya, founder of London-based incense label Cremate. "These luxuries were initially garment based, now we are spending more time indoors, they have become luxuries for the interior instead."
As well as candles and diffusers, the growing home fragrance market also includes incense. New York-based ceramicist Elise G Wilken, who produces incense holders through her Mellow NYC label, has noticed a new audience embracing incense. "I feel that burning incense is a ritual which helps you settle your senses into a space or into a moment," she explains. "With the recent state of the world, I think many are searching for ways to be in the present when the mind begins to race, and I think burning incense can bring you back into the moment. Plus, there are an abundance of amazing new incense makers out there which makes it hard to resist."
While spending more time at home due to lockdown measures has obviously made people reconsider their surroundings, this isn't all that has driven incense's popularity. Burning incense has been an important part of religious ceremonies forever, and fragrance's role in the home has been key for more than just the past year. "No self-care routine would be complete without a scent to dress the home and make our time spent there feel a little more special," says Carin Nakanishi, head buyer at Garbstore. "Fragrance is personal and can evoke memories in an instant."
What's in a scent?
Arguably the most important part of your incense choice is the scent itself. The various different fragrances on offer can make this confusing, never mind the names chosen for each one. Legendary incense label Kuumba, for instance, sells everything from classic scents such as Nagchampa and Vanilla to fragrances titled "Between the Sheets" and "Gucci Guilty."
The key when choosing your fragrance, according to Dom Bridges of Haeckels, is how it makes you feel. "As with all scent," he says, "it must be transportive, lift you somewhere or at least bring the escape and expanse of outside into your home, now more than ever." To achieve this, Haeckels' fragrances all focus on just one ingredient. "We try to represent single aromas in each shop location yielding unique local extracts," Bridges continues. "In Japan, we are focusing on wood oils, here in the UK, we are currently investigating bringing back some of our older scents like Lamb's Ear (sage) or hyssop. I like the idea that they are singular scents, not blends. They're raw and natural."
For Nakanishi, who's buying responsibilities cover Garbstore's homeware section, the scent should be carefully considered for when it will be burnt. "It's important to consider how and when you'll enjoy your scent," she adds. "Perhaps it's nicer to wake up with notes of lemongrass and relax in the evening with a blend of peppermint and eucalyptus inspired by Japan's hot springs."
Cone or stick?
Incense can come in a range of different shapes and sizes, but the most common forms are either cones or sticks. While incense sticks are arguably the most well-known, an increasing number of designers and makers are opting for cones. "They feel more natural and handmade," explains Bridges. "At the time, they were underrepresented so I focused on that format as a point of differentiation. They also emit a very different scent due to their being no wooden core like the incense sticks. To me, this feels more respectful to the scent."
Adesanya and his Cremate label also focus on cones over sticks. "As of now, we produce charcoal incense cones which are a slight twist on the traditional wood pulp incense cones," he says. "The initial decision to make cones was parallel to the idea in which I wanted to challenge preconceptions about incense. Everyone already knew what an incense stick was, but not many people had come into contact with cones, despite them being just as functional and present in the history of incense."
The holder
While the scent is the most obvious consideration when burning incense, where you will be burning it is also worth thinking about. For Nakanishi, it's important to remember how the incense will look in your room when it isn't burning. "Incense not only transforms a room with its evocative scent," she explains, "but the holder and chambers used to accompany your sticks or cones are works of design in their own right and uplift any space they're in as an object, even when they're not in use."
Alongside its appearance, the holder also has an important job. Mellow NYC founder Wilken puts the use of the holder front and center in the brand's designs. "My main focus for creating the incense bowl was functionality," she explains. "A good incense holder is one that holds an incense stick securely upright, and that will catch all of the falling ash. I don't want to have to clean up each time I burn some incense." It was searching for a functional holder that would catch the ash that led to Wilken starting to make them, and the aesthetics of each piece follow its practicality. "From there the design evolved with my obsession for checkerboard and creating items that look somewhat like ancient artifacts."
Although Mellow NYC designs focus on functionality, other designers and makers take a different approach to holders. Design studio YEENJOY STUDIO incorporates pop culture references from Jurassic Park to Porsches into its incense holders and chambers. "It's from my life," explains Creative Director YIRan. "My environment is in the midst of Chinese and Western cultures." Showcasing this influence, YIRan takes elements from music, Hollywood films, sneaker culture and more and crafts them in porcelain, a material he sees as having an important role in Chinese history. "In the culture we grew up in, singles, Hollywood movies, Japanese animation, contemporary art, street culture, deeply affects the local youth culture," he adds. "How do we retain our own things, how do we integrate with them?"