Hennessey Performance Converts RAM 1500 TRX Into $375k USD Seven Seater
Now all the family can enjoy the SUV's 1,012 HP.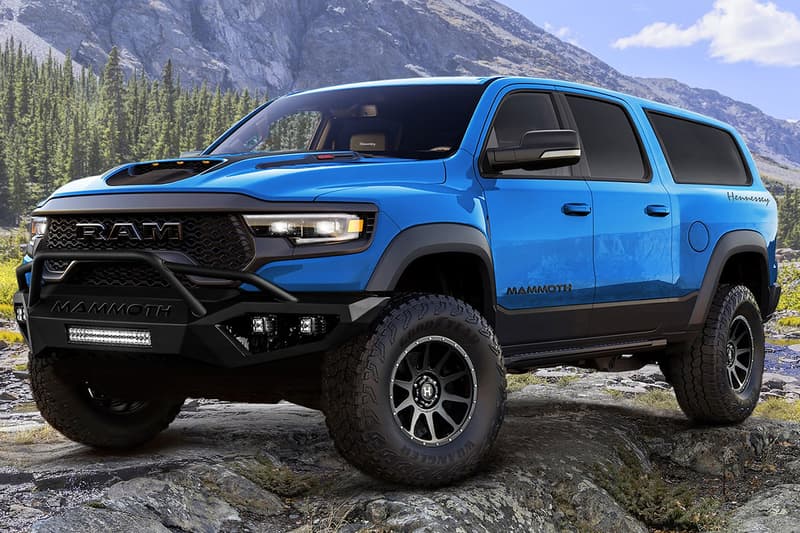 American automotive tuning company Hennessey Performance is known for its reworking of the RAM 1500 TRX, but its latest iteration is unlike anything else it's ever made. Introducing the seven-seat RAM 1500 TRX-based MAMMOTH 1000 SUV, this machine is limited to just 20 units and takes what is arguably the king of trucks and turns it into a go-anywhere, do-anything SUV for all the family to enjoy.
Bespoke bodywork extends the roofline and offers a new C-pillar that sits above the rear tail lights to provide a truckbed covering that, inside, houses the third row of seats and plenty of storage in the trunk. At the rear, you'll find two side windows tinted in near-limo black, as well as a sizeable rear window and a rear screen, and in typical Hennessey form you can barely tell that this is a custom design rather than something that came straight from the factory — it just looks absolutely right.
As for power, Hennessey Performance never fails to deliver. The supercharged 6.2-liter V8 engine now produces 1,012 HP and 969 lb-ft of torque, which is good for a supercar slaying 0-60 MPH time of just 3.2 seconds. The model is also fitted with the tuning house's off-road package as standard, adding a 2.5-inch lift, custom front bumper with LED lights, 20-inch Hennessey 10-spoke wheels, 35-inch off-road tires, and a front suspension leveling kit.
As mentioned above, only 20 of these SUVs are to be built. They will start from the base price of $375,000 USD before taxes and shipping. More information about the Hennessey Performance MAMMOTH SUV can be found on the company's website.
In other news, Hermès has added its luxurious leather to this custom Rolls-Royce Phantom.