Golden State Warriors Become First Pro Sports Team to Launch Official NFT
Featuring two series designed by artist Black Madre.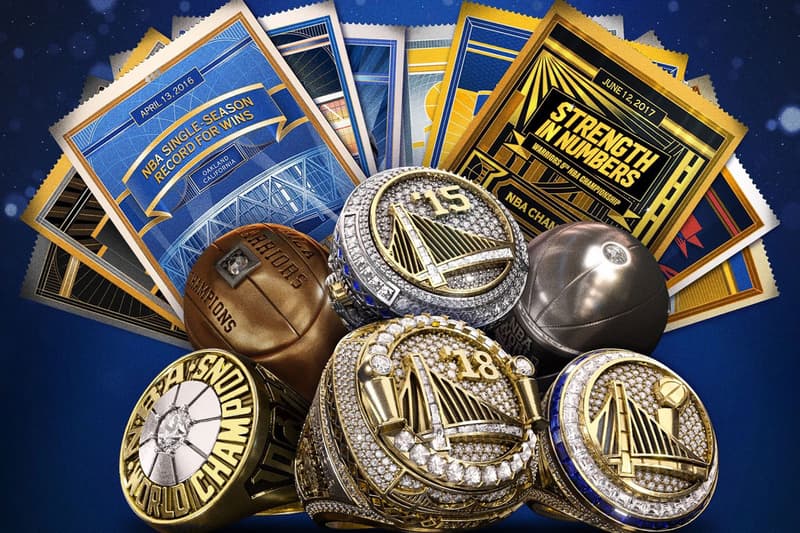 The Golden State Warriors are launching an official NFT collection, becoming the first professional sports team to embrace the new blockchain technology.
NFTs are digital tokens that exist on a blockchain and are unique and cannot be replicated. HYPEBEAST wrote an in-depth explainer on the topic last month.
The officially licensed digital collection, titled Golden State Warriors Legacy NFT Collection, honors the six-time NBA Champions' legacy and features digital collectibles from their most iconic games. Both NFT series were designed by artist Black Madre.
One series in the collection, called Warriors Championship Ring NFTs, features the team's six NBA Championship rings. A special 1-of-1 Warriors Six-Time NBA Champion Ring NFT will combine all six rings into one NFT and comes with a one-of-a-kind physical ring created by jeweler Jason of Beverly Hills. The custom ring will be delivered to the winning bidder on-court at a future Warriors home game.
The bidder who buys the first edition of each NBA Championship Ring NFT will also receive a matching physical Warriors championship ring, while bidders who purchase all six Championship Ring NFTs will receive a special Warriors Championship Banner NFT.
The other series, titled Commemorative Ticket Stub NFTs, looks at highlights from the team's 75-year history, with each ticket stub hand illustrated in digital form.
A special 1-of-1 Warriors Golden Ticket NFT will award the highest bidder with the opportunity to participate in a Warrior-for-a-Day experience, which includes signing a one-day contract with the team and court-side tickets for two to a Warriors home game. Those who purchase all 10 Ticket Stub NFTs will also get a Warriors Historic Moment Showcase 10x Ticket Stub Set.
A portion of the proceeds from the NFT collection will be donated to the Warriors Community Foundation, which helps support educational equity in the Bay Area.
The full collection is available for auction at GSWNFT.com until May 1 at 8 p.m. PDT (11 p.m. EDT). Several 1-of-1 items will be up for auction until May 2 at 8 p.m. PDT.
In other news, trading card companies are tapping into childhood nostalgia to boost NFT sales.