Burger King Japan Stacks Up New "Shrimp Spicy Ugly Beef Burger"
Get ready to get down and dirty.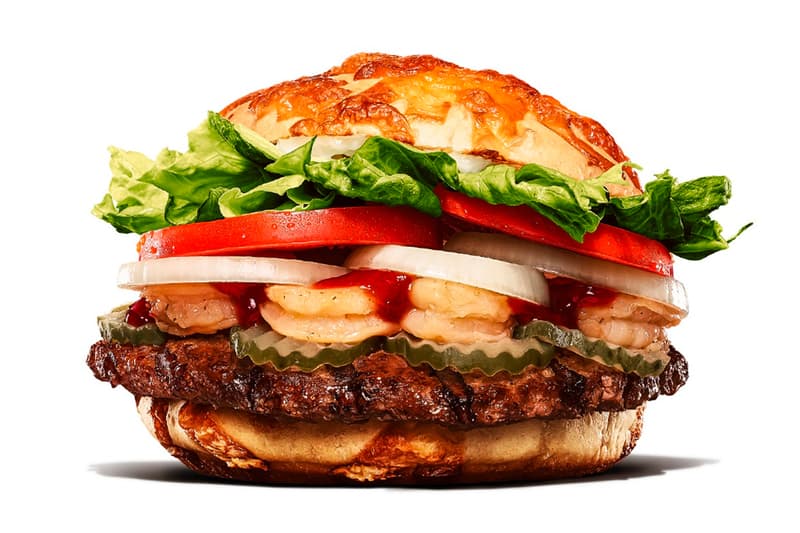 After releasing its "Teriyaki Ugly Beef Burger", Burger King Japan is rolling out a new garlicky addition to the sloppy series.
After releasing their second burger that "cares more about taste than appearance", the chain continues with a nasty "Shrimp Spicy Ugly Beef Burger". The new ugly burger uses signature handmade four-cheese buns made with gouda, egmont, mozzarella, and cheddar cheese layered and baked into them. The buns house a 100% beef patty, cheddar cheese, pickles, lettuce, tomatoes, onions, and mayonnaise sandwiching a large serving of chubby garlic shrimp drenched in a special spicy sauce.
The "Shrimp Spicy Ugly Beef Burger" is now available for ¥890 YEN (approximately $8.18 USD) a la carte or ¥1,190 YEN (approximately $10.94 USD) for a combo set at Burger King Japan locations for a limited time only.
本日発売!
シュリンプ・スパイシーアグリービーフバーガー!
チーズ4種のクラフトバンズに直火焼きの100%ビーフパティ、ガーリックシュリンプ!
スパイシーソースも合わさって、
ピリッとプリッとフルコース!
見た目の美しさよりおいしさにこだわった、アグリーバーガー最新作!#バーガーキング pic.twitter.com/O5bBYkNCF1

— バーガーキング・ジャパン (@BURGERKINGJAPAN) April 30, 2021
Elsewhere in food, two egg sandwiches hold Dom Dom Burger's new chicken sandwich together.