This Company Wants To Help You Offset the Heavy Environmental Cost of NFTs
Blockchain technology requires expensive computer hardware that consumes a lot of power.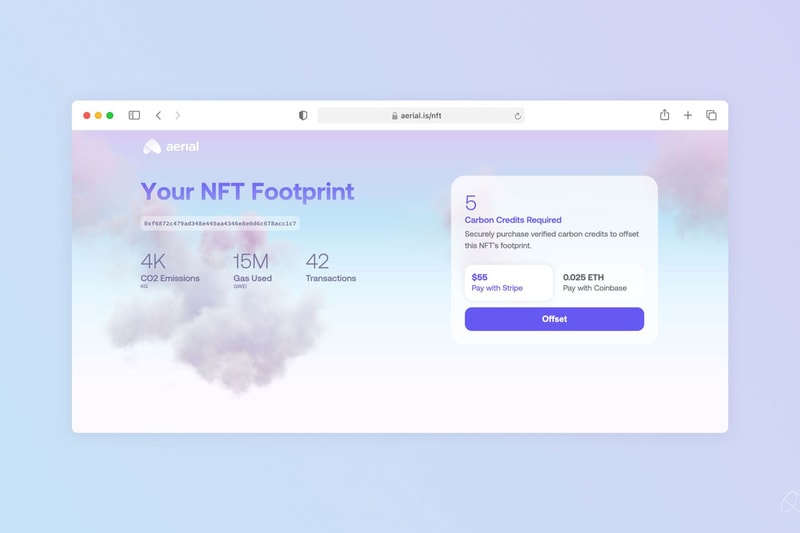 Sustainability platform Aerial wants to help you offset the heavy environmental footprint of minting NFTs.
NFT stands for non-fungible token. While some critics have chalked up the mysterious blockchain asset to just hype, celebrities, musicians and artists have started offering up their digitized works to enthusiastic collectors at hefty prices. HYPEBEAST wrote a comprehensive explainer on the buzzy collectible last month.
There has recently been some discussion about the environmental impact of using blockchain technology to mint NFTs. New blocks of information are added — or "mined" — to a decentralized blockchain network based on a process called proof-of-work, which requires expensive computer hardware that consumes a lot of power.
Aerial's new online NFT tool allows users to calculate the carbon footprint of their NFT collection and instantly offset the emissions through verified carbon offset and carbon capture programs. The climate action company says that while advances are being made to lessen the carbon cost of blockchain technology, individuals can still take action to help the planet.
"While carbon offsets are not a perfect solution, they do provide an immediate way to start tackling the environmental effects of the current NFT boom," Aerial co-founder Ebby Amir said in a press release.
Several celebrities, including Calvin Harris and street artist Mr. Brainwash, have used Aerial's online tool to offset their own NFTs.
In other news, a new pitch competition called NFTs: The Pitch is inviting creators from around the world to submit ideas or products that can help innovate the NFT market.