The Weeknd Releases 'House of Balloons' With Original Samples on Streaming Services
Accompanied by exclusive merchandise created alongside Daniel Arsham.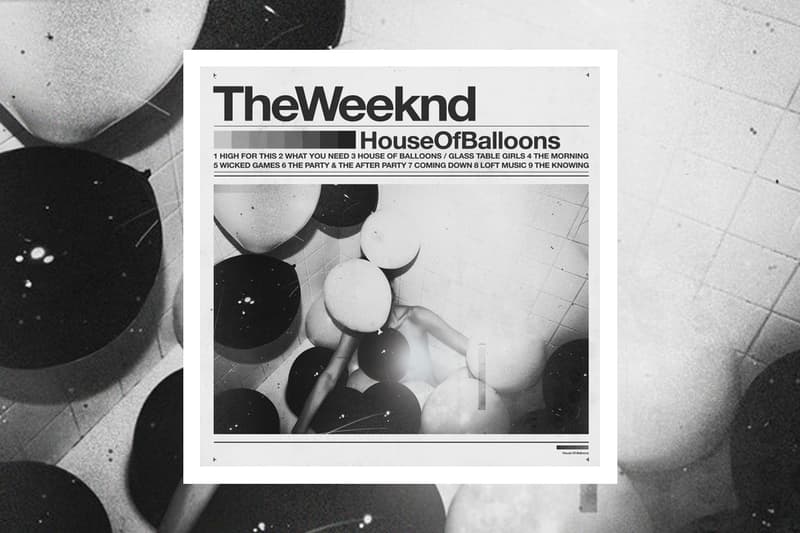 The Weeknd has re-released his debut mixtape House of Balloons, delivering the project in its original form on streaming services for the first time ever.
Originally released a decade ago to the date — March 21, 2011 — the mixtape features all the original samples including Aaliyah's "Rock the Boat" on "What You Need," Siouxsie and the Banshees' "Happy House" on "House of Balloons / Glass Table Girls," a voice sample from the anime Fate/stay night on "Coming Down," Beach House's "Gila" on "Loft Music" and Cocteau Twins' "Cherry-Coloured Funk" on "The Knowing." House of Balloons caught the attention of the industry due to its combination of genres, refreshing approach to R&B and the then-unknown identity of Abel Tesfaye, and was subsequently nominated for the 2011 Polaris Music Prize.
In addition to the re-release, The Weeknd teamed up with Daniel Arsham for exclusive merchandise that's only available for 48 hours. The collection includes black and grey hoodies, T-shirts, pants, caps, a varsity jacket and a vinyl record that features the American artist's take on the mixtape's cover art. "The summer of 2011 will always be marked by House of Balloons. Like a time travel device, the album transports me back to that specific moment in time every time I listen," Arsham said in a statement. "It is a great privilege to work with The Weeknd and the XO Team to reimagine the iconic album art of House of Balloons as an eroded sculpture for the ten year anniversary. Alongside the transparent vinyl and eroded album artwork – we also worked on a collection of merchandise including a Varsity Jacket, blending my own aesthetic with that of The Weeknd's."
Stream The Weeknd's House of Balloons on Spotify and Apple Music, and purchase the Daniel Arsham collab on The Weeknd's official webstore.
View this post on Instagram
Elsewhere in music, take a listen to Justin Bieber's new album JUSTICE.