DRIVERS: Yufeng Luo and His 2016 BMW M4 GTS
When it comes to street legal sports cars for pro racers, the GTS makes a lot of sense.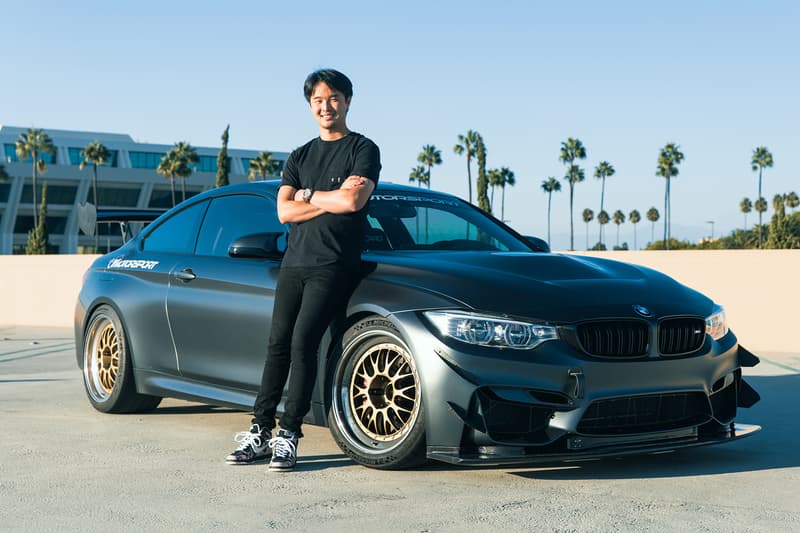 DRIVERS is a series highlighting influential individuals in the HYPEBEAST sphere and their passion towards all things automotive. The approach is simple: what is car culture to you, and why do you have a passion for it? Each contributor is given a chance to shine light on their personal vehicle or vehicles, and asked to remark on how they are driving culture forward, both metaphorically and literally.
---
Casual drivers and common enthusiasts are one thing for high performance cars, but throw in pro racers into the mix and the asks and requirements from them out of sports cars are much more stringent. Yufeng Luo is a prime example of a driver who needed the most out of his car, yet it still wasn't enough.
Yufeng Luo is a Chinese American pro racing driver, racing in competitions across Formula 4, the Pacific F2000, and the SCCA National Championship Runoffs, where he become the youngest ever Formula Continental champion in 2015 at the age of 17. In 2016, Yufeng also took home a 2nd place win in the U.S. F2000 National Championship, and was honored as the first Chinese driver to win in the Road to Indy ladder series.
Beyond his achievements in racing, Yufeng has created his own race car construction company, Y Motorsport. Using his knowledge and experience with racing and the competing vehicles, Y Motorsport focuses on creating drift cars, road racing cars as well as off-road vehicles that meet motorsport credentials, for clients looking for the ultimate ability of their cars to seriously compete.
As such, his choice of a "road-legal race car" makes complete sense with a 2016 BMW M4 GTS. Built to the most extreme standards for the F80 chassis BMW M4 coupe, the GTS from factory incorporates heightened chassis dynamics, engine tuning and aerodynamics over the standard M4. The GTS however most notably features a bespoke water-injection system, which sprayed an evaporating water mist through the intake that would ultimately cool the car's operating temperatures dramatically.
Yufeng however bought the car and did what any race car company owner would do – he rebuilt it. Most of the factory GTS parts have thus been replaced with even more hardcore, race-prepped equipment that thus elevates the already-hardcore M4 GTS into a car that's even ready for GT4 racing.
Read more about Yufeng Luo and his M4 GTS, and in case you missed it our previous DRIVERS was with luxury grooming brand founder Patrick Kidd and his Porsche 911 Turbo 996.
Make, model, and year of your car?
2016 BMW M4 GTS.
When did you acquire it?
2019.
What made you choose this car specifically?
I've had my eyes on the F generation of M cars ever since they came out. The F generation is comfortable to drive on the street, modern, reliable, and can provide superb performance when needed. When the M4 GTS was released, it retained all those elements and added race track performance to the list. I was looking for a new daily driver and the M4 GTS ticked all my boxes.
What is the main purpose for this car for you?
A car that can provide track performance similar to a real race car, and be driven on the street without sacrificing too much road usability.
What has been done with this car? Where has it gone?
The car has been turned into a race car with an interior. Just about everything stock from the M4 GTS was ditched. All the GTS parts were swapped for M4 GT4 factory race car parts.
Any details? Modifications? Changes?
OEM M4 GT4 race car aerodynamics, BBS E88 wheels, Ohlins TTX 4-way coilovers, Brembo GTR brakes, Drexler differential, SPL Parts control arms, Recaro seats, etc.
"I have the most admiration for race cars so I would consider cars to be tools to achieve a certain goal… anything from getting around on the street to getting you to the top step of the podium."
What is a car to you: aspirational achievement, functional tool, stress-reliever, etc?
Cars to me are mechanical wonders that I've been drawn to since I was a kid. I have the most admiration for race cars so I would consider cars to be tools to achieve a certain goal. That goal can be anything from getting around on the street to getting you to the top step of the podium.
What was your dream car growing up?
My dream was to become an Indy car driver or to build a race car construction company.
What have you owned before? What would you like to have?
I've been fortunate to own and experience just about every type of car. I have a big passion for desert racing and I would really like to have a luxury pre-runner built on a trophy truck frame.
What is the future of the automotive industry? Car culture?
The future of the automotive industry is EV and hybrids. While it doesn't sound too exciting, EVs and hybrids will be able to offer a level of performance that internal combustion engines will have a hard time competing with.
Do you have any advice for enthusiasts looking to get into custom car tuning, modification and project building?
My biggest piece of advice to any enthusiasts looking to modify their cars would be to do it once and do it correctly. Use the correct parts with the correct installation methods. Always remember that safety is more important than performance or aesthetics!