DRIVERS: Patrick Kidd and His 2002 Porsche 911 Turbo 996
The founder of luxury grooming brand Patricks is taking full advantage of the hot 996 Turbo market.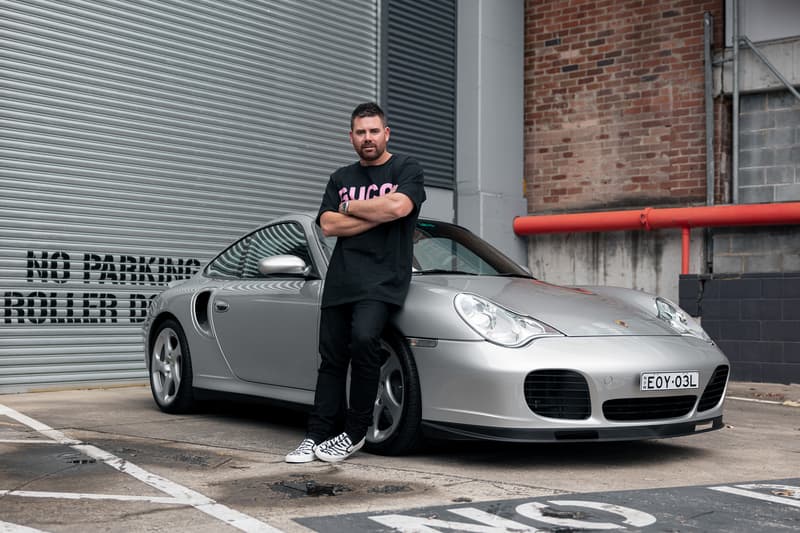 DRIVERS is a series highlighting influential individuals in the HYPEBEAST sphere and their passion towards all things automotive. The approach is simple: what is car culture to you, and why do you have a passion for it? Each contributor is given a chance to shine light on their personal vehicle or vehicles, and asked to remark on how they are driving culture forward, both metaphorically and literally.
---
It's not often that cars cross over into other lifestyle realms: fashion, music, and art seem like the easier categories to match with automotive. But how about grooming and skin care? That's the case with Patricks, and its founder Patrick Kidd.
Patrick and his eponymous brand are on a mission to bring luxury skin care and grooming products into the world for men to slow down their morning and night time routines, while removing the intimidation that's often associated with elevated beauty products. Patricks may seem like just another brand offering shampoo, conditioners, moisturizers and body soap, but Kidd's idea was to incorporate a bit of automotive design and flair into its presentation and packaging.
Examples of this: the container for Patricks pomade is meant to mimic the side intake angles of a Lamborghini Aventador, while the front panel is a nod to the Audi R8. Even the shipping box that arrives to your doorstep proudly mentions its reference to Porsche. As such, Patricks is stocked at some of your favorite retailers like KITH, Mr. Porter, SSENSE and, coming soon, our very own HBX.
The "ode to auto" approach may not be exactly the driving force behind Patricks, but the designs speak for themselves and are equally appreciated by the general public with less knowledge and passion for cars. Patrick Kidd, on the other hand, is not this individual; his passion, especially for his 2002 Porsche 911 Turbo 996, is very apparent.
Built between 2000 and 2005, the 996 Turbo was the first of the water-cooled Turbo cars for Porsche and ushered in a new era of reliability and enormous power for the flagship 911. Because of the finicky Porschephiles who immediately denounced the car due to its unsightly headlights, the 996 Turbo was largely swept under the rug… until now. 996 prices are skyrocketing as they are officially "modern classics" in the eyes of Porsche, while veteran Porsche fans acknowledge the "bang for your buck" of a 996 Turbo is highly enticing. Patricks example is a great one: driven with kilometers on the odometer, the GT Silver Metallic on Black combination is universally accepted, while the condition is A+. To appease the P-Car fanatics, the car is largely left unmodified and clean as a whistle, with only the subtle PCCM+ module counting as a "mod."
Read up on Patrick and his super clean 996 Turbo below and if Japanese cars are more your thing, read up on our last DRIVERS entry with Samuel Du and his 2020 Toyota GR Supra Launch Edition.
Make, model, year of your car?
2002 Porsche 911 Turbo 996 Manual in GT Silver.
When did you acquire it?
March 2021.
I'd been hunting a Turbo 996 for a few years and when this one dropped online, I bought the car without even seeing it. I'm in Bondi Beach, Sydney, and the car was in Melbourne so I wired a deposit to the guy and had a PPI done by Porsche Center Melbourne who turns out had sold and serviced the car since new so I pulled the trigger straight away.
What made you choose this car specifically?
Mainly the way it looks, the thing is so good looking!
The 996 is known as the ugly 911 but I love the design of the car, the Boxster style headlights aren't the best thing Porsche has ever done but I kind of dig them on a Turbo and it's kept the prices fairly low for a Turbo Porsche. From behind I'm not sure there are many better looking 911s. I love its low fat hips and oversized air intakes and vents! The Turbo twist wheels look sick too.
This might be a little bit controversial for all the hardcore Porsche fans out there but I actually prefer the water-cooled models over the older air-cooled cars. Every time I'm in an air-cooled Porsche they stink of petrol and oil and I'm always sh*tting myself that they are going to break down or explode. The 996 Turbo has the legendary Hans Mezger GT1 Le Mans racing engine that is actually derived from an air-cooled design but is renowned as being 'reliable and bullet-proof' with none of the IMS problems that the other 996 and 997 models have. And it doesn't make my clothes stink like burning oil or fuel.
The Turbo is always the top spec from Porsche and even almost 20 years on it still feels solid and modern! It's a fast car too… Not a bad investment either, they going up by anywhere from 10-50% yearly depending on the model, condition and spec.
I had a 2005 Carrera S 997 in manual with super low kilometers that I got for a steal. That went up in value fast over the almost two years I had the car, and when the 996 Turbo became available I sold the 997 and used the profit to move up to the Turbo.
"When I was a younger entrepreneur I really looked to the people that had been successful. …They could get what they wanted if they worked hard and took risks. That vibe has always stuck with me and now I make sure I reward myself when we have a win."
What is the main purpose for this car for you?
It's my daily, I drop the kids to school/daycare and I often deliver our products from the office myself just to get in it and go for a drive, any excuse! I really like a rainy day in the Turbo, the car handles so well and is kind of easy to get sideways! 4WD helps too, makes me look like a really good driver when really I'm just holding on.
Owning and running your own company can be pretty full on at times and it's good for my mental health to get in the car and scare the sh*t out of myself when needed; keeps things in perspective.
One thing I struggle with is using my most loved things and not stashing them away and keeping them fresh, whether it's a pair of sneakers, clothing or the car! Maybe I'm getting old but recently I have thought "fu*k it, this is what it's made to do so let's go do it!" Porsches love to be driven too – the mechanics always tell you to go hard on them, they love it and can handle it, and half the fun is doing repairs, maintenance and upgrades. Kind of a life-changing new outlook for me (laughs), sounds stupid and I'm sure there is some psychology behind it but it's life changing.
There's a social and community side to the car too. In Bondi there's a "Coffee & Cars" type thing on the last Sunday of each month and there is a bunch of awesome cars and people there. Me and a few mates drink coffee and talk car sh*t for hours, it's unreal.
What has been done with this car? Any details? Modifications? Changes?
The car is totally original and that's exactly what I was looking for. It took me about two years to find one with low kilometers and no mods. I would've preferred a black one but I kind of dig the GT Silver now.
A lot of 996 Turbos are modified, they're pretty easy to tune and get mega horse power from but I'm into the OEM thing. One of my good mates in Sydney knew the two previous owners so it was cool to know the full story of the car, it has been really well looked after and serviced etc.
I have just ordered the new PCCM+ (Porsche Classic Communication Management system) to bring the tech side of the car up to speed. The 996 was recently named a "Modern Classic" by Porsche and to make it official, the Porsche design team have brilliantly updated the head unit to a full seven-inch touch screen with Apple CarPlay etc. without ruining the aesthetic of the older interior, it looks/is factory. I'll keep the old unit in case a gnarly collector wants to make it all original if I ever sell it.
I'd also like to get the car professionally detailed, paint corrected and ceramic coated. That new dry ice cleaning looks insane too, the underside of my car has got almost 20 years of build up that I'm sure would look awesome clean. The Instagram videos of this process are so addictive.
I also have the Porsche roof racks and ski box fitted too, makes longer road trips easier with the kids etc. … And I'm trying to hunt down the old phone that would've come with the car originally.
What is a car to you: aspirational achievement, functional tool, stress-reliever, etc?
All of the above. …When I was a younger entrepreneur I really looked to the people that had been successful and they all had killer cars, not always expensive cars either, it was more that they could get what they wanted if they worked hard and took risks. That vibe has always stuck with me and now I make sure I reward myself when we have a win, otherwise what's the point right! I'm always looking for the next car too and that helps me keep stay driven when things get tough like they often do in business.
Definitely stress relief too! I saw a therapist back in the day when I first started the company to get some knowledge on dealing with stress and anxiety, from all the stories I'd been told I wanted to get in front of it and she was all about mindfulness and being in the moment. Driving a car fast is a great way to be in the moment and forget about all the sh*t going on. Washing and detailing the car is kind of like my zen time too, I basically don't think about anything for an hour or two while I'm doing it.
More than all that I just love cars, always have and always will! They represent a certain kind of freedom that not many other material things in life do.
"I always knew I'd have cool cars when I was older and used them like goals, but my goal posts keep moving!"
What was your dream car growing up?
Probably the Lamborghini Countach, it's such an iconic and recognizable design. I actually have the Countach and a Ferrari Testarossa tattooed on me. I've still never actually seen a Countach in real life though!
I grew up on the South Coast of NSW in Australia in a rural/ surfing area and there were basically no cool cars, so film and TV heavily influenced my love of cars. Cars on TV were much cooler than the banged up Utes or vans I was used to seeing. My dad was really into cars too and I think that rubbed off on me. It's still a cool bond we share now, we're always talking car sh*t and I love it, and hopefully I'll instill the love of cars into my kids.
I always knew I'd have cool cars when I was older and used them like goals, but my goal posts keep moving!
What have you owned before? What would you like to have?
I have had all kinds of cars from a Nissan Exa, Audi S3, Audi S5, Range Rover Sport, Mercedes C63s wagon, 1978 Pontiac Trans-Am, Porsche 997 Carrera S and now the 996 Turbo.
My favorite movie of all time is Somewhere by Sofia Coppola and it stars Stephen Dorff and a black Ferrari 360 Modena. The film makes the car seem so cool to me. I love Porsches but there's nothing quite like a screaming Ferrari V8! The gated gearbox shifter, glass engine cover and round tail lights are cool too.
I'd love a G-Wagon for moving my three kids and all their crap around, kind of bullet proof and the iconic utilitarian design makes them look so badass all these years on. That said after reading about jeffstaple's GLK350 I might go for one of them instead.
I'd also love a Lamborghini Aventador, not sure if I could ever afford one but I absolutely love them. I pretty much based all our product and packaging design on the Aventador, the angles and sharp lines really work for me. You have to be careful in Australia with the "tall poppy syndrome," a lot of people aren't into the expensive car thing and will often think you're another wanker in a Lambo. I get that; but I don't care.
Wish list:
Mercedes AMG G63 G-Wagon
Ferrari 360 Modena
Lamborghini Aventador
Porsche 992 GT3 Touring
Ferrari 812 Superfast
What is the future of the automotive industry? Car culture?
I think everyone is aware that EVs are coming thick and fast now, the tech is too good to ignore.
I think car culture is only getting stronger, with the increase in values of older cars and the increased content on YouTube specifically made about these kind of cars means they're becoming hyped items! I think the younger crew coming up are really aware of the value and style of these limited and collectable things. Like cars, the right watches, shoes, art, clothing are an awesome appreciating investment and they all will continue to have killer resale because of the limited amounts of production.
Cars are an experience too, I think it will continue to be strong culture. Each new generation of drivers has its own cars that mean different things to them, so it will be ever evolving hopefully.