Tesla Announces $20,000 USD Carbon-Ceramic Brake Kit for Model S Plaid
Now the stopping power will match the car's off-the-line performance.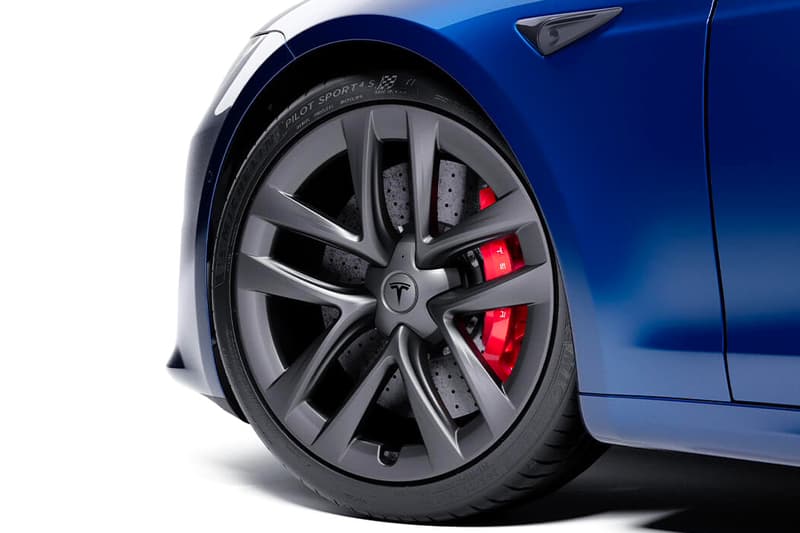 The Tesla Model S Plaid is without a doubt one of the most impressive cars in current existence, hitting 60 MPH in 1.99 seconds and holding the Nürburgring lap record for electric cars, but there was one thing that spoiled all the fun: its stopping power. For those who own a Plaid, fear no longer, as Tesla has announced a carbon-ceramic brake upgrade pack for the EV.
Describing the brakes, Tesla says, "Designed for the ultimate track experience, the Model S Plaid Carbon-Ceramic Brake Kit is a complete hardware package that delivers maximum, repeatable stopping power during high-performance driving." Perfect, then, for lapping the 'Ring.
The new kit includes carbon-silicon carbide rotors that can withstand high heats and multiple presses of the brake pedal as you turn into corners again and again, as well as one-piece forged calipers with high-performance pads and high-temperature brake fluid.
Calipers are served up in red, as per the automotive industry's code color for anything sporty, and the brakes are only applicable for cars that are fitted with Tesla's 21" "Arachnid" wheels. The Tesla Model S Plaid Carbon-Ceramic Brake Kit costs $20,000 USD and is available from mid-2022.
In other news, you can now transform the Tesla Cybertruck into a camper.