Why Bedding Brands are Pivoting Towards a New Audience
A duo of labels are bringing a fashion sensibility to the world of bedding and sleepwear.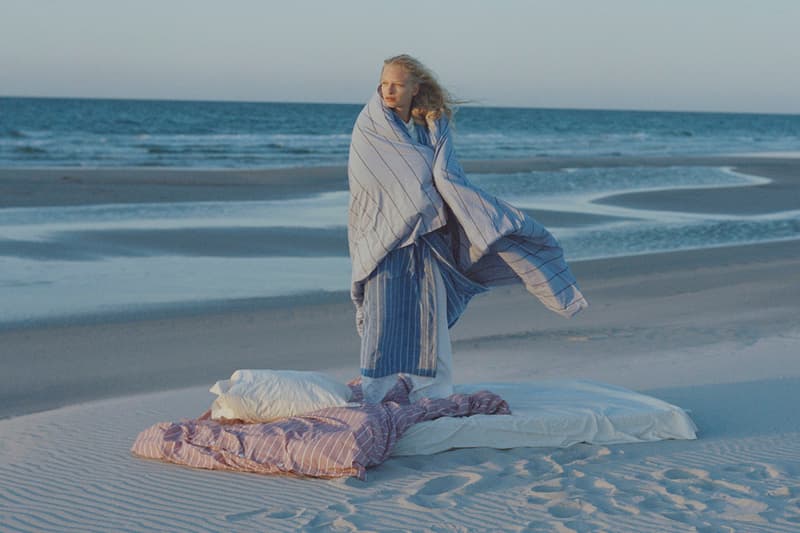 There's something unexpected about Stüssy creating Percale bedding, or Our Legacy releasing a collection of lace pyjamas. Recently, however, bedding and sleepwear have crossed over into the worlds of fashion and streetwear. This shift has been driven by a new generation of labels such as Tekla (Stüssy's bedding collaborator) and Magniberg, who worked with Our Legacy back in early 2020.
Tekla and Magniberg were both founded in the recent past: Tekla was established in Copenhagen in 2017, while Magniberg began in Stockholm just a year earlier. Both brands, like others creating bedding and sleepwear, were inspired by a lack of suitable alternatives.
"We felt that the market is and has been very stereotypical; a bit too decorative in a way that wasn't for us," Bengt Thornefors, Magniberg's co-founder, tells HYPEBEAST. Both Thornefors and his Magniberg co-founder Nina Norgren approached the industry from a different position. Thornefors previously worked in Acne Studios' design department, while Norgren has a background in floral and graphic design.
"Our generation wants to be touched on several levels, and that's where the idea of furniture and bedwear arose," Thornefors says. "The approach we bring to our work is similar to what we used to do in fashion. The bedwear is akin to clothing, but for interiors."
""The bedroom is not just a space for sleeping; you eat, have long conversations, maybe you work. You dream, think and read. You have sex. You spend a lot of time in bed."
To that end, Magniberg's products are designed to cater to those who might not previously have given much thought to bedding. Its designs are minimal and unfussy, but not without flourishes: alongside its more utilitarian colours are styles in iridescent silver, ochre lace, or pepto bismol pink.
In Thornefors' view, the brand is drawing attention to an often-overlooked part of life. "We would like to talk about the bedroom in a different context," he says. "It is not just a space for sleeping; you eat, have long conversations, maybe you work. You dream, think and read. You have sex. You spend a lot of time in bed. We wanted to present home textiles in a new way, giving people the opportunity to combine fabrics and to dress their bed as they dress themselves."
Kristoffer Juhl, the co-founder and managing director of Tekla, takes a similar stance,encouraging people to treat the category as a more important part of their lives. "It is clear to us that it is not only one aspect that makes up a good product for the home," he says. "Some people value quality, others functionality, and some aesthetics. All emotions are part of our fundamental approach to product development, and we aim to continuously optimize all aspects of it."
He views his brand as taking a more holistic approach which helps drive Tekla's stated ambition of creating "tranquility and comfort" for its consumers. "Feeling good is what it's all about", he says. "In your everyday routines and activities, whether alone or with your friends and family at home."
Tekla incorporates these emotional references across its bedding and sleepwear categories, as well as its "Bath" and "Living" ranges and its debut kitchenware collection. All of the products create a wider Tekla universe. Whereas Magniberg releases bedwear in eye-catching colors and encourages a mix-and-match approach, Tekla tends towards a more muted color palette and a focus on materiality and texture. For its "Sleep" collections, Tekla uses linen and percale, with a light stonewash finish to give each item a matte appearance.
But both brands share a larger ambition, beyond satisfying consumer needs: they are trying to recontextualize bedding through the way they present their products. Tekla's product shots have developed their own signature style, with bedding shot against concrete floors and stark white walls, while its campaigns are a break from more traditional bedding images.
In the past year alone, the brand has worked with London-based photographer Lina Scheynius for a linen-focused editorial and Laura Jane Coulson for a blanket story. It's most recent collection was captured in the "Prism of Light" campaign by Inès Manai. And its Stüssy collaboration was an example of the brand's efforts to extend itself into a different subset of consumers.
"Feeling good is what it's all about, in your everyday routines and activities, whether alone or with your friends and family at home."
Magniberg, similarly, references its founders' roots in the fashion industry through its imagery — using photographers and stylists such as Hedvig Jenning and Martina Almquist, more known for their work in fashion — as well as through bedding pieces that directly reference garments, including Oxford stripe bedding and jersey-constructed items.
While this space had been steadily growing in recent years, the last 18 months have seen it accelerate. The fashion retailer Browns, which expanded its homewares category to include bedding (including styles from Magniberg), has seen a sharp rise in interest since lockdowns began. "From spending so much time at home during lockdown, I think a lot of people took a moment to think about what they wanted from their living space — if they wanted it to be more creative, stylish, relaxing or warm" says Thom Scherdel, the store's menswear buyer.
"At the same time, people's spending habits changed and more income was directed to making their space more special, or accommodating to a work space, giving interiors a renewed focus. Once customers started looking for those lifestyle brands, they realized they could really transform their environment."
Whereas luxury brands have released bedding and sleepwear for decades now, the rise of labels like Tekla and Magniberg is a new dimension for the category. Rather than a focus on big names, logos or branding, these brands are attempting to showcase quality and, with it, a refined way of living.
"As sleep is one of life's simple pleasures, with lots of health benefits, it makes sense for it to be one of the more important home and furniture investments a person could make," Scherdel continues. "Now people have seen what's possible when it comes to curating their space, and considering how vast the category is, I think the future is very bright. We're also seeing designers from varying disciplines explore this and a real cross-pollination of art, fashion and lifestyle."
With the new fashion-led interest in this space, a once underserved market has become more and more important. "Home textiles is an area of your private space that hasn't got a lot of attention in recent decades," says Juhl, "but now with fashion and furniture needs met, people's priorities towards it have been growing."
The bigger question is how far this space can evolve, and whether or not labels like Tekla and Magniberg can encourage people to treat their bedwear with the same respect they treat their clothing, accessories or other furniture. "We believe it is time for people to dress their bedrooms or homes in the way they dress themselves; by adding attitude through mixing of materials and styles," says Thornefors.
"When I was a teenager, I communicated a lot through clothes. But as you grow older, the home seems to represent you just as much."