Salt & Straw Turns Traditional Thanksgiving Meals Into Savory Ice Cream Flavors
Caramelized Turkey and Cranberry Sauce, Candied Walnut Cheesecake and more.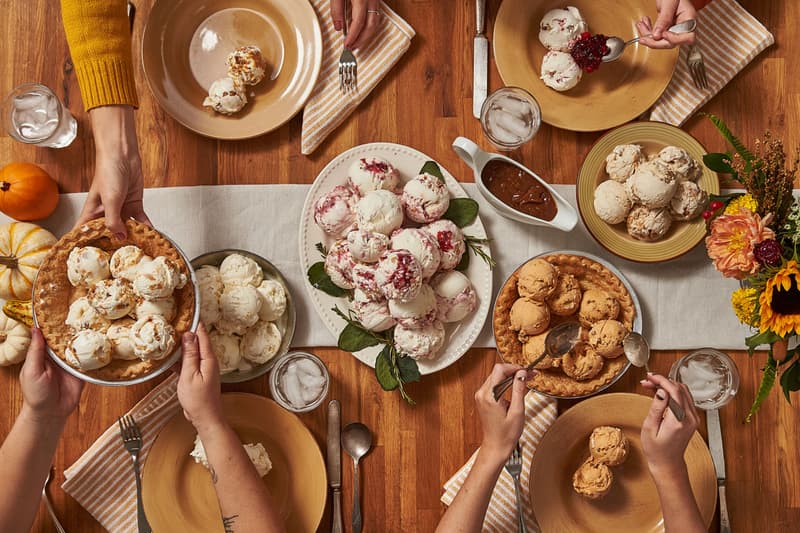 Salt & Straw — the world's largest small-batch ice cream company — has transformed traditional Thanksgiving meals into a selection of ice cream flavors ahead of the holiday.
Dubbed the "Friendsgiving Series," the brand's latest batch of flavors breathes new life into classic recipes. "Parker House Rolls with Salted Buttercream" smears buttery rolls with fresh-churned buttercream and a pinch of flaky sea salt. From there, the ice cream makers gently churn the spongy rolls into salted sweet cream. "Caramelized Turkey and Cranberry Sauce" tucks roasted turkey bacon into a buttery brittle with thyme and freshly ground cubed pepper. The bacon's smoky, salty flavor melds with a sweet and jammy cranberry sauce for a fruity tart flavor.
For dessert, the ice cream brand created "Candied Walnut Cheesecake," which adds warm notes of caramel and molasses to layers of rich cheesecake, mixed with a graham cracker crumble from Spread the Love. Additionally, Salt & Straw cooked up a "Sweet Potato Pie with Double Baked Almond Streusel," with golden pieces of almond croissant streusel and roasted sweet potatoes. For the vegan sweet tooth, the brand offers "Pumpkin & Gingersnap Pie," with creamy coconut, crumbling sugared crust and molasses-spiked gingersnap.
Salt & Straw's "Friendsgiving Series" is now available to purchase on the brand's website for $65 USD.
Elsewhere, Del Taco has rolled out a Takis-inspired menu in Bakersfield, California.