Rihanna Named National Hero of Barbados
"May you continue to shine like a diamond and bring honor to your nation by your works."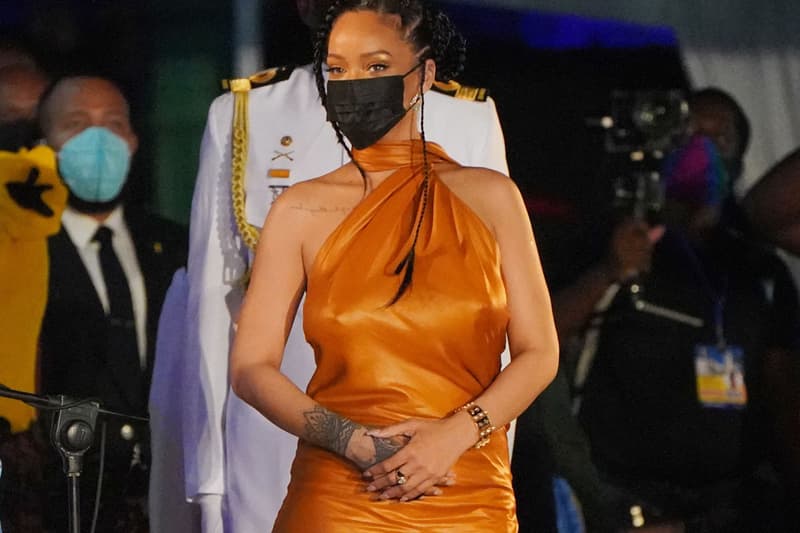 Rihanna was honored as a national hero on Monday in her native Barabdos during its overnight presidential inauguration in the capital, Bridgetown. The ceremony marked the country's official removal of Queen Elizabeth II as its head of state and celebrated its transition into a republic with its first-ever president.
Barbadian Prime Minister Mia Mottley told the crowd, "Ambassador Robyn Rihanna Fenty has given service to Barbados which has been exemplified by visionary and pioneering leadership, extraordinary achievement, and the attainment of the highest excellence that is redounded to the honor of Barbados,"
"On behalf of a grateful nation, but an even prouder people, we therefore present to you the designee for national hero of Barbados, Ambassador Robyn Rihanna Fenty. May you continue to shine like a diamond and bring honor to your nation by your works, by your actions and to do credit wherever you shall go," Mottley added.
Throughout her distinguished career, Rihanna has accumulated a plethora of titles, including Grammy-winning musician, billionaire entrepreneur, actor, makeup mogul, fashion designer and more. Since 2018, the 33-year-old starlet has acted as the ambassador for culture and youth in Barbados, and the island celebrates "Rihanna Day" on February 22.
Watch Rihanna be crowned a national hero in Barbados in the video below, beginning at 3:39:00.
Elsewhere, Kanye West has completely wiped his Instagram.