French Montana's Cognac-Inspired Fragrance Collaboration is for the Culture
HYPEBEAST sat down with the artist and his new collaborator, KILIAN PARIS, to discuss their joint venture.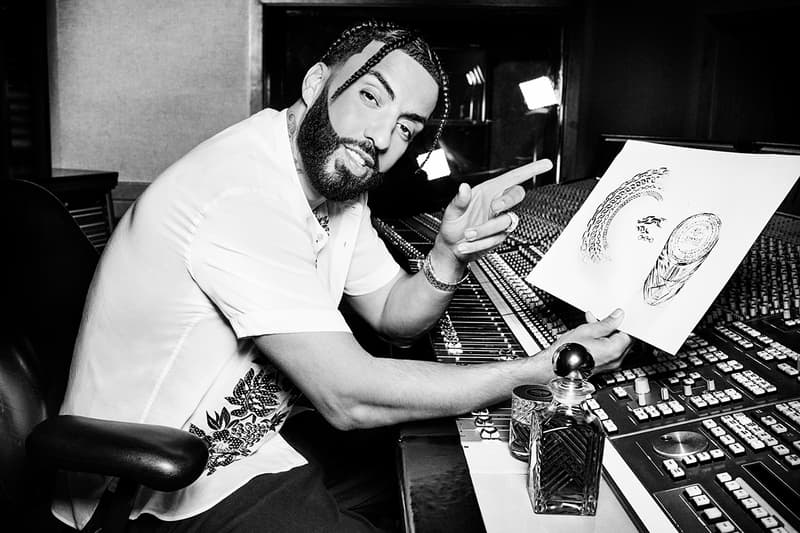 Hailing from the Bronx, French Montana initially made his name behind the camera, enlisting neighborhood stars to feature on his self-made Cocaine City hip-hop DVDs under the name Young French. Following a string of mixtapes under his current moniker, he soon teamed up with the now-incarcerated Harlem legend Max B to release several cult classic mixtape series, including Coke Wave and Mac Wit Da Cheese during the latter half of the noughties. From popularizing the "wave" to harmonizing on classic New York beats, French has since become a mainstay within the culture.
Having lived in the West for the entirety of his adult life, he says being able to visit his birthplace of Morocco and providing a new life for his family has been his greatest achievement. "We had slipped through the cracks," he says. "It was my success and blessings from music, and obviously, all [my mother's] prayers that got me through obstacles only God would put you through." Since receiving citizenship, he has continued to use his success to campaign for accessibility to higher education for first and second-generation migrants in the US under the DACA Act.
"I was competing amongst the greats. You had KRS-One down the block, Slick Rick down the street, Big Pun and Fat Joe here."
While hip-hop's deep-rooted connection with Hennessy is long-established, French's own relationship to the brand is rather more personal. Seen almost exclusively with the bottle in his earlier days, it came as little surprise that for his debut venture into the world of perfume he received a cognac-inspired fragrance crafted by Kilian Hennessy — founder of the luxury scent brand KILIAN PARIS.
Holding an eighth-generation lineage to the legendary cognac brand, the scent is inspired by the cognac-making process to which Kilian remembers from his formative years. Whilst the chains that adorn the bottle form KILIAN PARIS' signature motifs, they also serve as a nod to French Montana's personal aesthetic. This, and its long-standing cultural significance make this collaboration a natural fit.
"Hennessy and hip-hop go together like white on rice."
HYPEBEAST caught up with French Montana and Kilian Hennessy in between shooting the new campaign at a recording studio in Miami to discuss preserving heritage, collaborative culture, and more.
HYPEBEAST: You were one of the first artists to move away from the typical New York sound and adopt Southern trap. That's now drifting to drill in the city, what are your thoughts on NY's presence in that scene?
French Montana: It shows growth and that music doesn't have to stay in one box. I'm someone that believes music is the only language people speak worldwide. Coming from Africa and making music, everybody opened doors for me. People should always give something a shot, and be open to any type of sound and any type of artist. I love the drill scene, it comes from a real cultural place and rest in peace Pop Smoke. We made a lot of music together.
Very early on, you and Max B were known for harmonizing raw bars over hard beats. That sound is now the mainstream in hip-hop. Were there any criticisms you faced from the community in your mixtape days?
FM: Shout out to everyone on the come-up trying to pursue their dreams. You're gonna go through those obstacles where people are gonna hate on you and not let you in. You should always pursue with that push. Eventually, you'll come to find out that patience is your biggest enemy.
Speaking on Max B, how's Don Biggaveli holding up?
FM: He's in the best spirits, I speak to him every other day. He's made about 300 songs and got an album coming out soon. You know, he was the first one to start harmonizing and rapping. Me and him opened up a whole new wave together. Shout out to everyone that's still riding the wave.
You and Harry Fraud are also a big power duo. Did you ever lend a hand in those iconic samples?
FM: Yeah, of course. We both have a catalog of music we've collected over the years. Fraud and I will sit in the studio together and just battle, go sample-for-sample and whoever's got the best one, we make the beat around it. We've got an album on the way that we're about to drop too.
I see you've revamped the Montana pendant from your early days. Are we going to see the LV one make a comeback?
FM: Yeah. That and the Pillsbury Doughboy, so you know where the sound is going. I'm going right back to it [laughs].
Being one of the few artists from an Arabic heritage, do you feel any pressure of holding the culture on your back?
FM: I never treated it like that. You can't look at yourself as being the biggest Arabic artist, you got to look at yourself as being the biggest artist. When I was coming from New York, I never tried to separate my sound. I follow melodics and never put myself in a box. When I came from Morocco I went to the Bronx, and that's where hip-hop was created. I was competing amongst the greats. You had KRS-One down the block, Slick Rick down the street, Big Pun and Fat Joe here — there's nothing you could do that they weren't able to shut down.
From "Henny & My 44" to "Cocaine Konvict" you reference and were always seen with a bottle of Hennessy. What's your relationship with the cognac brand?
FM: Hennessy and hip-hop go together like white on rice. Cognac is what we used to drink every day when going to the studio. It lifts everything off and gives you that creativity, boost and energy you need to attack that mic. Me, Max B and Chinx will always have a Hennessy bottle in our hand. If you look at all of our videos for about 20 years, we got a bottle of Henny, a whole gallon, just drinking it straight. When Max B was fighting trial, all he would do is drink and we were fighting it with him. It was a hell of a good time.
Is that what led you to collaborate with Kilian now?
FM: As far as working with Kilian, that had more to do with fragrance. It just so happened that the culture of Hennessy was here too. Having Hennessy, Kilian and French Montana all in one place — everything goes hand in hand. You're definitely going to put your scent on, have a drink and go make some music.
How important is fragrance to your daily routine?
FM: Ain't nothing like that feeling when someone gives you a hug or walks by you and says, "Hey man, what's that you're wearing?" It's got a different ring to it.
What's special about this scent in particular?
FM: I had already envisioned me doing something with oud. When I got presented with the idea, it was meant to happen. I'm a big fan of the brand and have always wanted to do it on this level. Making sure I'm representing something that when people wear they'll stand behind it too.
Out of all the ventures, why did you choose scent?
FM: It goes with fashion, music, just everyday routines. It's something that I put on every day. When you have your own scent instead of smelling like everybody else, it feels good to be different.
Kilian, when did you become first aware of French's music?
Kilian Hennessy: Around 2016, when the track "Unforgettable" was released.
Your fragrances often tap into diverse influences. What inspires the latest scent?
KH: Angels' Share really is influenced by my memory of the Hennessy cognac cellars. Obviously, if you go to a cellar it doesn't smell like that, and you don't want it to smell like that [laughs]. But it's an ideal version of it that I've built through memories.
How have you related it to French Montana?
KH: It's bold. When you hear his music, it has an imposing aesthetic — Angels' Share is just that. In perfume, you build a scent with top notes, heart and drydown. I wanted a scent that would be precise in the elements I was experimenting with, so this fragrance is almost exclusively the latter two. When you wear it and walk into a restaurant, it leaves a beautiful trail — everyone's going to smell you.
Is this your first collaboration with an artist of this magnitude?
KH: Around 10 years ago I collaborated with the great-granddaughter of painter Henri Matisse. She painted 50 bottles, all unique, and they were arranged in my store like an art gallery. You pick the bottle you wanted and fill it with the art perfume that you like. That was super cool. But for me, a collaboration has to be genuine and authentic, when I was told French liked the perfume I was really interested.
You come from a long heritage of cognac makers. Do you see any resemblance between the art of making a cognac vs creating a fragrance?
KH: Yes, absolutely. In the world of cognac, you blend eau de vie which all have different aging characteristics — if you want a VS, you use a young eau de vie, for VSOP a bit older and for XO a little more. The art of blending is exactly the same when creating perfume — you blend different notes and harmonies together. The biggest difference is that we don't age perfume. I actually tried to age a perfume in an oak barrel for two years but it had zero influence [laughs].
You're currently sitting in a recording studio in Miami, have you noticed any similarities between music and perfume?
KH: [points at French] You see more resemblances than I do.
FM: It goes hand-in-hand with a feeling you get when you smell something good or bad. When the sound captures your ear, you worry about the words later. That's what I was able to relate to when I was young and didn't speak English. I was listening to Tupac and there was nothing out there that matched. Same with scent, you're not going to understand why you like it, but you find yourself asking the person "What is that?" That's how I see it.
KH: My number 1 scent is the same everywhere in the world. When a creation transcends itself, it becomes more than just the product, it gets out of your hands and has the ability to touch the human soul; whatever culture, race, or gender. Almost every art form has that in common. Neither French nor I understand why. We know how to create something, but not something more otherwise we'll be doing it every time [laughs].
French, have you had a chance to visit any of Kilian's perfume factories?
FM: I hope that I get to see the whole process real soon, but until then, I trust Kilian with his world, he's the best at what he does. He conceived this idea about 14 years ago, which shows you how long it takes to create a masterpiece.
The Angels' Share by Kilian Feat. French Montana is available exclusively at Selfridges and retails for £165 (approximately $225 USD). Check out the campaign images in the galleries above and for more information on the latest collaboration be sure to visit the brand's website.