Essentials: Mr. K
The Bang Bang tattoo artist shares his daily work staples.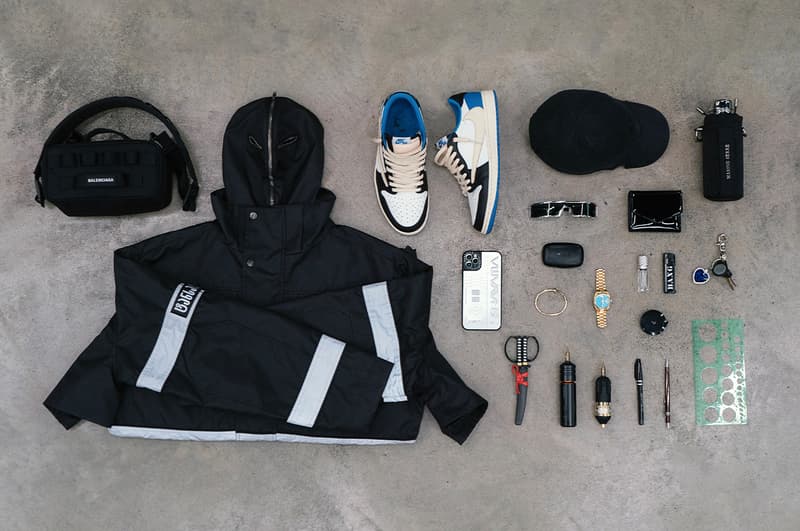 For this week's Essentials, we speak to tattoo artist Mr. K. Originally from Seoul, Mr. K studied at Parsons School of Design and began his art career as a graphic designer while designing for his own streetwear line K47, before eventually stepping into his current role as a tattoo artist. He's now based out of New York City's Bang Bang tattoo studio and is well-known around the world for his intricate micro-style and single-needle works in black and gray.
Mr. K's long list of clientele includes David Beckham, Liam Hemsworth, Rita Ora, and Odell Beckham, and he notably gave Michael J. Fox, best known for his role as Marty McFly in Back to the Future, his first tattoo at 57. In addition to the product descriptions found below, we take the opportunity to ask Mr. K a few questions about his personal style inspirations, upcoming projects, first tattoo advice, and experience in NYC.
What are your personal style inspirations?
I like a comfortable and oversized fit as much as I would only wear a pair of black sweat pants, and I like black as much as André Kim likes white. Everything in the closet is black except for a few clothes. One of the things I'm trying to express through my work is mixing old and new styles, and likewise, I enjoy mixing new styles with vintage fits.
Advice you would give someone looking to get their first tattoo?
It's important to know exactly what tattoo style you want, what you want, and what style suits your skin tone. Especially for those who are receiving tattoos for the first time, it's important to fully trust the artist's ideas and opinions. 80-90% of clients who are too self-assertive regret not listening to the artist's comments later.
How has your experience been in NYC and Bang Bang?
I want to say that New York, through my lens, is a really cold city. In the ice coldness of modern times, the warmth and sweetness are hidden within. I think it's different for each person whether they feel the warmth or not. As the world has changed since COVID-19, New York has also changed a lot, but to me, each day of the 16 years in New York is a precious memory that cannot be exchanged for anything, and it's a city that I look forward to again tomorrow. Meeting Bang was another precious memory and the turning point of my life in New York. For an artist, I think meeting someone who recognizes their potential and talent is a valuable thing that cannot be easily obtained. I'm really grateful that I'm in New York now, working with Bang, and doing this interview now.
Any upcoming projects you're excited about that you would like to share with our readers?
I'm interested in fashion and like to be stylish, so I'm also very interested in jewelry. A collaboration with a New York custom jewelry company called The M jewelers has been in the works since the beginning-middle of this year and is preparing to launch in December. I can't say who it is yet, but I'm preparing a collaboration with a street artist representing New York. The anticipation of showing the results after a long period of preparation and effort always gets me excited.
Previously recognized online for his bright neon green hair which now has returned to black, Mr. K's mostly black and silver pieces include the Vetements Runway Gimp Jacket, Dior 2003 Punk Sunglasses, and Balenciaga Cutaway Baseball Cap. He also highlights his unique accessories such as the exclusive Bang Bang lighter and Heart of Ocean Pendant from the Titanic, and tattoo work staples including his go-to tattoo machines, drawing instruments and measuring tools. Take a look at his product descriptions below.
Balenciaga Military Camera Bag
I usually carry a lot of small things, so I prefer a bag with large storage spaces and a lot of pockets.
Vetements SS19 Runway Gimp Jacket
It's the wildest piece I have, but if I don't wear the hood, it's a jacket that's perfect for a daily look.
Air Jordan 1 Low OG SP Travis Scott x Fragment
These are shoes that don't need explanation. Personally, it's my favorite pair of shoes among the Travis x Nike collabs that exist today.
Casetify x Sorayama
It's a collab product of my favorite case brand and favorite artist. I love the weight and detail of this case.
Balenciaga Cutaway Baseball Cap
This hat completely solves the problem of wearing a baseball cap and sunglasses together and seems to express Demna Gvasalia's sense well. I think it's really cool.
Marine Serre Tea Bottle
I don't really drink coffee but enjoy tea. Tattoos and tea go well together.
Dior 2003 Punk Sunglasses
I think what makes these glasses so great is that not everyone can pull it off.
Maison Margiela Envelope Wallet
I prefer women's wallets that aren't too feminine. I can't really pick a reason I like it, but it's just comfortable.
Tribit Flybuds
The battery lasts a long time, and it's also waterproof, so you can also dance in the shower.
Cartier Nail Bracelet
There's no special reason, it's just pretty.
1984 Rolex Day-Date
The combination of yellow gold and turquoise is really cool.
Chrome Hearts Perfume
I personally like the scent of soap, so I use this perfume often these days.
Bang Bang Lighter
Our shop makes a lot of goods, but this product is only available to us and our clients, so there are many people who want it.
Chrome Hearts Keychain, Heart of Ocean Pendant
I carry the pendant with me because I want to feel the emotion of the movie every time I open the front door.
Measuring Tape
I use it every day so I can accurately measure the human body.
Samurai Scissors
Bang's wife is from Japan, so she often buys me presents. This is the item that I use the most. Thanks, Bang!
Cheyenne SOL Nova & Bishop Wand Tattoo Machine
The best machines on the market that anyone who does tattoos knows about.
Circle Template
With this ruler, you can draw everything.
Pentel Extra Fine Brush Pen, Pentel 0.3mm Pencil
The pens can draw extremely thin lines when drawing directly on the client's body with freehand. I found the brand after cycling through several products, and I've been using them for five years now.
Take a look at Mr. K's product spread above and tattoo pieces on his Instagram found below, and stay tuned for more Essentials features in the coming weeks.
View this post on Instagram
View this post on Instagram
For more from the Essentials series, we recently spoke with consignment shop curator Justin Reed.