Tom Brady Breaks NFL Career Passing Record in Homecoming to New England
The QB returned to New England for the first time since leaving.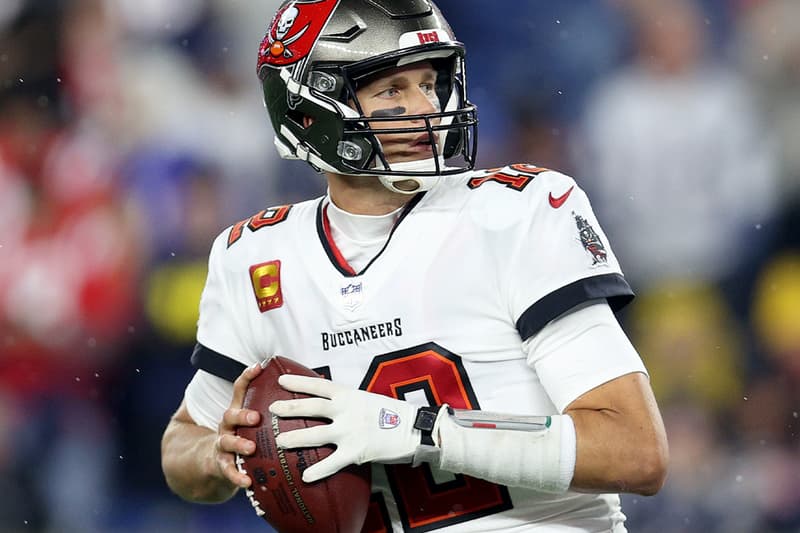 This Sunday night was a football evening to remember for Tom Brady as he became the NFL's all-time passing yardage leader. Not only did he return to New England for the first time since leaving to join the Tampa Bay Buccaneers, but he surpassed Drew Brees. Since 2018, Brees has held the previous yardage record when he broke Peyton Manning's mark.
With 6:10 remaining in the first quarter, Brady completed a 28-yard pass to Mike Evans, giving the seven-time Super Bowl champion 80,358 career passing yards. Brees was seen applauding Brady on the sidelines post-pass, while the record was acknowledged throughout the stadium with "Brady! Brady!" chants.
After Brady, Pittsburgh Steelers' Ben Roethlisberger has the second-most career yards, however, he still has a long way to go as he trails Brady by approximately 20,000 yards. Prior to the game, NFL fans focused on the showdown between Brady and the Patriots Coach Bill Belichick who prior to the game said, "We're going to try to stop him from gaining too many yards passing the ball." Since Brady's departure, Belichick has been widely held responsible for the quarterback's choice to go to Tampa Bay.
Check out the media coverage for Brady's record breaking feat below.
.@TomBrady is now the all-time passing yards leader! #TheReturn

?: #TBvsNE on NBC
?: https://t.co/50pf7DlJse pic.twitter.com/p7nLvNJ1ru

— NFL (@NFL) October 4, 2021
BRADY BREAKS THE RECORD IN FOXBOROUGH!

Tom Brady passes Drew Brees for the NFL passing yards record ? pic.twitter.com/AsXpqeTq13

— SportsCenter (@SportsCenter) October 4, 2021
Brees cheered on Tom Brady as he broke his passing record ?

(via @NFL)pic.twitter.com/qsjhXTu7BF

— ESPN (@espn) October 4, 2021
View this post on Instagram
View this post on Instagram
In case you missed it, Klay Thompson expects to be a "very effective player" upon returning to the court.