NBA Supposedly Removed Kyrie Irving From Top 75 Greatest Players List
Twitter users reveal their proof.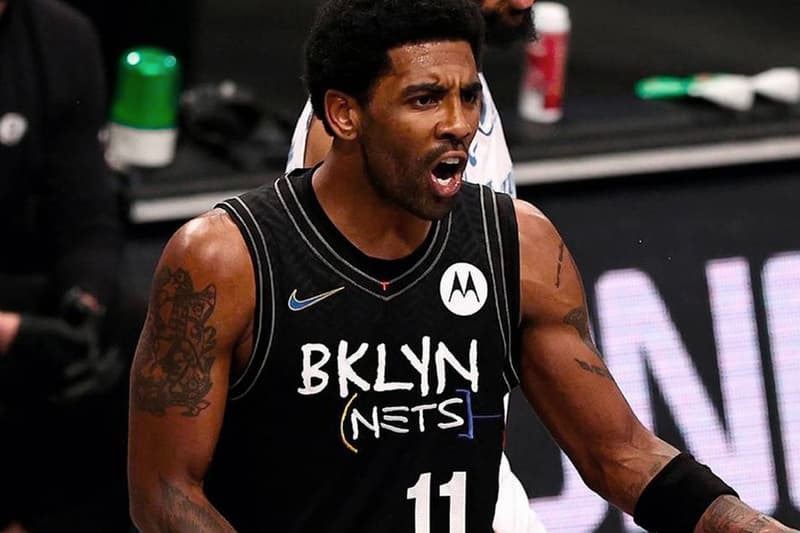 After NBA's Top 75 Greatest Players List was revealed, fans and athletes alike took to social media to voice their opinions on who was snubbed.
One of the most notable snubs from the list was Kyrie Irving, a seven-time all-star and NBA Champion who has often been equated as one of the best ball-handlers in the history of basketball. With his successes, stats and talent, his resume make the Brooklyn Nets guard a perfect contender for the list. Fans have thought it to be disrespectful that Irving was left off of the top 75 and some even did their own sleuthing.
Some fans have noticed that there have been some deleted articles from the NBA that suggested that Irving was initially included in the list. Twitter users also pointed out that the NBA YouTube channel originally posted a highlight reel that showcased Irving. Some fans have suggested that the NBA remove Irving from the list due to his current stance on taking the COVID-19 vaccine.
NBA Commissioner Adam Silver recently spoke about Irving's status in the NBA and said, "I hope that Kyrie, despite how strongly he feels about the vaccination, ultimately decides to get vacced because I'd love to see him play basketball this season & I'd love to see the Nets have their full complement of players on the floor."
Take a look at what some fans on Twitter have dug up.
It was was already set? pic.twitter.com/WxxmUcjtR4

— Brooklyn Nets Media ? (@nets_media) October 24, 2021
HUGE CONSPIRACY THEORY: If you Google 'Nets NBA 75' the first result is a page from the Nets website with a link to a video. The page doesn't work.

WAS KYRIE IN A DRAFT VERSION OF THE LIST THEN PULLED DUE TO THIS SEASON?! pic.twitter.com/8moHJ6SqPA

— UK Nets Fans (@UKNetsFans) October 24, 2021
Type into google Nets nba 75 to check.

— Brooklyn Nets Media ? (@nets_media) October 24, 2021
Archive of the page:

"Brooklyn Nets' Kyrie Irving has been named to the NBA's 75th Anniversary Team of the top 75 players in the league's history."https://t.co/tqlvgSxHqK

— nick (@nckp2p) October 24, 2021
In other NBA news, DeMar DeRozan has finally revealed how he felt about Toronto Raptors winning a title without him.