A 7-Foot Tall Harambe Statue Has Appeared Opposite Wall Street's Charging Bull
The organizers said they installed the statue to show that Wall Street has become "bananas."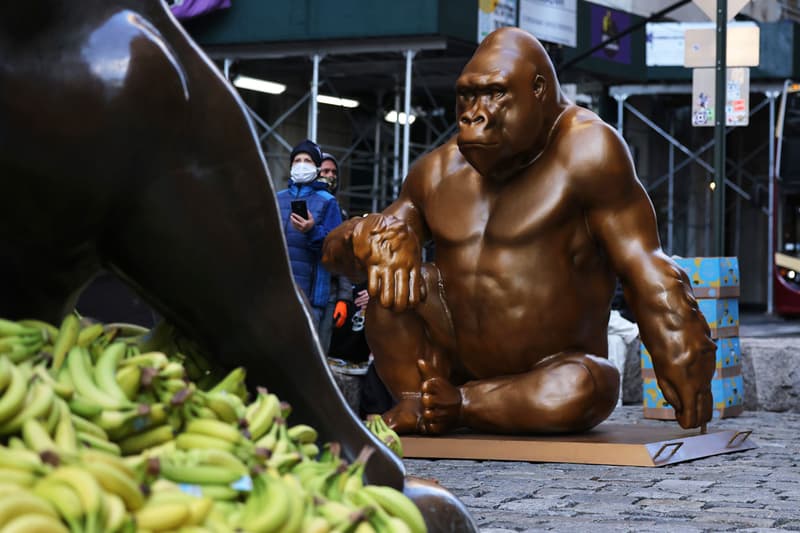 A seven-foot-tall statue of Harambe — a 17-year-old silverback gorilla who captivated the internet as a viral meme — has been installed opposite the Charging Bull in Manhattan's Financial District.
The massive bronze gorilla appeared in Bowling Green Park surrounded by 10,000 bananas. Making a statement about wealth disparity, the statue's organizers — founders of Sapien.Network, a social media platform "dedicated to putting the needs and welfare of human beings first" — said the display was meant to showcase how Wall Street has become "bananas," according to NBC. The organization will later donate the fruit to local banks and community fridges.
Further, Sapien.Network co-founders Robert Giometti, Tejay Aluru and Ankit Bhatia told the outlet that they chose Harambe as a metaphor for those facing strife under the United States' capitalist society, which they say "enriches wealthy elites and leaves the average person behind."
"Harambe is a representation of something that lets us look at more than just ourselves. What are we aspiring to as people?" Giometti told NBC. "It's about connecting. A simple gesture of giving a banana builds community. As a society, we need to come together. We can't keep fighting to come together."
In 2016, the viral gorilla was fatally shot after dragging a three-year-old boy who entered into his enclosure. Following his death, Harambe garnered major traction across social media and sparked several trending hashtags, including #RIPHarambe and #JusticeForHarambe.
Take a look at the statue above.
Elsewhere, Atmos and Coca-Cola have adorned an upcoming BE@RBRICK set in retro Coke adverts.