Best New Tracks: The Weeknd x SHM, Lana Del Rey, Big Sean x Hit-Boy and More
10 music projects to dive into this weekend.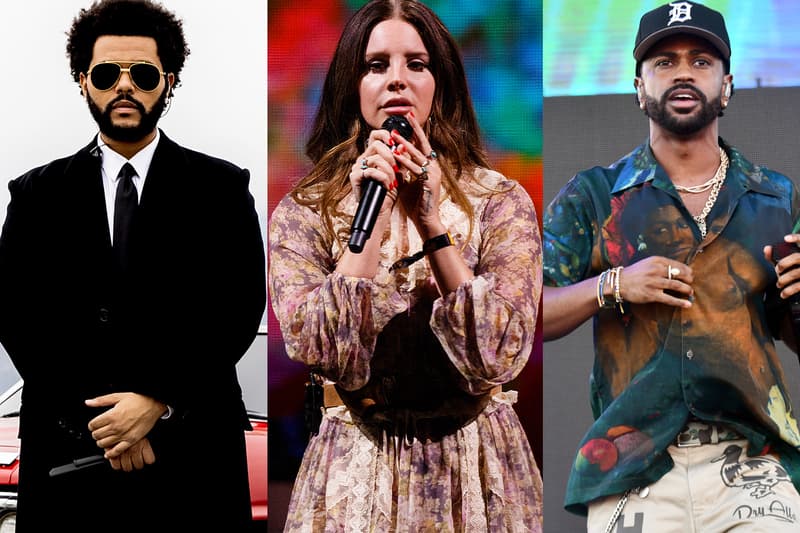 As the week in music comes to a close, HYPEBEAST has rounded up the 10 best projects for the latest installment of Best New Tracks.
This week's list is led by The Weeknd and Swedish House Mafia's collab "Moth to a Flame," Lana Del Rey's newest album Blue Banisters and Big Sean and Hit-Boy's "What A Life." Also joining this selection are fresh offerings from JPEGMAFIA, Wale, Obongjayar, Dijon, Majid Jordan, Brahny and Yebba.
The Weeknd x Swedish House Mafia – "Moth to a Flame"
Swedish House Mafia enlisted The Weeknd for their latest cut, "Moth to a Flame." The recently-reunited trio is building anticipation for their upcoming album Paradise Again, and are set to hit the road for the first time in a decade in 2022.
Listen: Spotify | Apple Music
Lana Del Rey - Blue Banisters
Lana Del Rey is back with Blue Banisters, her second full-length release of the year following Chemtrails Over the Country Club. The 15-track project marks her eight studio record and was previously described by the artist as an album that's "about what it was like, what happened, and what it's like now." She added, "Thank you to my friends over the last 18 years who have been an example of attraction not promotion. I've never felt the need to promote myself or tell my story, but if you're interested this album does tell it- and does pretty much nothing more."
Listen: Spotify | Apple Music
Big Sean x Hit-Boy – "What A Life"
Big Sean and Hit-Boy reunited on the surprise single, "What A Life." The three-minute cut hears the Don share his excitement about the success in his life, also sharing on Twitter, "Been locked in and have a lot planned for anybody who supporting n ride for me. Ain't fans, y'all fam at this point! New music, merch, bars, ideas, energy, etc, basically just all sides of me I wanna share! If u got love for me I need to see you step up for me, and show up 4 me!"
Listen: Spotify | Apple Music
JPEGMAFIA - LP!
JPEGMAFIA is celebrating his birthday with the release of his latest album, aptly titled LP! Clocking in at approximately 50 minutes, the 18-track project features one guest feature from Denzel Curry on the remix of "BALD!" and was entirely written, produced, mixed and mastered by Peggy himself. The Los Angeles-based artist is also hitting the road this month for his first full-scale North American and European headline tours in over two years.
Listen: Spotify | Apple Music
Wale - Folarin II
D.C.'s Wale released his seventh and most personal studio album, Folarin II. The 15-track record is stacked with appearances from J. Cole, Rick Ross, Jamie Foxx, Boyz II Men, Maxo Kream and more, and Wale shared on Twitter, "As a writer I know It's not like any album I ever put out . It was created differently." He also explained to Nadeska on Apple Music 1 why this was the right time to drop the album, stating, "Because it feels like I'm just, it's a different sound of Folarin 1, but I feel like a little bit how I felt back then. The hunger is there, you know what I'm saying. I mean, and I never wasn't hungry, but I'm just saying it's just hitting a little different now. I'm saying a lot of things with my chest out and I think you can hear in the way that I'm delivering some of the raps, I'm just talking to you. I'm not rapping at nobody, I'm just really talking to you, the listener."
Listen: Spotify | Apple Music
Obongjayar – "Message in a Hammer"
Obongjayar teased his upcoming debut album with the new single "Message In A Hammer," which arrives with an accompanying music video helmed by Rollo Jackson. "'Message In a Hammer' is about fight, and fighting against the powers that take and steal and rob from us, and calling them by their name – thieves and murderers," the Nigerian-born, London-based artist said in a statement.
Listen: Spotify | Apple Music
Yebba – "Boomerang (Live)"
Drake's Certified Lover Boy collaborator Yebba delivered a live performance of her latest Dawn single, "Boomerang." The West Memphis artist is joined by Charles Myers, Burniss Travis, Malachi Mabson and Justin Tyson, while the visual is filmed by award-winning photographer and director Francesco Carrozini.
Listen: Spotify | Apple Music
Majid Jordan – Wildest Dreams
Canadian duo Majid Jordan finally returned with Wildest Dreams, their first album since 2017's The Space Between. The OVO signees returned from their year-long hiatus earlier this April, with Jordan Ullman telling Zane Lowe on Apple Music 1 that his friendship with Majid Al Maskati inspired the record. "I think the music is something that just comes out of the community of friendship and what we do. We became friends while we became partners in music, and it was very much two things happening at once, two different growths that merged into one thing," he said. "Even with "Wildest Dreams" and working on this album it's like we revisited that once again because everything was not moving for a minute, and you got to really evaluate what you wanted to do for your next step. And so we were just sitting in Toronto thinking of making a whole new album, keep going with the mission, and I think it unlocked what we really want to accomplish in and out of music. What are our wildest streams and what do we want to say to the world? I think we're in the best time of our lives right now for both of us for many different ways. But I think the one thing that I know is we're just beginning making music and it's something that I just personally feel from both of us. This is just the beginning of a whole new chapter."
Listen: Spotify | Apple Music
Dijon – "Rodeo Clown"
Dijon is prepping for the release of his upcoming project Absolutely with "Rodeo Clown." The heartbreaking cut hears him touch on the pain of unrequited love and is the final single before the record. Absolutely was "recorded over the course of a few fervent weeks whilst in tight confines with a close-knit group of collaborators and friends" and is set to drop on November 5.
Listen: Spotify | Apple Music
Brahny – "Apollo"
Toronto's Brahny is back from his two-year hiatus with "Apollo." The new single arrives with an accompanying visual that highlights youthful innocent from the Asian-American perspective, personal relationships and his Chinese heritage. "Apollo is an attempt to decipher the contradictions of growing up and being sold images and stories of success that you don't necessarily align with," Brian Han said in a statement. "It's meant to raise a question of whether or not it's worth pursuing socially established views on success if it means sacrificing characteristics and perspectives that are crucial to your self-identity."
Listen: Spotify | Apple Music