Ryan Garcia KOs Olympic Gold Medalist Luke Campbell To Win Lightweight Title
Coming back from an early knockdown.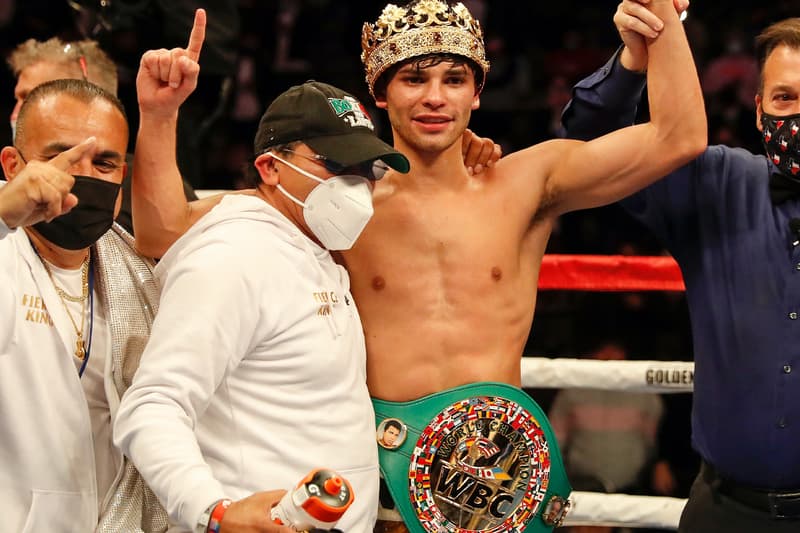 In an emphatic win, Ryan Garcia knocks out Luke Campbell, proving he is not just a social-media fighter.
Coming into this fight, onlookers thought Garcia to be over-hyped, but he answered back, dusting himself off after a drop by Campbell in the second round boxing match. Campbell delivered a devastating left hook to the body, dropping the Mexican-American fighter to the floor for the first time in his career. The 22-year-old fighter immediately made his way back up on his feet, composed and determined to continue the match. Garcia was able to sustain the fight by continuing to throw left-hand combos that dug into Campbell's body, later becoming advantageous in the fifth and seventh round.
Garcia who is 21-0 with 18 KOs, leveled the knockdown count by the end of the fifth round when Campbell was sent staggering through the ropes with Garcia's left hook. The British 2012 Olympic gold medallist was quickly tiring out with each of Garcia's hard blows, coming one after another. Though Campbell was able to survive the sixth round, his lapse of judgment landed him on all fours in the seventh round, as he mistakenly braced for an attack to the head as Garcia drove a knockout blow to the body with his left hand. Campbell was unable to rise to his feet before the 10-second count, allowing Garcia to become the first man to ever beat Campbell by stoppage and subsequently, becoming the new WBC Lightweight Champion.
In a postfight interview on DAZN, Garcia discusses the motivation behind the fight and stated, "You're not who people tell you [you] are. You're who you choose to be. And I chose to be a champion tonight. I wasn't going to let nothing stop me." Campbell responds, noting and praising the young fighter, "That was the hardest shot I was ever hit with. I tried and tried to get up, but I couldn't. I felt him coming on, and I was moving back, and when you move back, my body relaxed a little bit, and that's the exact time he hit me."
Check out the tweets below for Garcia's end of the match celebration and Luke Campbell's congratulatory tweet to the young fighter.
In other sports news, LeBron James proves he's still the GOAT and shatters another NBA record.
Canelo celebrates with Ryan Garcia ? pic.twitter.com/YHV1PgLY0j

— DAZN Boxing (@DAZNBoxing) January 3, 2021
Well I'm honestly heart broken, I really wanted to bring the win back for you all. I'm sorry for that. I hope you all enjoyed the fight. Have to take my hat off to @KingRyanG, well done and a massive future ahead for him. I wish him all the best. pic.twitter.com/hCVvillSm2

— Luke Campbell MBE (@luke11campbell) January 3, 2021