Music Projects You Missed This Week
Featuring YG, Burna Boy, Denzel Curry and more.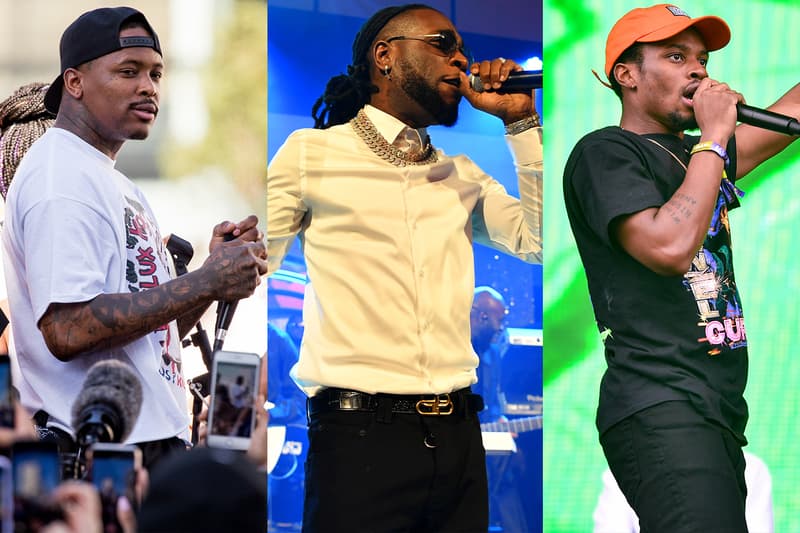 As we power through another working week, HYPEBEAST has rounded up a carefully curated list of Music Projects You Missed This Week.
This selection includes an EP from Jacob Collier, collabs from Nyck Caution and Denzel Curry, Zara Larsson and Young Thug, Wizkid and Burna Boy and YG, Day Sulan and D3szn, plus music videos from Q and NO1-NOAH.
---
Wizkid x Burna Boy – "Ginger"
Nigerian singer/songwriter Wizkid shared an accompanying music video for his Burna Boy-assisted cut, "Ginger." Directed by Meji Alabi and shot in London, the visual boasts of beautifully colored scenes, powerful choreography and stunning choreography.
Listen: Spotify | Apple Music
Jacob Collier — Jacobean Chill
Shortly after releasing the heartwarming cut "The Sun Is In Your Eyes (Voice Memo)," Jacob Collier quietly dropped the six-track EP Jacobean Chill. The English artist's latest project features previously released cuts such as "In Too Deep" with Kiana Ledé and "He Won't Hold You" with Rapsody, along with several tracks from Djesse Vol. 2 and Vol. 3.
Listen: Spotify | Apple Music
Nyck Caution x Denzel Curry – "Bad Day"
Brooklyn MC Nyck Caution enlisted Denzel Curry for his brand new single "Bad Day," which is set to appear on Caution's forthcoming full-length album Anywhere But Here. The pair show off their distinct flows and wonderful chemistry with rapidfire couplets, firing between sliding 808s.
Listen: Spotify | Apple Music
Day Sulan x D3szn x YG – "Hit Em Up"
YG and his 4Hunnid signees Day Sulan and D3szn are looking forward to a great 2021, dropping off their first single of the year entitled "Hit Em Up." While the title pays homage to the phrase immortalized by Tupac Shakur, the trio take inspiration from the ubiquitous drill movement and deliver an energetic track.
Listen: Spotify | Apple Music
Q – "Garage Rooftop"
Following the release of his latest EP The Shave Experiment, South Florida's Q dropped off an accompanying short film for the cut "Garage Rooftop." Directed by Loris Russier, the dreamy new visual takes us to Miami to experience the highs and lows of Q and his leading lady (and frequent collaborator) Sophie Fabien.
Listen: Spotify | Apple Music
NO1-NOAH – "Ridin For My Love"
Summer Walker's latest Ghetto Earth Records signee NO1-NOAH dropped a music video for his December 2020 cut, "Ridin For My Love." The rising artist previously worked with Walker for her latest EP, and the songstress revealed that the two of them are alike both musically and personality-wise. "He's talented and I figured it'd be easy for us to work together and I could use my platform to help him follow his dreams," she said in a previous statement.
Listen: Spotify | Apple Music
Zara Larsson x Young Thug – "Talk About Love"
As she preps for the release of her upcoming album Poster Girl, Zara Larsson enlisted Young Thug for the single "Talk About Love." Produced by Mike Sabath, the energetic cut hears the pop artist on the same wavelength with the YSL Records head's melodic verse. "'Talk About Love' is about that phase before two people work out what they are to one another," Larsson explained in a statement. "That specific window is so beautiful and fragile, as soon as you start asking 'are we doing this?' or 'how do *you* feel?', for some people that ruins the magic. 'Talk About Love' is savoring that moment before you have to decide."
Listen: Spotify | Apple Music