Evel Knievel Estate Sues Disney and Pixar Over 'Toy Story 4' Character Duke Caboom
Claiming that Disney/Pixar never received approval to base a character on the late stuntman.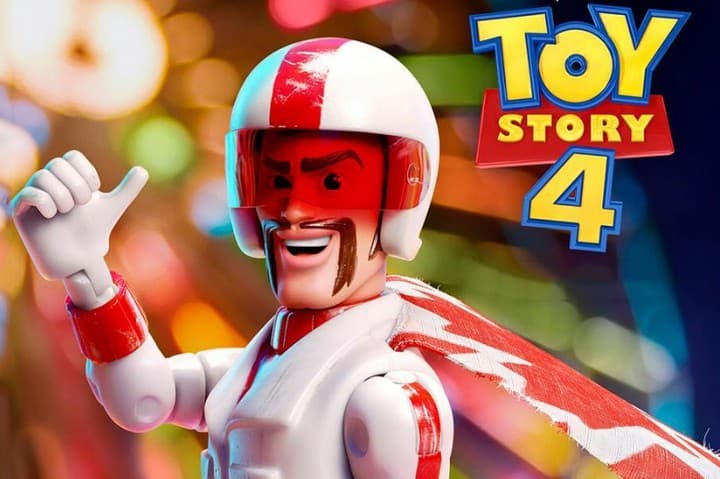 The estate of Evel Knievel has filed a lawsuit against Disney, Pixar and its subsidiaries over the Toy Story 4 character, Duke Caboom.
According to reports, the estate — a company called K&K Promotions — claims that the Duke Caboom character was evidently based on the late stuntman.  The company also states that it owns all the rights to Knievel's likeness, persona and brand, and that Disney did not receive any kind of approval to model a character after him.
In documents obtained by TMZ, K&K Promotions allege that Knievel's style, influence and even his famed stunt cycle toy from 1973 were presented in Toy Story 4. The animated film also sees Caboom, who was voiced by Keanu Reeves, as the greatest Canadian stuntman and arrives with an "energizer" that will wind up and shoot his bike into action — similar to the toy from the '70s.
Furthermore, the company claims that the Toy Story 4 cast and crew consciously avoided using both Knievel's name and other trademarked items during interviews. K&K Promotions used an interview of Tony Hale, the voice actor of Forky, as an example, noting that he was doing "mental gymnastics" when asked why his character was called Forky despite looking more like a spork. The company asserts that naming the character Forky was Disney/Pixar's way of avoiding any lawsuits with the word "spork," which is trademarked.
There's also the Duke Caboom merchandise Disney/Pixar manufactured and sold, and K&K Promotions is looking to bring them to court for that too. An amount for damages was not revealed, however, K&K Promotions is seeking actual, compensatory, statutory and punitive damages in addition to the profits from the film.
Elsewhere in entertainment, Unsolved Mysteries Volume 2 is arriving on Netflix in October 2020.