When Does a Perfume Cost $1,000? When It Takes 1,000 Years to Make
Hokkaido-based natural fragrance brand Di Ser exemplifies the slow approach to perfumery.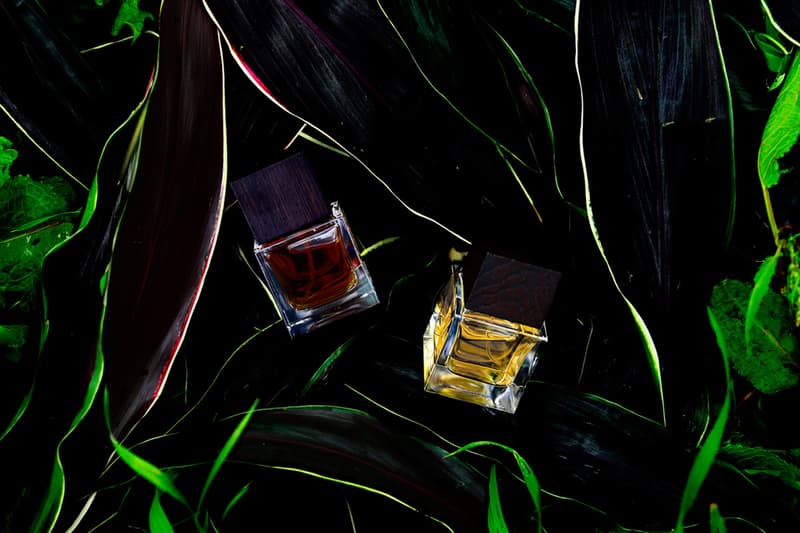 Agarwood is a fairly common ingredient in high-end perfumery, despite its high price. The material, which occurs as a result of tree rot and is also known as oud or oudh, produces an addictive smell that might appear animalic to some or like blue cheese to others. Today it's especially popular in the Middle East, but agarwood has a long history in East Asia as well, specifically in Japan as a form of incense. Japanese incense tradition divides agarwood into six tiers: sasora, rakoku, sumotara, manaban, manaka and the highest-quality of all, kyara, which can cost $500 USD per gram due to its scarcity and is almost never used for perfume.
Almost never, as Di Ser, the Sapporo, Hokkaido-based perfume company, spent 15 years perfecting the process of extracting kyara-grade agarwood into oil that can be used for fragrance. A slow process to be sure, but worth the patience considering that kyara has existed for 1,400 years in Japan without ever being translated into perfume. What's another 15 years to wear a millennium's worth of tradition on your skin?
The time and labor involved in perfecting that extraction is reflected in the price of the resulting perfume, Kyara, one of Di Ser's earliest releases. Here Di Ser blends the prized agarwood oil with notes that reflect its various elements: rose oil, patchouli, cedarwood and sandalwood bring out kyara's spicy and herbal qualities. And oh yes, one 33ml bottle of Kyara costs over $1,000 USD.
Not all of Di Ser's scents are prohibitively expensive, however. Many of its creations retail for $100 USD per bottle — an entry-level price for a niche perfume — while others reach higher into the triple digits. Each is housed in an elegant square glass bottle, free of logos, with a simple wooden cap.
But we're getting ahead of ourselves with pricing and packaging. Di Ser's perfumer Yasuyuki Shinohara starts only with inspiration, which might come from a walk through nature or a soak in a hot spring, and lets ingredients and nature drive the creative process. "I don't decide anything at first, the delivery date, price, name, but just follow the inspiration and start creating on a pure white canvas," he told HYPEBEAST.
Kyara is distinct in the Di Ser line for its high price, but its meticulous composition of natural ingredients rooted in Japanese tradition is exemplary of the entire brand. Its home island affords Di Ser access to many natural materials, thanks to its distinct seasons and topographical variety. "Hokkaido covers 22 percent of the area of Japan, at 83,457 square kilometers. With its many coasts and mountains, this land has the most nature remaining in Japan," Shinohara says.
The challenge of creating all-natural perfumes comes down to procuring quality materials, Shinohara explains. But Di Ser also has access to in-house resources — including not just raw materials but sophisticated extraction methods — that other perfume houses may not. When Shinohara founded Di Ser in 1999, he decided to develop the company into two branches: an agricultural research arm known as Luz, and a pharmacology section called Essentia, which produces Japanese herbal medicine, incense and herbal tea, among other botanical products. "In the process of making our products, we realized the quality of raw materials and the importance of their extraction method and started farming," Shinohara explained.
Di Ser's scents feel like their own kind of therapeutic treatment. They are delicate and transparent, owing to Japanese preferences for subtle perfume, requiring the wearer to listen closely to take in their complexity. Shinohara's first Di Ser scent, Tsuki, released in 2000, is appropriately herbaceous and a touch medicinal, with notes like geranium, grapefruit, coriander, fennel and juniper. Another early creation, Hasunoito, uses kyara as well, combining it with beloved florals like rose and jasmine and rarer notes like boronia and lotus — Di Ser's emblem. Its 2020 launch Kurokami (which means "black hair") flanks Japanese rose with tart grapefruit at the opening and frankincense at the base.
"This year we are trying a new attempt," Shinohara says of Di Ser's current project. "And that is to create a scent that expresses the scent of the entire forest. It is an attempt to extract the scents from various trees, flowers, grass, soil, moss, etc., and mix them."
To capture such an array of scents, the company needs new technology. "We have developed [a] unique extraction method and are starting to use it in different fields. It … extracts the water and scent of the plant itself without using any water. We call this 'plant cell water.'" Without added water, the resulting liquid is purer to its source, and less prone to oxidation. Shinohara says the extraction method, the first of its kind, will be unveiled in Tokyo this October.
Experimentation has served Di Ser well, as was the case when Shinohara reversed his own methodology for his 2019 creation, Keman. "This is a perfume made with a friend of mine in the U.S.," he explains. "I never tried such a thing, but have learned a lot from it." For that creation, made with perfumer and social epidemiologist Rajesh Balkrishnan, Shinohara began with a set name, price and materials. "We had to decide the delivery date, quantity, and release date first, so I did my best with the conditions."
Named for the floral offerings at Buddhist temples, Keman features many notes seen throughout Di Ser's scents: brisk accords like yuzu and shiso; florals of rose, geranium, jasmine, blue tansy and cherry blossom; and grounded notes of agarwood and cypress. Its initial limited run quickly sold out, and the perfume is currently a finalist in the 2020 Art and Olfaction Awards.
As with the grooming market as a whole, the perfume world is craving more natural products, which might be lumped together by using terms like "clean," or "organic." Di Ser's all-natural but elegant perfumes certainly appeal to that trend, but Shinohara says Di Ser doesn't plan to increase production to meet that demand, as doing so could compromise the quality of the product.
There are other, newer natural perfume brands to help fulfill that demand, like AER, launched in 2017, or Heretic, launched in 2016. On the flipside is another growing trend: the synthetic perfumes, whose chemistry-driven compositions are an art form of their own. Just look to Geza Schoen's groundbreaking Escentric Molecules line, which builds perfumes around a single molecule, like javanol (a synthetic sandalwood) and vetiveryl acetate (a hybrid of natural vetiver oil and acetic acid), and has inspired other brands like D.S. & Durga, Ellis Brooklyn and Juliette Has a Gun to experiment with synthetic-driven perfumes.
Di Ser's combination of natural ingredients and innovative processes appeals to both poles of these perfumery trends. Which is somewhat ironic, as its methodical approach means timeliness isn't exactly Di Ser's speciality. But it doesn't need to be. Beautiful scents will keep, whether that's for a decade, a century or even 1,000 years.