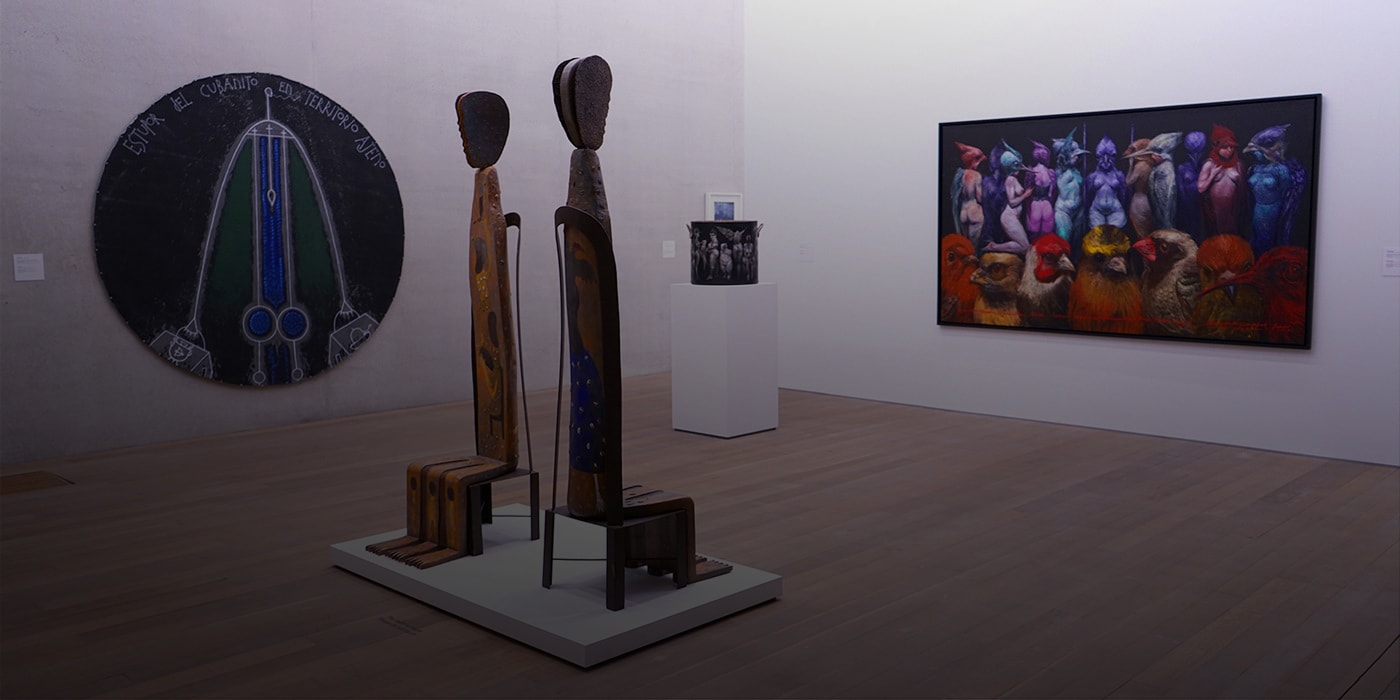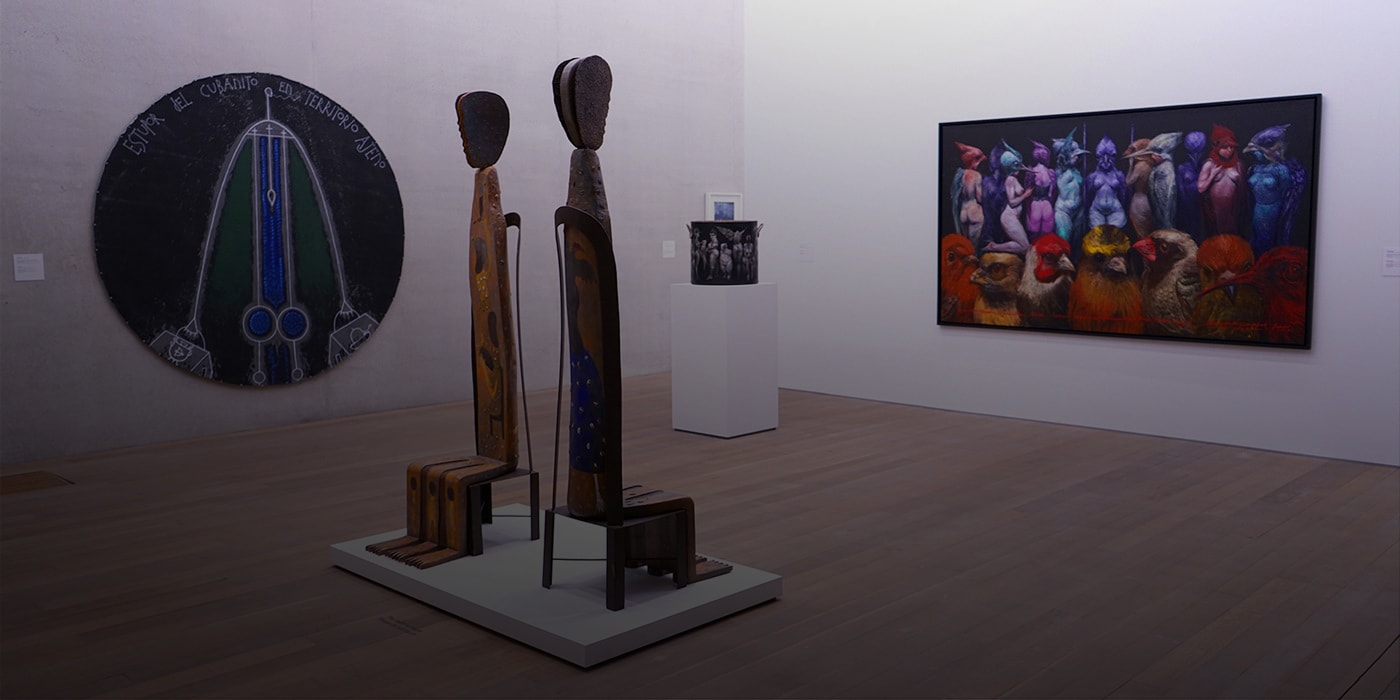 It's Time for Art Museums To Address Their Racist Histories
But institutions face many hurdles before they can become more diverse and inclusive spaces.
I have fond memories of art museums growing up. When it was unbearably hot outside, I would find solace in the Philadelphia Museum of Art, gazing at the idyllic scenes of Monet and Cézanne in the comforts of an air conditioned building. As I began learning more about the history of art, my interest in these museums intensified. It was not just the external circumstances that forced me inside anymore, but my desire to unpack the artwork on the walls: to understand the relevancy of an artist's mark in the present moment.
It wasn't long before I realized that the major art museums and galleries I cherished, and used to educate myself on art history, were telling only one truth, one narrative. The stories I saw were predominantly white. And apart from a rather small number of exhibitions, marginalized voices were often misrepresented — or omitted completely.
Our art museums are facing an important fork in the road. The Black Lives Matter protests that have erupted across the country due to the death of George Floyd have forced museums to address their longstanding history with racism and inequality. Museums must decide if they will finally address this decades-long culture of racism or continue serving white-dominated histories. Staffers at museums like the Guggenheim, the Metropolitan Museum of Art, the San Francisco Museum of Modern Art and many others have recently exposed the inner workings of their institutions, calling top officials to resign or urging leaders to develop anti-racism and diversity plans. Museums must now grapple with not merely covering up inequality, but eradicating it altogether.
Last year, Williams College conducted one of the first large-scale studies of artist diversity in American museums. A group of mathematicians, statisticians and art historians surveyed the collections of 18 major U.S. museums to quantify the gender, ethnic and racial composition of the artists represented in their collections. They found that at these museums, 85 percent of the works were by white artists and 87 percent were by men. Black artists had the lowest share of any racial group, with just 1.2 percent of the works, while 9 percent were by Asian artists and just 2.8 percent of the works were by Hispanic and Latinx artists. The four largest groups represented across all 18 museums in terms of gender and ethnicity were white men (representing 75.7 percent of works in museums across the country), white women (10.8 percent), Asian men (7.5 percent) and Hispanic/Latino men (2.6 percent).
Not only is there a lack of diversity in the artists represented in collections, but in museums' leadership roles and their curatorial departments. The Andrew W. Mellon Foundation, in partnership with the Association of Art Museum Directors (AAMD), the American Alliance of Museums (AAM) and Ithaka S+R, announced the results of its second comprehensive survey of the ethnic and gender diversity of the staffs of art museums across the U.S. back in 2018. Although museum staff are becoming more racially and ethnically diverse — 35 percent of staff hired in 2018 were POC, compared with 26 percent in 2015 — museum boards and leadership positions remain predominantly white. While museums are hiring people of color in facilities, security and human resources positions, they are not advancing those employees to the most influential decision-making positions.
"The museum's beginnings are inseparable from the story of Western colonialism and its racist ideologies," Robert J. Kett, Assistant Professor at the ArtCenter College of Design, tells HYPEBEAST. "Renaissance cabinets of curiosity were places to hoard and display 'wonders' from places white explorers had 'discovered.'" As museums became public, Kett explains, they disowned this explicitly racist history, but continued to reinforce national identities and global racial hierarchies.
This is evident in how collections are categorized and galleries are organized, as well as with what counts as art and what else is called craft or artifact. In 2018, the Metropolitan Museum of Art came under scrutiny for an exhibition of indigenous objects that, a Native American advocacy group said, violated ethical practices. Shannon O'Loughlin, the executive director of the Association on American Indian Affairs (AAIA), argued that the curators "did not consult with affiliated tribal representatives to perform their due diligence, but their first mistake was to call these objects art." She added that most of the items were ceremonial or funerary objects — not pieces of art — and should not have been included in the exhibition until tribal government representatives were consulted. On the other hand, museums and art historians tend to categorize indigenous works as "primitive" artifacts or "tourist art," rather than fine works of art that hold influence and power.
"The museum's beginnings are inseparable from the story of Western colonialism and its racist ideologies."
With what we know about the historical context of museums, it comes as no surprise that these institutions have been under scrutiny for racist hiring practices and behaviors for years. Only a year ago did Chaédria LaBouvier become the first Black curator and the first Black woman to curate an exhibition at the Guggenheim Museum in New York City. Even then, LaBouvier denounced the museum's treatment of her. In a Twitter thread, the curator said she was subjected to "the most racist professional experience of [her] life" and constantly battled for proper credit and acknowledgement from the Guggenheim when it came to her curation and ownership of her work.
While the need for representation and diversity within arts institutions has become more prioritized over the years, the recent Black Lives Matter protests have set these issues on fire. "We're not sleep walking anymore as a field," says Diane Jean-Mary, Chief Strategy Officer at LaPlaca Cohen. "I think part of that reckoning is manifesting in terms of programs, because that is what the tool for public, institutional discourse typically is. It's who you're showing, where your curators are putting exhibitions, what type of artists you're inviting in."
Although programming has been an important tool for institutions to grapple with the issue of diversity in the past, Jean-Mary urges them to look at a more holistic picture as employees and artists continue to grow uneasy with the lack of diversity and representation within arts organizations.
"It's not just the artists you put in your program. It's whether or not they have a true ownership stake in co-creating the future."
"As a firm, we're actively thinking about how to move beyond representation, which is what programming tends to be — which is putting BIPOC faces in front of audiences of all kinds — and that needs to happen but that's one of many steps," she continues. "We're moving towards the frame of equity. It's not just the artists you put in your program. It's whether or not they have a true ownership stake in co-creating the future, it's whether they are represented and have influence and decision-making power within the field or organization, it's how well BIPOC staff are being compensated."
Franklin Sirmans, Director of the Pérez Art Museum Miami, also believes that institutions must expand beyond programming to better serve their communities and combat systemic racism on every level. Each museum presents artists and their work in a different way, since contexts differ from one institution to another. However, Sirmans says one way museums can honor the artist's intention is by creating spaces for dialogue with visitors. "When we exhibited 'On the Horizon: Contemporary Cuban Art from the Jorge M. Pérez Collection,' we did a lot of community engagement via symposia and collaborated with the HistoryMiami Museum and WLRN on a special project to preserve and record the history of Cuban exiles living in South Florida," he explains. "With its inclusion of both exiled artists and artists still living in Cuba, the show brought heated debates about embargoes and the Cuban exile experience."
Yet diversity programs and larger-scale initiatives don't target the root of the problem unless museums reevaluate leadership roles. If institutions don't include BIPOC voices in decision-making processes, not only is internal change not occurring, but institutions are taking on performative acts of inclusion.
"If your house isn't in order, nothing you do externally will be authentic to who you are," says Jean-Mary. "If you're leading with the external side, which is largely social media, communications, subscription/membership and digital media/content, you can have a real impact on people's lives. But how are you going to get those things funded if the people who are leading your organization or coming up with these grand plans and creative visions, are not in touch with the communities you are trying to serve?" Arts institutions must build trust with their communities, so that the people whose ideas they reflect and stories they want to tell have a real role at every level of the organization.
"If your house isn't in order, nothing you do externally will be authentic to who you are."
"Instead of looking at your own organization and thinking, 'Oh god, we have so long to go before we understand this,' you might want to actually talk to the people who have been doing this work for their entire organization's history," she explains. "Amplify their message, collaborate on programming, think about ways in which you can really come together on a shared vision for a just society and help each other along the way. Share resources, spaces — virtual, or physical eventually — and build capacity across institutions."
The Pérez Art Museum Miami is an institution that has evolved over time, acknowledging its immediate surroundings and responding to a changing environment. "Our institution, like many others, was born out of a challenging moment in the life of our immediate community: Dade County," says Sirmans. "The steps that brought forward the opening of the museum in January of 1984 as part of a 30-acre government site began long before the doors of the Philip Johnson-designed museum opening."
In 1979, a Black insurance agent and former marine, Arthur McDuffie, was killed by police officers in today's Design District. In May of 1980, the police officers who were tried for his death were acquitted, which set off days of violent protests. That event occurred as South Florida was witnessing an influx of immigrants: 125,000 Cubans fled to Miami by boat. Before 1980, many Haitians fled to Miami claiming political persecution, but were not given legal protection because they were considered economic migrants instead. "That is the background that started the institution and it is one we have relied upon as foundational and mission-oriented and which continues to be our guiding light in the present. The museum was made to bring people together in a time of deep unrest and distrust."
"The museum was made to bring people together in a time of deep unrest and distrust."
PAMM's strength comes from realizing its unique history in connection to Miami and how that shapes its collections and programming. For the museum, that means building its collections with multiculturalism and globalism in mind. The first work of art the museum purchased was that of African-American photographer and multimedia artist Lorna Simpson. Soon, the museum was acquiring works by artists such as Cuban painter José Bedia and Haitian-born painter and sculptor Edouard Duval-Carrié. Now, the museum is known for focusing on Latin American and Caribbean modernism, contemporary Cuban and Cuban Diasporic art, the art of the African Diaspora, art by Miami-based artists, photography, text-based artistic production and art by self-taught artists.
"And, there have been vocal representatives on our board since its inception who have put forward a view to presenting the work of Black and Latin-American and Latinx artists for quite some time," Sirmans adds. "So we have sought to double down on these areas and have created affiliate groups such as the Latin American and Latinx Art Fund recently, in addition to the International Women's Committee which was initially more insular and now robust with significant leadership from the board in addition to staff."
The Bronx Museum of the Arts, on the other hand, is addressing internal change with new job positions that directly tackle social issues. It recently created the Social Justice Creator role to honor the museum's former director, Holly Block, who was a well known champion of artists, as well as social equity and impact.
"My role as a curator at the museum is to uphold those values and integrate them into every exhibition and program that I organize," says Jasmine Wahi, the Bronx Museum's first-ever Holly Block Social Justice Curator. "My function is to create visual conversations around visibility, intersectionality and agency within narrative frameworks. I'm interested in highlighting both artists and communities that have historically been relegated to the margins and peripheries of mainstream discourse, or only been seen through the lens of 'otherness.'"
"In an ideal world, museums and similar institutions would be spaces to hold the past, while envisioning exciting futures that include many communities."
Although roles such as Wahi's seem key to building leadership positions within museums that target equity and diversity within the arts collections and exhibitions, museums have only recently opened up these opportunities.
"Why do I think a position like this was never created before?" she explains. "To borrow from one of my favorite social theorists, bell hooks, it's because of the White Supremacist Capitalist Patriarchy. The lack of recognition that there has been a longstanding need to decolonize and diversify is evidence of the insidious and systemic entrenchment of White hegemony in institutional space."
"It was not until very recently that institutions had an awakening (or a reality check)," Wahi adds. "In an ideal world, museums and similar institutions would be spaces to hold the past, while envisioning exciting futures that include many communities."
But creating positions like Wahi's may only support symbolic efforts to be inclusive to members of minority groups, which creates the impression of diversity rather than actual systemic change. "The danger with tokenization is that it gives everyone else a pass — it alleviates the responsibility from the rest of the curators and the institution at large from doing the necessary decolonial and social justice work across the board," Wahi says. "Institutions should be interested in doing this type of work across the board — and some have already been doing this kind of work for years. You don't need a 'social justice curator' to do the work. Just do it."
"You don't need a 'social justice curator' to do the work. Just do it."
"That doesn't mean that institutions have to cancel canonical, colonial, Eurocentric art history or exhibitions that aren't socially oriented," she explains. "It simply means that they must be accountable and considerate of the realities of the world outside of a myopic single lens." This idea also feeds into how Wahi sees her role at the museum today. She hopes to "democratize, or at least pluralize the types of voices that are present in these arenas," rather than presenting a singular vision that audiences are forced to consume.
There's no single solution when it comes to diversifying and reevaluating the museum: rethinking a centuries-old structure is not easy. Yet the movement towards true justice is a long-term commitment. In order for arts institutions to continue serving the public, change is inevitable. It must occur at every single level of the institution in order for the space to truly embody today's cultural landscape. "Museums describe themselves as places for everyone, but for everyone to be welcome they should see themselves reflected not just in works on display and names on labels but in ways of thinking about art and operating institutions," Kett says.
Whether it's expanding roles, reassessing collections, diversifying boards or rethinking funding, there are concrete steps museums can take to become the spaces we all, honestly, wish they were already. And the individual has immense power when it comes to holding these spaces accountable, for museums rely on membership and attendance to keep their doors open. They can only thrive when the public shows up.
I'm looking forward to the day that I walk into a museum and the works that are on display represent a diverse group of narratives. I know I'm not the only one who uses museums to appreciate and learn from the stories of others — and I'm not talking about the Eurocentric ones. If art museums are responsible for documenting and preserving culture, they must listen to the voices whose experiences have been pushed aside or repeatedly been told through an oppressive lens. Only then can the museum become an inclusive space for communities to learn, reflect and heal.